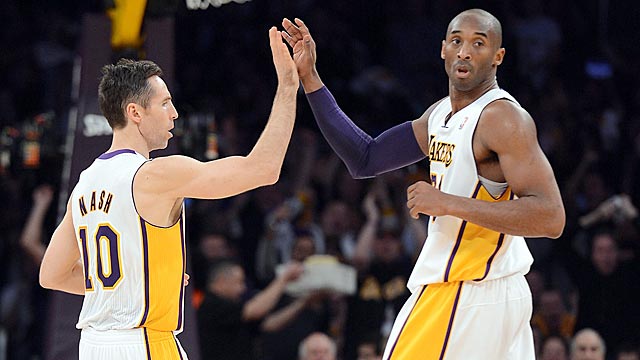 LOS ANGELES -- The whiteboard in the Lakers' locker room Tuesday night proclaimed that all those going to Phoenix had to be in their seats at 11:15 p.m. PT for the short flight to the desert. One man in that locker room needed no such reminder, no prodding at all.
Steve Nash strolled out into the hallway well before 11 p.m., on his way to the bus -- on his way to an emotional night in the city where he unveiled his unique brand of basketball artistry for so long.
On his way to the loudest cheers in that arena since he left.
"Standing ovation," teammate Kobe Bryant said, when asked to predict how Nash will be received in Phoenix on Wednesday night. "For sure. Without question."
So much has changed for Nash since the blockbuster trade that sent him to the Lakers in July, so much that nobody could have imagined. Allowing him to join forces with Bryant and Dwight Howard in L.A. was a nice gesture by the Suns, who didn't dump Nash off in some NBA wasteland but sent him to a supposed championship contender, in a city not far from home. In fact, with his return to Phoenix looming after the Lakers won their third consecutive game Tuesday night -- 111-106 against New Orleans -- all Nash could think about was returning home to see his kids.
Life, like basketball, is pretty simple sometimes.
"I'm sure I'll be a little bit [nostalgic] when I get there," Nash said. "... I really haven't had a chance to think about it much. We'll see. I'm sure it'll be a very special night."
Joining Nash for the journey is Mike D'Antoni, and nobody could've predicted that, either. The firing of Mike Brown five games into the season reunited Nash with D'Antoni, the coach and point guard who made each other. Nash piloted D'Antoni's offense to an average of 58 wins during a four-year stretch when the Suns were the toughest out in the NBA -- a few injuries and a leaving-the-bench suspension away from a shot at that elusive NBA title that everyone says you can't win playing D'Antoni's way.
Nobody seems to be able to pinpoint what way the Lakers are playing now, except that suddenly it's working.
"It seems like we've figured some things out," Bryant said.
But this is a different Nash who goes home Wednesday -- 39 next week, on a new team, in an unfamiliar role. Every bit of success the Lakers have now feels so fleeting, so unlike the control Nash had with the ball in his hands for the past 17 years.
"He's never played like this and he's never played when he's 39 years old, either," D'Antoni said. "So everybody has to change a little bit and find what works for the team and what works for them individually and get comfortable with it."
To get comfortable, the Lakers had to shift the half-court playmaking duties from Nash to Bryant, who logged 11 more assists Tuesday night for a career-high 39 over the past three games -- all victories in which the Lakers have shot 49 percent or better and held the opponent to 45 percent or less. The predictable hand-wringing about whether this is really D'Antoni's "system" is in full force. On one hand, it must not be, because D'Antoni's system supposedly doesn't work. And if it is? Well, that just means D'Antoni's too stubborn to adapt.
"We don't have a system," D'Antoni repeated before the game, for the third consecutive day. "The system is: we play basketball. We move the ball, play defense and whoever's open shoots."
They don't run it the same way Nash did in Phoenix, because this is a different team. One thing we've learned is that not even Nash is so great that he can make old, slow players run fast. But the principles remain the same: space the floor, read the defense, move the ball, make quick decisions, keep the defense guessing. Damn, it almost sounds like basketball.
"He understands that with the personnel here, he can't expect to play the same way he was playing in Phoenix with the roster that they had," Pau Gasol said. "He can't play the same way here with the roster that we have, even if the system is trying to be the same, which it can't be with our personnel. Look at it: We don't have the athleticism, the speed, the youth and the characteristics of those players. We have our own and we have to play a little differently."
You actually saw a couple of successful Nash-Howard pick-and-rolls Tuesday night, and there's no reason in the world why you won't see a lot more. But this isn't the Suns of Nash, Amar'e Stoudemire and Shawn Marion. That team didn't have Bryant, and if it did, things might have been different there, too.
Chris Duhon, who played for D'Antoni in New York, was holding a little basketball lecture for the writers in the locker room before the game and explaining what's different here. If the Lakers have transition opportunities, Nash pushes the ball and the shooters run to the corners and the bigs pick on one side of the floor or the other at Nash's direction. Anyone in the NBA can recognize that action -- "delay," it's called -- as purely D'Antoni's.
But once they run their secondary offense in the halfcourt, the ball more often than not goes to Bryant, who attracts attention and creates openings for Howard, Nash, and indeed Earl Clark, who had 20 points and 12 rebounds Tuesday night. Under this adaptation of "the system," as everyone keeps calling it, Nash becomes something he almost never was in Phoenix -- a 3-point threat off the ball.
"He's one of the greatest shooters of all time, so it makes sense," Bryant said. "He's a no-leave guy. If they do leave him, God bless 'em."
In Phoenix, they might not recognize Nash in this role, but things change.
"He was a lot younger and prettier back then," D'Antoni said. "He's not 30 years old anymore. Before, he could dominate anybody. Now, he picks and chooses his spots."
For Nash, this picking and choosing has given him the kind of season he never could've imagined -- from missing two months with a leg fracture, to the coaching change, to his inability to turn back the clock and transform these Lakers into the 2007 Phoenix Suns. At 20-25, the Lakers are 10th in the West and four games out of a playoff spot as they embark on a seven-game road trip that will decide their season. Only the Wizards and Suns have fewer road victories than the Lakers (5-15), who've lost seven straight away from Staples Center.
"It means our whole season," D'Antoni said, when asked about the importance of sustaining this recent success. "If we can't sustain this, we're in trouble."
Later, D'Antoni was sitting at the interview table at Staples Center, talking about the possibilities if the Lakers continue to play this way -- his way, whether it's popular or not.
"There's no way you wouldn't want to play like this," D'Antoni said, tapping his hand on the stat sheet. "You can see it in their faces. You can see it in their body language."
The plane to Phoenix was already idling, waiting to bring D'Antoni's point guard back home. When asked if the fans there understand why he left, Nash said, "I'm sure some people do, and some people don't. ... I had an opportunity to be as close as possible to my kids. I'd do it 10 times out of 10."
Life sounds pretty simple when you put it that way. Almost as simple as basketball.