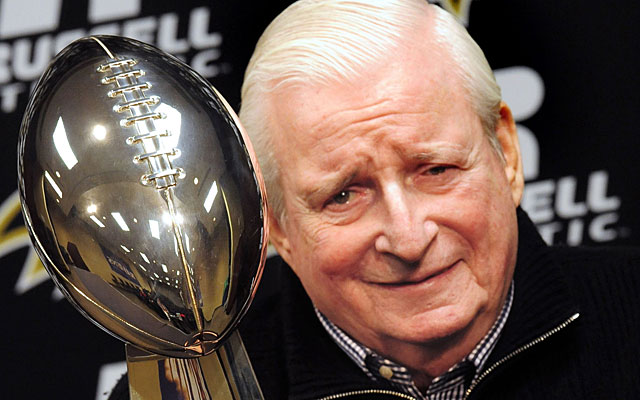 NEW ORLEANS -- Art Modell isn't a Hall of Famer, and it has nothing to do with what he did to Cleveland in 1996. He's not a Hall of Famer because he wasn't all that good at being an NFL owner. It's as simple as that. Or at least, it should be.
The city of Cleveland doesn't like him, and Cleveland has that right, but it just confuses the issue. No doubt it will make some Clevelanders happy to believe Modell wasn't elected Saturday to the Pro Football Hall of Fame as payback for what he did to Cleveland -- when he moved the Browns to Baltimore -- but that's not it. I hope not, anyway.
Moving the Browns to Baltimore was a crushing blow Modell delivered to Cleveland, but it was business. Businessmen are allowed to move their companies. It hurts, I hear you, but it's not a crime. Not a sin. Not anything that should keep a man worthy of the Pro Football Hall of Fame out of the Pro Football Hall of Fame.
Besides, for every action there's an equal and opposing reaction. Newton said that. Or maybe it was Nagurski. Whatever the case may be, Modell didn't merely crush Cleveland -- he answered Baltimore's prayers. Think about it: If we're going to consider the awful thing Modell did to Cleveland in 1996 on his Hall of Fame candidacy, don't we also have to consider the wonderful thing he did for Baltimore that same year? One city lost an NFL franchise. One city gained the Ravens. Hundreds of thousands of people, devastated. Hundreds of thousands of people, elated.
More on NFL
Column

Related links
| | |
| --- | --- |
| | Super Bowl XLVII |
NFL coverage on the go
Is Cleveland's loss more significant than Baltimore's gain? I don't mean to turn emotions into arithmetic, but Modell didn't destroy Cleveland and then ... disappear. He destroyed Cleveland as he invigorated Baltimore. To me, it balances out.
Which leaves Art Modell's Hall of Fame candidacy where it belongs: poised above the fulcrum of football. Something to be decided on the merits of what he accomplished as an owner, not the city where he accomplished it.
And as an owner, he just wasn't very good. Certainly he wasn't good at the Hall of Fame level, reserved for the best of the best, and here's where I say not many owners belong in the Hall of Fame in the first place. To get into the Hall as an owner, you better have done something incredible like founded a whole damn league like Lamar Hunt, or served as coach and commissioner before becoming an owner like Al Davis, or founded a great franchise like Green Bay while also winning more than 200 games as a coach -- like Earl (Curly) Lambeau.
Art Modell did none of that. He did some things, don't get me wrong. He didn't simply buy the Browns, write paychecks and stay out of the way. He was an active owner, getting involved in TV negotiations and labor negotiations, and he was bold in Baltimore when he made Ozzie Newsome -- one of the best general managers in football -- the first minority GM in 2002.
But some of the stuff credited to Modell is just silly. The idea that the league's popularity and financial stability has anything, and I mean anything, to do with Modell is a reach. I'm not much into quoting Shakespeare -- truth is, until today I thought this quote belonged to JFK -- but The Bard wrote this: "Some are born great, some achieve greatness, and others have greatness thrust upon them."
... greatness thrust upon them.
That's Modell. Greatness was thrust upon him, and upon most NFL owners in the 1960s and '70s, because the NFL is great and the country's thirst for the NFL is great and owners like Modell didn't screw it up. Which is good. We can and should be grateful to men like Modell for not getting in the way of the NFL's popularity boom, and Modell in particular stepped out of the way when he allowed his franchise to be shifted into the AFC, clearing one of the final hurdles toward the AFL/NFL merger of 1970.
That was a nice thing he did. It wasn't a Hall of Fame move.
Hiring Ozzie Newsome worked, but it was undercut by other Modell moves. Two of the greatest coaches in professional football history are Paul Brown and Bill Belichick.
Modell fired both of them.
Modell also helped chase Jim Brown out of football. Well, he did. Brown retired in 1966 at age 29 after Modell threatened to fine him heavily for missing training camp while shooting the movie The Dirty Dozen.
First Paul Brown, then Jim. Gone. Cleveland had won seven football championships in 15 years when Modell bought the team in 1961. In January 1963 he fired Paul Brown. The team won another title in 1964 -- with Paul Brown's players -- and then didn't win again. Still hasn't.
The Ravens won a title in 2000, but it's not enough for their owner to get into the Hall of Fame. I'm not sure two or three Super Bowl titles would be enough. Not for the owner, any owner, in a vacuum of other accomplishments. Players are the thing in the NFL, the players and to a much lesser extent the coaches. The owners? They're part of the museum, I guess. They're part of history. They existed, they happened, they did in fact own the teams because somebody had to. But enshrinement in the Hall of Fame, alongside gods like Jim Brown and Johnny Unitas?
Art Modell?
He left Cleveland because he couldn't make enough of a profit. When he sold the Ravens in 2003 to Steve Bisciotti, he did so under financial duress. The NFL prints money, and Modell couldn't make it work in two different cities.
Modell died in September, and his former franchise will play in the Super Bowl on Sunday, all of which means a Hall of Fame invitation on Saturday would've made for quite the fairy-tale story.
Life is not a fairy tale -- so let's stick to reality. Art Modell owned an NFL team in the most popular sports league in this country. He was in the right place at the right time, and he stayed there for 34 years. Greatness was thrust upon him.
But to get into the Hall of Fame, you better kick down the door. Negotiating TV deals doesn't get it done.