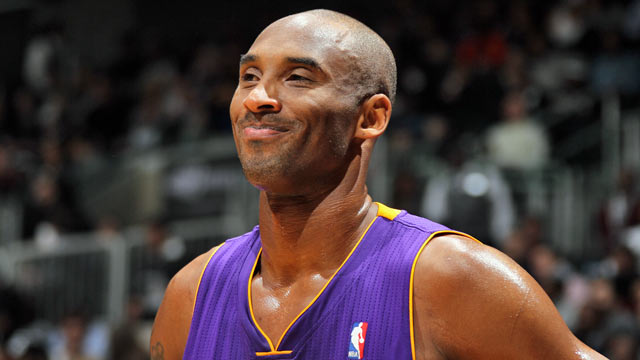 NEW YORK -- It was the first time Kobe Bryant had ever set foot in the borough of Brooklyn, and things had changed dramatically for the Lakers by the time he boarded the bus to leave.
"It got worse," Bryant said in the interview room. "It got worse."
It was the Lakers' sixth win in seven games, 92-83 over the Nets Tuesday night, as they try to trudge all the way back to the .500 mark -- which would be an achievement for a team on its second coach, immersed its third or fourth distinct season in one. But things got worse because Dwight Howard watched from the bench in a suit, unable to play in the building that was his first choice during his escape from Orlando and lacking what Bryant characterized as the "experience" to "push through" a shoulder injury that he re-aggravated in Phoenix during the first game of this seven-game road trip.
More on Lakers-Nets
Related links
And things got worse again in the fourth quarter, when Pau Gasol went up to try to block Brook Lopez's shot at the rim and felt a "pop" in the bottom of his foot, which has been bothering him for two months. It got worse just like that.
"Yeah, I'm worried about it," said Gasol, who needed crutches to make his way out of Barclays Center.
"I'm very, very concerned about it, to say the least," Bryant said. "... We can't afford to lose Pau for a long stretch. We need to get him back."
So it's on to Boston, the next stop on a road trip during which the Lakers have steadied themselves -- "a sense of cohesion," the erudite Steve Nash called it -- and displayed some signs of living up to the hype that has surrounded them since July, when Mitch Kupchak got both Nash and Howard for Bryant's next championship chase. Instead, the only thing the Lakers have been chasing is their own tails, stumbling through one of the great Bryant's final laps around the league like anything but a champion.
Gasol will have an MRI in Boston Wednesday, but if the walking implements he utilized on his way out of Barclays were any indication, the Lakers may have to get used to life without him for some time.
"It's possible," Gasol said. "I don't want to be optimistic or pessimistic."
Through it all, the once relentlessly, unreasonably demanding Bryant has managed to smile -- has tried to fend off the reality of this train-wreck season with gallows humor. Remember the Phoenix game that the Lakers gave away when the trip started? The one that prompted Bryant to say, "I'm not too concerned about it?" As he relished his first trip to this new venue in New York City, Bryant smiled through his new concerns in the postgame interview room. He went on about the contributions of Robert Sacre and Earl Clark, marveled at the MVP chants he heard in a building filled with Lakers fans, and had some fun with a rim-rattling dunk he treated the world to when he drove the lane and scored between two defenders and defied age, a sore elbow and the toll of 17 NBA seasons.
"After a play like that, you really can't grab your arm," Bryant said. "You're messing up the swag of the moment. You've got to kind of suck it up for a while."
That's what Howard will have to do now, Bryant hinted. Suck it up. Asked if Gasol's injury would apply pressure for Howard to return to the lineup, Bryant said, "Maybe."
"I think it's an experience thing," he said. "Like for me, when I was growing up in high school and middle school, unfortunately but fortunately I was dealing with injuries. Not injuries that were debilitating, but injuries that you have to play through and you have to manage the pain. And so when you go through those things, you learn your body and you know what you can push through and what you can't push through. ... When you have an injury that hurts you, but you can play through, that's something that you have to balance out and manage."
In other words, suck it up.
Earlier, Bryant had spoken about the challenge of this Lakers season, and it was clear that he has turned his twisted competitive drive loose on the task of figuring out how to win with a roster that has one-and-done in the playoffs written all over it.
"I like figuring things out," Bryant said. "Problem-solving."
The problem goes from bad to worse now, because whatever trade interest there'd been in Gasol almost certainly popped along with the plantar fascia in his right foot. Two personnel officials from the Houston Rockets were on hand scouting at Barclays, but sources say the team's once fervent interest in Gasol has waned. He didn't fit their youth movement and desire to preserve financial flexibility before he got hurt Tuesday night, and he certainly doesn't now.
So the Lakers ship off to Boston, where their hopes of cobbling together another win out of this mess will be determined in an MRI machine and in Howard's fragile psyche. It's off to Boston, where the Lakers will have to "figure things out," as Bryant said, against a team that's engaged in much the same, sad kind of exercise.
It is what's left of the Lakers against what's left of the Celtics, a rematch in name only of the two fierce Finals battles that left an indelible mark on Bryant. With Ray Allen gone, with Rajon Rondo hurt and with temptation to trade what remains of the Celtics' Big Three, I asked Bryant if he was going to Boston to say good-bye to the Celtics as he knew them.
"Nah, man, they've been saying that about them for the last six years," he said. "They just continue to find ways to win, continue to find ways to play. They're just always going to figure it out. They're a gritty bunch. They don't make excuses; they just go out and do their jobs. They have that kind of DNA that they seem to always rise to the occasion."
These Celtics, trudging proudly and stubbornly toward the inevitable end of their own era, were Bryant's "biggest obstacle to deal with," he said, "because of their talent, because of their belief. Those two series that we had against them were two of my toughest. They have a hunger about them. They have a determination about them. And they're confrontational, which puts the team on edge all the time so they play with a chip on their shoulder."
Sounds like someone else I know. Someone who's dealing with his own set of challenges right now, trying to smile through the sadness of it and figure it out.