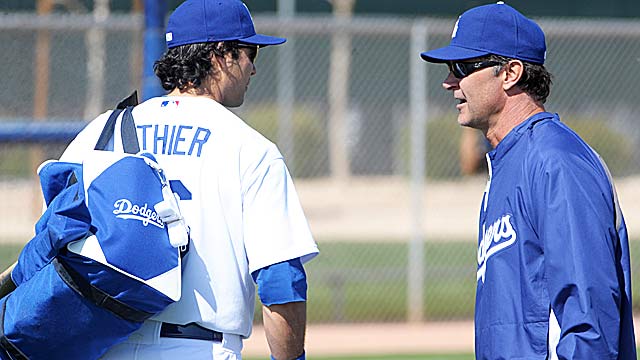 Sign on: Spring training.
Password: Coconut-oil.
Click ... and swing away.
Not that we're waaaaay overdue for pitchers and catchers to report ... but when the big news of the week is that the Monopoly folks are adding a cat as one of the board game's tokens, it's about time for somebody to long toss.
Not that it's been a long winter, but the U.S. Postal Service said this week it intends to halt Saturday mail delivery in August. So what, in a few days, several cats will begin building their stamina in earnest so they can deliver on Saturdays in August.
Neither rain, nor snow, nor sleet, nor hail shall keep Justin Verlander, Max Scherzer and Anibal Sanchez from delivering the Tigers' mail. ...
The esteemed groundhog promised spring will arrive early. Truth? As a guy who celebrates his birthday on Groundhog Day (I am not making that up), I always listen to what the fabled weather critter says.
Spring Training 2013
Related links
More MLB coverage
And I know he's right, because pitchers and catchers are on the field by Tuesday and my suitcase is just about packed. Spring training 2013, let's rock. ...
Five best spring storylines:
In those Hollywood nights, in those Hollywood hills, she was looking so right, in her diamonds and frills. ...
1. Diamonds and Dodgers: Making even the Yankees look like a Skid Row outfit, the glittering Dodgers are testing whether a baseball-record payroll north of $200 million can buy their first World Series title since 1988. Starring Zack Greinke, Clayton Kershaw, Matt Kemp, Adrian Gonzalez, Hanley Ramirez, Josh Beckett and this spring, as a special instructor, Sandy Koufax. Maybe the magic -- not Magic -- really is back.
2. Blue Jays float onto center stage: And not just because of R.A. Dickey's knuckleball. Adding Mark Buehrle, Josh Johnson and shortstop Jose Reyes to a nucleus that already includes Jose Bautista, Edwin Encarnacion, Brett Lawrie, Brandon Morrow and more should place John Gibbons in contention for AL Manager of the Year. Believe it, what's old is new again for the Jays, who have collected their best talent since the back-to-back World Series years of 1992 and 1993.
3. Is the Big A big enough for Josh Hamilton and Albert Pujols? Three years out of the playoffs, and the Rally Monkey is angry. Do not make the Rally Monkey do something he will regret.
4. Spot the Uptons: Brothers B.J. and Justin Upton now comprise two-thirds of the Braves outfield. And who knows, perhaps their sister Kate, romantically linked to the Tigers' Verlander, will show up in Lakeland. Wait ... she's not their sister? And which Upton was in the Sports Illustrated swimsuit issue? This is getting confusing.
5. The World Baseball Classic: In which round will Team USA get bounced this year? Ask (or watch) the Yankees' Mark Teixeira, the Mets' David Wright, the Brewers' Ryan Braun, the Marlins' Giancarlo Stanton, the Orioles' Adam Jones and the Twins' Joe Mauer (among others) for the answer.
Five key storylines, off the field
Even the Pretty Little Liars would be riveted. ...
1. Miami Vice: Turns out, not only is Miami the locale for a wretched baseball team and delicious stone crabs, it also appears to be home of baseball's biggest performance-enhancing drug scandal since BALCO. MLB sleuths are on the case as we speak. I think they've got the University of Miami surrounded.
2. Ryan Braun's Vice: Linked to the Biogenesis PED scandal, Braun opens a second consecutive spring training proclaiming his innocence. This time he says he used Tony Bosch only as a consultant while battling last winter's PED charge. Dude, talk about guilt by association. Didn't your mother teach you to pick better friends?
3. Free agents, cold market: Swift center fielder Michael Bourn, starter Kyle Lohse and closer Jose Valverde continue to look for new homes as camps open. To calm their jitters, they're all reading Prince Fielder's How To Sign Late and Still Earn $200 million for Dummies.
4. True Grit and the Diamondbacks: In the words of Arizona general manager Kevin Towers, who, come to think of it, does have a bit of a John Wayne swagger, the Justin Upton trade was made in part to make for a grittier team in 2013. Grit is good ... unless it's in the form of beach sand mixed in with your bag of chips.
5. Empty rosters, empty houses: Will anybody actually pay to see the Astros and Marlins this summer? Each should be gawdawful ... especially the Astros. This could be a colossal embarrassment for major league baseball.
Five Yankees comebacks to track
Some of these guys may or may not consider themselves the luckiest men on the face of the earth at some point this season. They'll get back to you on that. ...
1. Derek Jeter: The Captain's ankle crunch remains indelibly burned into our October memories. He swears he'll be back by opening day. At 38 (39 June 26th), Jeter will be watched this spring like never before.
2. Mariano Rivera: After rehabbing his knee since early last season, can an old dog continue to perform new closing tricks at 43?
3. Alex Rodriguez: Hip surgery will knock him out for much of the year, if not all of the year. And here's the thing: Who knew centaurs had hips?
4. CC Sabathia: Is six consecutive seasons of working 200 or more innings catching up to Sabathia? He had bone spurs removed from his elbow in October, and he'll be 33 in July. You bet he'll be watched this spring.
5. Kevin Youkilis: Some want him to stand trial for treason, having moved from the Red Sox to the Yankees, but Youk has more pressing things to worry about. Like, does he still have game at 34? Word is, he's shaved his goatee and tweaked his batting stance. Maybe both will help.
Five delicious Cactus League stops
New for this year: Because there are too many good places to fit into one Top Five list, Arizona and Florida each get their own. ...
1. Richardson's, Phoenix: It's back! Following a tragic fire that landed it on the disabled list, Richardson's Cuisine of New Mexico re-opened in time for last spring training and it remains fabulous. Green chili potatoes and prickly pear margaritas never tasted so good. If you go and it's too crowded, walk across the patio to Richardson's sister restaurant, Rokerij. Both are excellent.
2. Culinary Dropout, Scottsdale: Aside from the irresistible name, the pretzel and cheese fondue, fried chicken and biscuits and meatloaf with mashed potatoes are exquisite.
3. Italian Grotto, Old Town Scottsdale: Solid Italian food and a five-star baseball atmosphere. Hard to walk in here any night of the week once the Cactus League schedule starts and not bump into a handful of scouts.
4. Los Olivos, Old Town Scottsdale: Tasty enchiladas, terrific margaritas and you never know who you'll see. Enjoyed a great dinner next to umpire Jim Joyce and his wife one spring evening. Saw actor Timothy Busfield during another spring.
5. Tee Pee Mexican Food, Phoenix: A total hole-in-the-wall, out-of-the-way dive, and those are the best places. Angels owner Arte Moreno used to love this place (don't know if he still does, he started stiff-arming the media years ago) and he once brought President George W. Bush here for dinner. Whether that makes you more or less likely to go, the food is non-partisan -- and terrific.
5a. Don and Charlie's, Scottsdale: If you like ribs and baseball memorabilia (and I'm talking serious memorabilia), then this is a must-stop. See you there. ...
Five top changes
Know what? Turns out, the more we change, the more we don't remain the same. Go figure. ...
1. Houston has a new location: After losing 107 games last year and 106 the summer before, the Astros now will see if they can lose at least that many in the American League. Hint: Now playing in the AL West instead of the NL Central, they might lose 115.
2. Terry Francona, Indians manager: After the publication of Francona: The Red Sox Years this spring with co-author and crack Boston Globe columnist Dan Shaughnessy, can't wait for the next few years to pass to read Francona: The Indians Years with Cleveland Plain Dealer columnist Terry Pluto.
3. John Farrell, Red Sox manager: Because somebody needs to clean up the post-Bobby Valentine mess. And while he's at it, keep an eye on those Red Sox-Blue Jays games this summer. Yikes.
4. Torii Hunter, Tigers outfielder: Fantasy players, start your engines: Batting second in Detroit ahead of Miguel Cabrera and Prince Fielder might even be better for Hunter than hitting second ahead of Albert Pujols with the Angels.
5. James Shields and Wade Davis, Royals pitchers: Finally, Alex Gordon, Eric Hosmer, Jeff Francouer, Billy Butler and Mike Moustakas will be backed by a rotation that will give them a chance. Bonus: Ervin Santana is here, too. And that should be way better than Jonathan Sanchez.
5a. Tim Lincecum's hair: Don't look now, but word is The Freak cut it. So nominations for MLB's resident hippy are now open again.
Five reasons to not pay strict attention to the WBC
These guys are sitting it out:
1. Justin Verlander
2. Mike Trout
3. Bryce Harper
4. David Price
5. Clayton Kershaw

And if Verlander changes his mind and plays, and he might ... then add Matt Cain to the list.
Five spring essentials
Because it can't be all baseball 24/7. ...
1. Google maps: How did we get around Florida and Arizona without smart phones? I'm still running into people who set out for spring training in 1992 and remain hopelessly lost.
2. iPod: Plugged into the rental car stereo, hauled into the hotel workout room ... what did people do before Apple, anyway? This year's playlist includes Jason Isbell and the 400 Unit, Buddy Miller and Jim Lauderdale's fabulous Buddy and Jim collaboration, Bonnie Raitt's latest, the Avett Bros., Alabama Shakes, Patterson Hood, the Lumineers, John Hiatt and, as always, Bruce Springsteen and Jimmy Buffett (especially in Florida). Maybe even some Taylor Swift when I'm missing my daughter (but not One Direction!).
3. XM/Sirius radio: Been in love with these guys for years, and what a bonus in the rental car. The MLB Network, the E Street, Margaritaville and Outlaw Country channels, Little Steven's Underground Garage, the '60s, '70s and '80s channels and, of course, once the season starts, all the local major league broadcasts.
4. Running shoes: Because the weather is so beautiful, you've gotta get out. ...
5. Sunblock: Because the sun is so warm, you've gotta protect. ...
Five most improved clubs
Extreme makeover, hardball edition. ...
1. Blue Jays: What's the AL East wins conversion rate again?
2. Tigers: Hard to imagine them landing here given that they won the AL pennant, but Hunter is an upgrade over Delmon Young and adding Martinez should produce a killer lineup.
3. Dodgers: Psst, wanna know where they keep the printing press that produces all that money they're spending? Right there in Vin Scully's booth. Don't tell anyone.
4. Royals: Pitching, boys, pitching.
5. Nationals: Finally, a center fielder (Denard Span)! And more starting pitching (Dan Haren).
Five least improved clubs
The winter just didn't last long enough for all of the improvements they needed to make. ...
1. Rangers: Rough, rough winter. No Josh Hamilton. No Zack Greinke. No Justin Upton deal. See ya, Mike Napoli and Michael Young. And now Nelson Cruz is shadowed by potential PED punishment.
2. Yankees: They re-signed some of their own, lost Nick Swisher and Russell Martin (and A-Rod), and their only outside additions are Youkilis and Travis Hafner. Good thing many of their key players are still so young. Hey, wait a minute. ...
3. Cardinals: No Chris Carpenter, no Lance Berkman, no Kyle Lohse. ...
4. Marlins: Where's contraction when you need it?
5. Astros: Where's Jim Deshaies when you need him?
5a. Padres: Where are big-league free agents other than Jason Marquis when you need them?
Five delicious Grapefruit League stops
Florida by the numbers. ...
1. Le Tub, Hollywood: Tougher to get to now that the Orioles no longer train in Fort Lauderdale, but still my favorite place in Florida. A funky old converted Sunoco station, great burgers, wonderful peel and eat shrimp, and you can sit in a driftwood booth right on the intracoastal waterway and watch the sun set for hours.
2. Frenchy's, Clearwater Beach: The Grouper Sandwiches melt in your mouth, and the gulf is gorgeous.
3. Nino's, Fort Myers: You won't find fresher Italian food. Plus, this is a sentimental place -- I've been going here since 1994. Say hello to owner Graziano when you stop in.
4. Leftovers Café, Jupiter: Sweet potato-crusted sea bass and more. Mmmm.
5. Harry's Louisiana Grill, Lakeland: Can never decide whether to order the crawfish etoufe, jambalaya or smoked sausage with red beans and rice.
Five rookies on the verge
Youth. It's not wasted on the young in these instances. ...
1. Jurickson Profar, Rangers: The Rangers' biggest task this spring will be finding a place for this kid. Elvis Andrus right now remains as the shortstop, and Ian Kinsler has told the Rangers he does not want to move from second base to first. But mark it down: Profar, a switch-hitter with great bat speed, some pop and good defensive range, will play somewhere.
2. Mike Olt, Rangers: Adrian Beltre is the third baseman, but Olt is just about ready. Don't be surprised to see him in the outfield with Josh Hamilton gone and with Nelson Cruz in danger of being suspended when MLB's PED investigation is done.
3. Dylan Bundy, Orioles: Even Jim Palmer will love watching this hard-throwing right-hander.
4. Wil Myers, Rays: Having been acquired from the Royals in the Shields deal and with B.J. Upton a memory, Myers, who ranked second in the minors in homers last year, should quickly find a home.
5. Tyler Skaggs, Diamondbacks: Tasted the bigs in 2012 after whiffing nearly 10 hitters per nine innings in his minor-league career. Look out.
Five comebacks to track, non-Yankees division
Unwrap the ice and let's go. ...
1. Stephen Strasburg, Nationals: This isn't so much a comeback as an endurance test after the big Strasburg Shutdown last season. With that and Tommy John surgery in his past, the big test now for the D.C. ace will be preparing for 200 innings.
2. Carl Crawford, Dodgers: When manager Don Mattingly visited the outfielder at his home in Houston this winter, his left elbow (reconstructive surgery last August) was rehabbing nicely. The Dodgers quietly hope he can be a factor by opening day.
3. Brian McCann, Braves: Questionable for opening day following October shoulder surgery, McCann's comeback is vital to the post-Chipper Jones Braves. Especially with the Nationals loaded with talent.
4. Melky Cabrera, Blue Jays: OK, Mr. All-Star Game MVP whom we haven't seen since August because of that little matter of the suspension ... can you play off the juice?
5. Travis d'Arnaud, Mets: Back from knee surgery, this guy plays big in the Mets' plans. He should: He's been traded for two aces so far -- Roy Halladay and R.A. Dickey.
Five more comebacks to track
Comebacks, they're the new black. ...
1. The Phillies': Second baseman Chase Utley (knee), first baseman Ryan Howard (Achilles) and ace Roy Halladay (strained right lat muscle) all missed significant time last year. As they go, so will the Phillies.
2. Victor Martinez, Tigers: Adding him to Prince Fielder and Miguel Cabrera in the middle of the lineup? Wow.
3. Scott Sizemore, Athletics: He went down early last spring with a torn knee ligament. The A's won, but they'll be better with a healthy Sizemore.
4. Matt Garza, Cubs: He hasn't pitched since last July 21 and, boy, did that ever mess up his status as trade bait.
5. Ryan Madsen, Angels: He isn't expected back until later in the summer, and his arrival could impact the AL West race.
Five best spring venues
No new facilities -- same rankings as last spring. ...
1. Scottsdale Stadium, Giants: Intimate, gorgeous and walking distance to great restaurants and bars in Old Scottsdale.
2. Joker Marchant Stadium, Tigers: Now entering their 77th consecutive spring in Lakeland (longest streak in the majors at the same spring venue), the Tigers' joint ranks on name value alone.
3. Bright House Field, Phillies: Great job with combining modern and intimate.
4. Salt River Fields at Talking Stick, Diamondbacks and Rockies: When clubs leave Florida for Arizona, facilities like this is why.
5. Tempe Diablo Stadium, Angels: Picture-perfect at the foot of Mt. Diablo.
Five managers on the griddle
Don't call it a hot seat (yet). ...
1. Don Mattingly, Dodgers: Entering the final year of his contract, that little ol' $200 million payroll means must-win.
2. Ron Gardenhire, Twins: Also entering the last year of his contract, the Twins cleaned house last winter on his coaching staff. Another disappointing year and GM Terry Ryan might be coming for Gardy next.
3. Terry Collins, Mets: Yep, one more skipper entering final season of his contract.
4. Charlie Manuel, Phillies: The window to win is closing on the Phillies ... and Manuel had better remove his fingers from that window ledge quickly.
5. Ned Yost, Royals: The tools and, more importantly, the expectations, are there to win in KC.