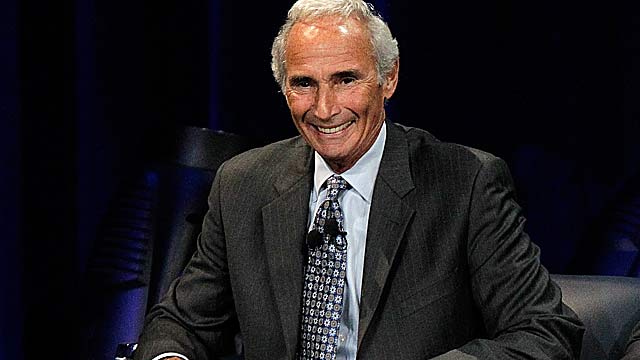 GLENDALE, Ariz. -- You blink. You rub your eyes. You stare.
Him. There. Standing in the brilliant morning sunshine next to one of the practice mounds. Suggesting to Chris Capuano that perhaps he might try moving his feet closer together when he works out of the stretch.
"Fastball," Capuano calls out to the bullpen catcher, ready to take Sandy Koufax's latest tip for a spin.
"Without question," says Jaime Jarrin, the Hall of Fame broadcaster who has been calling Dodgers games since 1959. "The best signing by the Dodgers this year."
No outward symbol screams progress by the Dodgers this spring more than the presence of Koufax, in full uniform for the first time since 1989, working with an assembly line of awestruck pitchers shuffling past him with reverence.
No new addition has re-energized this franchise quite like a 77-year-old legend who, you assume, must have arrived here by way of descending from Mount Olympus.
No, not even Zack Greinke.
"The fans go crazy," ace Clayton Kershaw says. "They go nuts when he's around.
"I understand. I want his autograph, too."
In racing toward a bright new future, the new Dodgers -- to their everlasting credit -- took time to construct a better, sturdier bridge to their past.
Club president Stan Kasten and marketing man Lon Rosen extended the offer to Koufax during a game in Dodger Stadium late last season.
"I said, 'I'm not sure, I'll let you know,'" the famously reclusive Koufax was saying here Friday morning, before quipping: "I'm still not sure. But I'm here."
He arrived on Sunday for an open-ended tour as a special guest instructor. Ten or 11 days, probably. See how it goes. Rarely have guest instructors been so special.
"It's like the prodigal son coming back," Jarrin says.
Not since he was a minor-league pitching instructor in the 1980s has Koufax worn a Dodgers uniform. Disenchanted with the organization's direction at the time, he left.
Rarely has he represented the Dodgers publicly since. And in 2003, angry over the New York Post printing a rumor regarding his personal life, he severed ties with the club again. The club and the newspaper both were owned by Rupert Murdoch's Fox at the time.
When the McCourts took ownership a few years later, Jamie made some inroads in luring Koufax back to the organization. But there was nothing official, and he remained scarce.
He's popped in and out of spring camps over the past decade, usually quickly, with the Mets. A high school friend of owner Fred Wilpon's, Koufax tutored a handful of New York pitchers. But he never pulled on a uniform while doing so.
"My first experience with him was in spring training 2011," says Capuano, who was then with the Mets training in Port St. Lucie, Fla. "I noticed somebody standing behind me in the bullpen, and it was him."
So Capuano did the only thing he could think of: He immediately started throwing as hard as he could, trying to impress Koufax. It was either that, or melt into a puddle.
"He gave me a tip on where my foot was placed on the rubber," Capuano says. "It seemed strange, but I wasn't going to say no to him."
To this day, Capuano still places his foot there.
Koufax and Dodgers manager Don Mattingly have known each other for several years through Joe Torre, which undoubtedly is another reason Koufax felt comfortable in returning.
And when Mattingly introduced him in a team meeting Sunday, the manager rattled off several statistics just to make sure the Dodgers -– especially the younger ones -– understood.
Three Cy Young awards by unanimous vote. An 0.38 ERA in three starts against the Twins in the 1965 World Series. The 2,396 career strikeouts that ranked seventh in history at the time of his retirement in 1966 -– at 30!
Crazy stuff.
The players were library quiet as Mattingly spoke. They broke into a raucous and welcoming applause when he was finished.
"He's just a gentleman," Capuano said. "He's very gracious, with zero pretention. He'll never tell you his numbers. He just wants to talk pitching."
Koufax spent most of Friday morning doing just that –- and smiling broadly. He worked with Zach Lee, the club's top pitching prospect. Then came lefty Hyun-Jin Ryu, Capuano and Chad Billingsley.
"I enjoy it," Koufax said. "I've always enjoyed it. I like talking pitching, maybe the only thing I've ever known, or been good at."
The scene has teetered between charged and chaotic, nearly spiraling out of control on Koufax's first day when fans swarmed his car as he attempted to exit the fenced-in players' parking lot. Bench coach Trey Hillman had to rush outside to help the overwhelmed single security guard call off the overeager fans and clear a path.
The Dodgers also quickly replaced the nylon rope lines with temporary metal fencing leading to the practice fields.
It's as if an apparition suddenly has sprung to life.
"I'm trying to figure out who says I'm private," Koufax says, smiling. "I'm at the Final Four. I go to golf tournaments. I go to movies. I go to dinner. I live my life. Somebody wrote that 50 years ago, and they're still writing it."
By the end of Friday's workout, White Sox broadcaster and former pitcher Ed Farmer was among those looking to touch greatness. The difference with Farmer is, he already did it once, back when he was 18.
"Sandy was doing the national Game of the Week on television, and that's when I met him," Farmer said. "He showed me how to throw a curveball. I'm always indebted to him. He made me a lot of money."
The more praise Farmer heaped on Koufax, the more the self-deprecating legend deflected it.
"You've gotta have clay to mold," Koufax told him. "Then some guys are granite and you have to chip at it."
Over the next six weeks, the Dodgers will sort through the granite and the clay.
Over the next several days, they will do so with the help of an icon who has been gone for far too long.
Gods do not answer letters, the author John Updike famously wrote of Ted Williams. But, sometimes, they help Dodgers pitch out of the stretch.
"Immediately, the ball felt better coming out of my hand," Capuano says. "I think I'm going to change."
"When you think of the Dodgers –- or at least, when I do –- you think of Sandy Koufax," Kershaw says. "He's the face of the franchise."