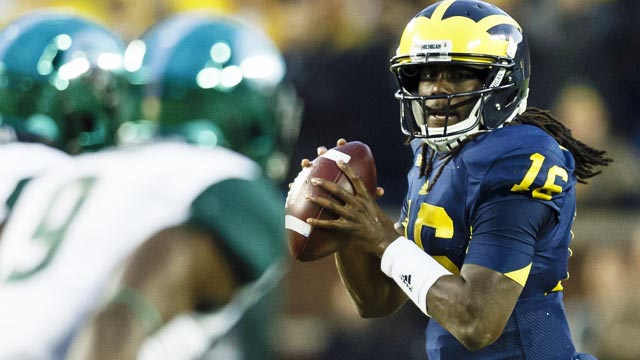 INDIANAPOLIS -- In our memory-challenged, super simple social media world where facts and opinions sometimes count as the same, we forget. We forget how talented a player is. How good he was. That's the case with Michigan's Denard Robinson.
So, a reminder. Remember this? Or this? There's more where that came from. A lot more.
The crime of Robinson's situation is that he doesn't fit into a comfortable box for NFL and media types. In a combinastic world of manufactured 40 times and the desire to categorize a player definitively, someone like Robinson, despite massive production in college, is hurt.
When I read someone state with a straight face that Robinson should be a cornerback, you just have to laugh.
The NFL is now about weaponry, and I'm not talking about Plaxico Burress' gat. Offensive strategy is simpler than ever. Put together a bunch of athletes, take advantage of the relaxed rules that prevent defenses from breathing heavy on offensive players, put those athletes in space, and say, "Hut, hut."
The San Francisco 49ers are great at this. So is Seattle. So is New England. The Steelers. The successful, forward-thinking franchises all do this. The losers don't.
"I think he's the ultimate hybrid Swiss-army knife type of player," Lions general manager Martin Mayhew said. "He can do so many things, and he's very good at a lot of things. You have to have a creative offensive mind, creative coaching staff, to figure out the best way to use him.
"[Robinson] has a lot of things he can do, whether it's running the ball, catching the ball, as a returner. But he's the type of player you have to have a plan for. If you take him, you have to know what you're going to do with him. He can do a lot of different things, but you got to specify what his role is going to be on your football team."
Notice, Mayhew didn't say he should play corner.
"A lot of people gamble, don't you think? I think I'd be a pretty sure bet," Robinson said this week. "If a team takes a risk with me, I think it's not a bad risk. Anybody who watches film of me, they know I can make plays, and they know I won't be a risk when I get the ball in my hands."
His combine performance is irrelevant. Look at the film and also look at history. How many times have players performed greatly at the combine and stunk in football or stunk at the combine and were Hall of Famers?
Robinson ran a fast first 40 time of 4.34. That's excellent but I'm not enthralled by those numbers. I'm enthralled by his play, and this player carried the ball more than 700 times in college.
One of the best examples of over-reliance on numbers and combine conventionality is this name: Dexter Jackson. In 2008, Jackson ran a 4.27 40-yard dash -- the fastest for receivers that year. The Tampa Bay Buccaneers were so suckered, uh, impressed, they moved Jackson high up on their draft board and picked him in the second round. That was 2008. By 2011 he was playing with the Virginia Destroyers of the UFL. Now, he's out of football.
The combine can be Fool's Gold, a sucker bet. There are definitely usable elements and benefits to teams but it's becoming more of a reality television show. Players continue to use increasingly sophisticated and specific training methods for the 40 and other drills. The combine will continue to devolve from something substantive to an entertaining television show.
Robinson's not perfect, but when you're the only player in college history to both pass and rush for over 1,500 yards in a season, well, that's not so terrible. The NFL potential for Robinson is huge.
Put Robinson at punt returner, also play him at wide receiver, a little at running back. He'd prosper in a place like New England or with the Steelers or even in Dallas. There a number of places where he'd prosper because he's a football player.
Robinson might not be a quarterback but he's not a damn defensive back. This isn't the 1970s. Free your mind.
Sure, there are risks with Robinson, but most of those concerns are injury related. He might require surgery on his elbow but that won't stop him. He'll be an explosive, good player.
Let's not forget that.