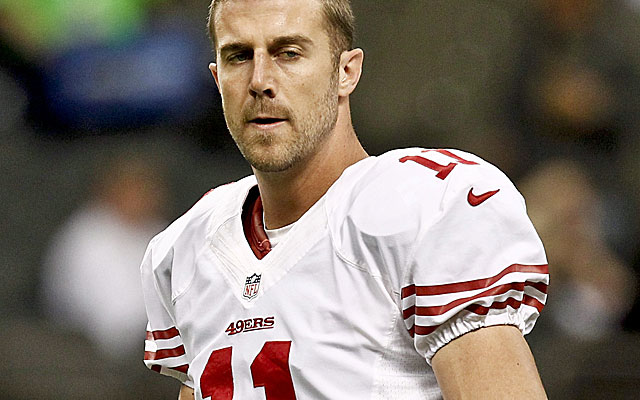 INDIANAPOLIS -- There is going to be at least one significant trade this offseason. This much we know.
The San Francisco 49ers will trade Alex Smith, and, according to league sources, the deal has effectively already been agreed to. No trades can be official until the league year begins March 12, so nothing can be finalized now, but sources said the two teams involved have the key terms in place at this point, and will finalize it down the road.
At this point, I don't know the identity of the other team involved, but the 49ers have made it clear they are moving Smith and he will not be a part of the team this year. Smith has two years left on his deal, and is set to make $8.5 million this season, including a $1 million roster bonus. He is to make $7.5 million in 2014, and there may have to be some tweaking of his contract as part of the deal, with his new team possibly wanting to alter the contract.
Regardless, 49ers officials have told people it's a fait accompli. Several execs I spoke to pointed to the Chiefs as the most likely destination for Smith. The Chiefs will release former starter Matt Cassel, according to league sources, and new coach Andy Reid has been exploring the trade market for a new passer.
The 49ers want to move forward with young sensation Colin Kaepernick as their starter and won't be paying Smith $8.5 million to be a back-up. My best guess at this point would be that Smith lands in Kansas City, in exchange for a mid-round pick (third or fourth round).
With that in mind, here is a look at some other trades I believe would make a lot of sense this offseason. Keep in mind, I am not reporting the following trades will happen, or have been agreed to -- in some cases the player listed might not end up getting dealt at all. But there have already been internal discussions about the possibility of moving these players and some of them will get dealt.
Darrelle Revis to the Bucs for a 1st and third: The Jets will explore options to deal Revis, sources said. The timing of his ACL injury and the fact that he can make a very compelling case to be the game's highest paid defensive player make it tough. "It's not going to be an easy trade to make," one GM told me. "Any time you have to give up picks that high, and pay the player that much money, it's going to limit the options." Still, this is a player still plenty young enough who would be in the discussion of top five players in the NFL, regardless of position.
The Jets know they face a very real risk of losing Revis for nothing after the 2013 season, and the window to get some value for him is now. The question will be can they get a first-rounder now? Will be tough, especially a high first rounder. But still, might a team offer a second now, and, if Revis hits certain benchmarks in terms of playing time and performance, the future pick becomes a first rounder? There are ways to get creative. Tampa is still looking to be aggressive, tightening up the back end of the defense would be vital, and they were going to have corner Eric Wright on the books for $7.7 million (it's all but certain he will be released). So Revis at $14-$15 million a year, or Wright at $8 million?
To me Tampa is one of several teams that should at least deeply explore what exactly the price for Revis will be (in terms of picks and contractually). Buffalo and Miami could badly use him, but I don't see the Jets trading him in the division. He is precisely the kind of lock-down corner new Jags head coach Gus Bradley covets (but picking second overall, dealing a 2013 first-rounder for Revis wouldn't really work; perhaps a future one?).
In the end, maybe the Jets can't get what they feel is close enough to fair value for Revis. We shall see.
Percy Harvin to the Dolphins for a 2 and a 4: Miami needs playmakers, desperately. And let's say Greg Jennings ends up re-signing in Green Bay, and let's say teams blanch at paying Mike Wallace $11 million a season. Harvin can do it all and is just entering his prime and Miami is bracing for the departure of Reggie Bush. They could line up Harvin everywhere and he would immediately be Ryan Tannehill's best option.
If the Dolphins are losing a lot of talent -- and they could end up losing four of the following five players: Sean Smith, Jake Long, Randy Starks, Brian Hartline and Bush. They need to offset that somehow, and it can't be just through free agency. The Vikings brass is still mulling its options with Harvin internally, and though GM Rick Spielman said at the combine he does not "intend" to deal Harvin, they know if they don't get him re-signed this offseason they could risk losing him.
If a deal comes along that makes sense, I suspect the Vikings listen. Given the situation they're in, I don't see them getting a first rounder here, but, especially if more receivers end up getting franchised or re-signed by their current teams than expected, the market for Harvin could get pretty interesting if the Vikings shop him.
Matt Flynn to the Jags for a 4th or 5th round pick: Seattle isn't under the gun to deal Flynn the way San Francisco is with Smith, but it would certainly love to deal him if it makes sense. There is no mystery to that. Jacksonville needs competition for Blaine Gabbert, Bradley was in Seattle with Flynn and would have a good sense about him.
Flynn hasn't played much, but when he has, he has shined. Given the state of Jacksonville's quarterbacking situation, almost anything would be an upgrade. Again, the Jags could end up being the team for Smith, but given the dearth of options in free agency, and with the Jags having an aggressive ownership group, and new GM and coach, getting the chance to find out how good Flynn could be would be worth a fifth-round pick in my estimation, if not a fourth.
Rolando McClain to the Ravens for a 7th round pick: Baltimore is very thin at interior linebacker, with Ray Lewis departing. And given the overall strength of the locker room and front office, the Ravens have been willing to take risks on troubled players. McClain's constant stream of legal issues and arrests puts him a unique category among troubled players, and maybe he is too much of a bad seed and locker room issue to even think about bringing in.
But Ravens GM Ozzie Newsome went to Alabama, knows the program inside out, is very close to Nick Saban and maybe is the one guy who could talk some sense into the recent top-10 pick and find some value there. McClain has been a bust, and maybe no one touches him. But with Lewis leaving and Dannell Ellerbe a free agent and linebacker Jameel McClain dealing with a serious neck issue, I'm just thinking out loud a moment here.
Regardless, McClain has worn out his welcome in Oakland and the Raiders will try to get something for him if possible.