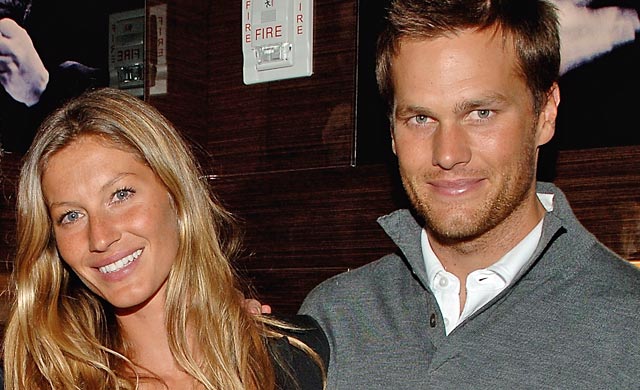 Tom Brady is not heroic or noble or even unselfish for signing a contract Monday for considerably less than his market value. To be those things, he would have had to sign a contract for the NFL minimum.
And I'm kind of wondering why he didn't.
Being honest here. If Tom Brady really, truly cares about the product on the field -- if he's absolutely trying to position himself to win another Super Bowl -- he would have signed a contract worth far less than the one he signed Monday, which will pay him $27 million guaranteed over the next three years. If Brady wanted to give the Patriots cap relief and financial flexibility by signing for an average salary of $9 million a year, why didn't he want to give them more cap relief, and more financial flexibility, by signing for the 10-year veteran's minimum of $940,000 per year?
Nobody in his position has ever done that, of course, but nobody -- and I mean nobody -- has ever had the freedom to be as altruistic as Tom Brady. His net worth is in the vicinity of $100 million, and he earns millions more in endorsements, and that's not even what I'm talking about.
I'm talking about Gisele.
Even when Brady was the highest-paid player in the NFL a few years ago, he wasn't the highest-paid person in his own house. That would be his wife, Gisele Bundchen, who is the top-earning super model in the world and much more than that, a one-person Midas who is well on her way, according to Forbes, to becoming a billionaire.
Gisele and Brady are said to be the third-richest celebrity couple in the world, behind only Jay-Z/Beyonce and Mariah Carey/Nick Cannon.
And Tom Brady is unselfish for earning $9 million a year?
Jeez.
To be fair, Brady is unselfish in the sense that he's not selfish. Brady could have held up the Patriots for double the guaranteed money he'll earn in 2013. Had he signed for every penny he could have squeezed from Bob Kraft, the Patriots wouldn't have had enough left to surround Brady with the pieces, offensively and defensively, they'll be able to afford now. Maybe leading receiver Wes Welker would have had to go elsewhere. Maybe the best free agent the Patriots eventually sign this offseason, whoever that guy is, would've ended up elsewhere if it weren't for Brady's new deal.
All of that is true, so let's be clear about this: Tom Brady did help the team by agreeing to this contract. But how impressed am I supposed to be? As impressed as this columnist in Boston? Can't do it.
The NFL is like other professional sports and even like other businesses -- including mine -- where people measure themselves, and each other, by the money the boss pays them. That's why the best athletes (and coaches) often have it written into their contract that their deal can be voided if they don't remain one of the three or five highest-paid people at their position.
A player's contract is more than his salary. It's his status symbol. That applies to almost everybody in professional sports -- but it doesn't apply to Tom Brady. He doesn't need the biggest salary in the Patriots locker room to have the utmost respect of everyone there. Brady is an eight-time Pro Bowler, a two-time MVP, a sure-thing Hall of Famer. He has three Super Bowl rings, two Super Bowl MVP trophies and some of the gaudiest career statistics in NFL history. He's married to one of the richest, most beautiful women in the world. Any questions?
Actually, I have one:
Why wouldn't Brady take the 10-year veteran's minimum? It's one thing not to be greedy, but unselfish? Are we going so far as to say he's that? At least one teammate has, defensive back Devin McCourty, who responded to Brady's new deal Monday by tweeting that Brady "is the definition of a team player."
Come on. He's sort of a team player, yes. He made a gesture. But if he's going to think of his team a little bit, why not think of it a lot? Either winning a Super Bowl is the most important thing to him, or it's not. If that answer is yes, then think of the pieces the Patriots could assemble with an extra $8 million. That's another great starting player, or two or three top-notch reserves.
None of this is meant to say, or even imply, that Tom Brady should have taken the 10-year veteran's minimum. He didn't owe that to anyone. Nor am I writing this to bemoan the current state of salaries in professional sports. If the money's there to be made, go make it. Capitalism, free marketplace, all of that.
But let's have some perspective, please. Two years ago some people wanted to celebrate LeBron James, Dwyane Wade and Chris Bosh for taking less than max contracts to sign with the Heat, allowing the team to afford all three of them. Were they being unselfish? I'd like to think that threshold is a bit higher than signing deals worth tens of millions of dollars, making millions more in endorsements and guaranteeing themselves a team that could compete for -- and in two years did win -- an NBA title. Unselfish? No, they weren't unselfish. They were smart.
That's Tom Brady with this deal. He's smart.
Given what Gisele's worth, he could have been about $8 million smarter.