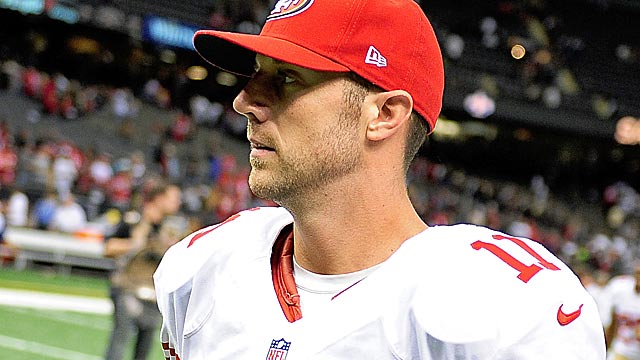 What the hell are the Kansas City Chiefs doing trading a reported two second-round picks to get quarterback Alex Smith from the San Francisco 49ers?
Haven't they played this let's-go-get-somebody-else's-quarterback-castoff game before? How has that worked out?
From Joe Montana to Matt Cassel, the Chiefs have chased that quarterback dream for decades with nothing but nightmares in the end.
But new coach Andy Reid, who is the power man calling the shots, has reportedly decided to trade for Smith to be his starter in 2013. Reid loves quarterbacks, so it makes sense. And the Chiefs have talent, but does Alex Smith answer the franchise quarterback question?
As much as I like him as a person -- one of the class acts in the NFL -- I just don't think he does. Can he be serviceable for a few years? You bet. But does serviceable win titles?
It rarely does, unless your name is Trent Dilfer or Brad Johnson, and I don't see one of the all-time great defenses in Kansas City.
This smells of Matt Cassel II to me, even if Smith is a better player. In fairness to Smith, he's had to play in a variety of systems in his time in the league and he's handled it with class.
Even when he was benched last year for Colin Kaepernick, a move at the time I didn't agree with because Smith was playing well, he sat back and kept his mouth shut. He was a bigger man than me.
What I see in Smith is another in the long line of "manage-the-game" quarterbacks. When you point to a guy's lack of interceptions -- the past two seasons -- as a reason to prop him up, it tells me he's not taking shots down the field. He's playing it safe.
That's Smith. Maybe that's what Reid wants after all the turnovers he's had to deal with from Mike Vick the past couple of seasons. But I don't see this being a Chiefs team that can just plug in a guy like that and get to the playoffs -- let alone push for a title.
I get that the draft class is supposedly lean when it comes to quarterbacks. The Chiefs have the first pick, and now will almost certainly take a left tackle. But they could have used the second-round pick to get a quarterback, a guy to develop, if they didn't want to take West Virginia's Geno Smith at the top.
Some will say that Reid can still draft and develop one. But you don't trade two second-round picks -- including one that is at the top of the second round -- to play a guy for a year and then play the draft pick the following year. This isn't Matt Flynn-Russell Wilson.
Since being the first overall pick in 2005, Smith has 81 touchdown passes and 63 interceptions and his completion percentage is 59.3. In the past two seasons, he has played better by throwing 30 touchdown passes to 10 interceptions. But he was available as a free agent last year, coming off a season in which the 49ers went to the NFC Championship Game, and it wasn't like people were beating down his agent's door to sign him.
The Chiefs are giving up a lot for a quarterback who has never thrown 20 touchdown passes in a season. He is still 28, so he could be entering his prime. But that's not the issue here.
The issue to me is whether he can be a franchise quarterback. He was drafted to be one, and it didn't work out in San Francisco.
Something tells me it won't work out in Kansas City either.
The ghost of Todd Blackledge seems to be hanging over this franchise when it comes to quarterbacks. They picked Blackledge in the vaunted Class of 1983, and he ended up being the worst of the six taken, a class that included Dan Marino, John Elway and Jim Kelly. They passed on Marino and Kelly by the way.
In the time since, the Chiefs have tried to plug in guys to play quarterback. Guys like Steve DeBerg and Trent Green and broken-down guys like Montana and Warren Moon, all the while hoping to get to a Super Bowl.
Matt Cassel was the latest to fail in the plug-them-in system. So what do they do about it? They try it again.
My advice to Chiefs fans: Study the backups on the other NFL teams. Two years from now, one of those guys might be your next starting quarterback.