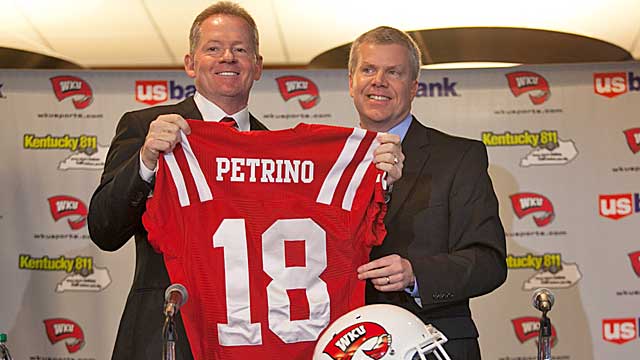 BOWLING GREEN, Ky. -- Bobby Petrino was going to make it through this latest leg of his rehab tour without incident. At lunch with a reporter, back to the office and through a quick look at the Western Kentucky facilities, he had held up well. All the hard questions had been asked about how Petrino had gone from an SEC program with a top-five national ranking to a fifth-place program in the Sun Belt.
The answers regarding his spectacular fall were honest, if not particularly deep. Then he was asked about the pictures. There, at the highest point in a spacious new office were the four framed photos of the collateral damage of the lowest point of his career. Of his life.
The faces of his children -- Bobby, Katie, Kelsey and Nick -- smiled down from their perch above a cabinet. At that moment, a 51-year old question mark for coaching and moral stability turned into just another proud, gushing parent.
There was Kelsey, the oldest, married to Western Kentucky assistant L.D. Scott -- and the coach's two grandchildren.
Katie plays golf nearby at Louisville.
"I actually beat her in nine holes once," dad said proudly.
Bobby Jr. has graduated from the culinary arts program at Sullivan University.
But it is the effect on Nick of last spring's sordid affair with a 25-year- old Arkansas football office staffer that causes his dad to pause.
"It was terrible for him because he did a great job," Petrino said.
Nick wants to be a coach, just like his father. Last year Nick was a student coach for the Razorbacks with the right pedigree, right last name and right amount of energy. What a classroom for a kid with a limitless future. What an opportunity, to do it with his dad. But the intimation is that the past few months had been hell for Nick.
"I thought it was the hardest thing for him more than anything else," Petrino said. "I took something away from him."
Nick is still at Arkansas with that pedigree, that last name and that energy to be a coach. Minus his father. Instead, dad is here on that rehab tour lugging some of that regret with him to the office every day.
Starting over
Petrino's reboot could have come anywhere. It was going to be somewhere. The coach's radioactivity wasn't going to extend across the entire country, not for long and not with his winning percentage.
That it came here at a program completing just its fourth year in the Football Bowl Subdivision can be justified by just about everyone involved.
Western Kentucky can, because of its desperation to be relevant. The Hilltoppers have never won more than seven games since moving up to FBS in 2009, going to their first bowl last season.
AD Todd Stewart can, because the Hilltoppers' former SID could ride Petrino beyond Western Kentucky into the sports administration stratosphere. The contract structure alone is a brilliant stroke of leverage and accounting by Stewart.
Petrino is the highest-paid Sun Belt coach at $850,000 per year, but his buyout is $1.5 million. If the coach leaves after 2013, Western Kentucky would make $300,000.
"We've got a guy in the prime of his career," Stewart said. "He's 51 years old and has been to the Orange Bowl, Cotton Bowl and Sugar Bowl in the last six years. Sometimes a school will get somebody like that, but they are 20 years removed."
It is, then, a fortunate marriage.
If the attempt is to dry erase that indelible image of the April Fool's Day motorcycle ride that busted up his bike, marriage and career, there are worse places for Petrino to reboot. Western Kentucky is out of the way and barely out of the chute when it comes to big-time football.
The school a few miles north of the Tennessee line has been playing football for 94 years but its tradition is mostly in basketball. The program might owe its existence to Jack Harbaugh, John's and Jim's and dad, who kept the program relevant while winning 10 games three times from 1989-2002, including the '02 I-AA national championship.
But there were less than 10,000 folks at the final two home games last season in 22,000-seat L.T. Smith Stadium. Even with Petrino, fans aren't quite sure what they have.
The coach can justify the move -- easily. You have to start (over) somewhere. Petrino a) doesn't have to play Alabama, Florida and LSU each week, and b) he's working again. Compared to piddling around the house each day, preparing for Louisiana-Monroe and Florida Atlantic rates right up there with a BCS bowl run.
"We can be Boise State. Why not?" the coach said. "We beat them all the time when I was at Idaho."
That was back in 1989-91 when Petrino was a I-AA offensive assistant. Life was so innocent then.
From a bind to a binder
The plan last fall was to lock up Willie Taggart, make him the highest-paid coach in the Sun Belt. Since 1995, Taggart had either played quarterback or coached for Western Kentucky, save for three years under Jim Harbaugh at Stanford.
Taggart brought a combination of that Cardinal physicality and out-and-out hucksterism to the program. Boosters were on board for a $50 million upgrade that made part of the football facility look like Texas or Ohio State. Taggart's availability made it easy for national outlets to reference the coach and program that had been four games under .500 since 2010 but also had a 1,500-yard rusher three consecutive years.
Maybe the Hilltoppers could be the next Boise. Stewart thought so when he hatched his plan for an extension in early October. It was supposed to be announced during homecoming week, until Taggart hemmed and hawed and said something about it being a "distraction" to the team.
That's when Stewart started to put together the binder. It was two inches thick, filled with coaching candidates just in case Taggart -- as Stewart was beginning to suspect -- would leave. As Taggart began to get feelers from South Florida, Western Kentucky president Gary Ransdell was headed out for a trip to China. Ransdell was informed that his football coach might be gone by the time he got back. Stewart was given permission to begin the search.
The binder was nice but those 75 candidates were mere fallback choices if Petrino didn't say yes.
"He called back in five minutes," Stewart said.
Bobby and his wife Becky flew to Bowling Green to case the place.
"This," the coach said, "was the best thing for our family.
"Normally in my profession we've ... said, 'Hey, we're going to go [to the next job]. Let's go.' This time it was, 'Let's all talk about it. What do you think?'"
Katie was less than two hours away at Louisville. Kelsey could stay close with her husband on the staff.
Dad, you need to get back to work, they told him.
They told him.
Which meant for all the world they had stayed together. The Petrino family. Bobby, Becky and the kids. A family unit is surviving an unspeakable test.
"It's going OK," Petrino said, reflecting on the fact there is a family unit, "a work in progress."
None of us could be certain it would end up that way in the wake of those awful first days following the crash of Petrino's Harley on Highway 16 near Crosses, Ark.
Since then everything written about the coach has been prefaced with what he did to his family. That has to come first. Even before the damage inflicted at Arkansas -- to the program, to the players, to the staff -- which was significant and widespread.
"I tried to stay away," Petrino said of the crater he left for his buddy John L. Smith. "I'd send him a text."
Twenty-three percent of men "reported" cheating, according to an Indiana University study. But who knows? It's not the kind of thing you brag about. It's like those NCAA studies that ask players if they've taken recreational drugs. There's no incentive to be truthful. One of society's most tragic taboos is a moving target.
What matters here is that even if the community doesn't know the details, they have accepted Petrino on the rebound. Once you get past that, almost everything is acceptable.
"[My wife] was totally fine with it," Stewart said. "I would say the negative feedback I received has been outside of Bowling Green. A lot of it has been people from Arkansas and Atlanta that have voiced their disapproval."
There is that about Bobby Petrino. He seems to leave everywhere abruptly. During his first year at Louisville in 2003, there was the Jetgate situation when he met secretly with Auburn officials. The next year he interviewed with Notre Dame and LSU. In 2005, it was the Raiders. In 2006, he signed a 10-year contract with the Cardinals. Five months later he was gone to Atlanta and the NFL.
That dalliance lasted 13 games and ended with goodbye notes to the Falcons in their lockers.
But in America, if you can coach that trumps just about everything. Petrino was considered a savior at Arkansas, which had just gone through the tumultuous departure of Houston Nutt. Not much had changed when he was fired last spring except his employment status. Petrino's winning percentage was the school's best in more than 20 years.
There are those at Arkansas who still believe he would be the Hogs coach if he had just come clean about the affair after the motorcycle crash. Petrino told at least one media outlet he was alone on the bike. He was fired, in part, for not being forthright with his boss, AD Jeff Long.
If he had walked into Long's office after the crash and confessed to the affair, would he have survived?
"There were a lot of things going on that didn't allow me to do that," Petrino said. "I was in the hospital, medicated."
Surprisingly, the hardest question from parents on the new Western Kentucky recruiting trail has not been about the affair. They ask him how long he is going to be here.
"My vision for the program is to go to a bowl game every year," Petrino told them. "I figure I've got 14 more years left to go."
That would bring him to retirement age. That would also be amazing. No one is kidding themselves. Petrino could be gone in a couple of years, having sufficiently wiped away the moral stain enough to get hired back into the SEC. The coach says he was close to a couple of coordinator jobs in the offseason, one of them in the NFL. A May-December romance at Western Kentucky is not only likely, it might be expected.
It's a wonderful country when Petrino can get a job eight months later and Jim Tressel has to wait four more years.
Tressel knowingly played ineligible players and concealed information from the NCAA. Petrino played around and concealed information from his family. One man answered to college sports' governing body. (Tressel received a five-year show-cause penalty that essentially keeps him from coaching.)
The other man has answered to his wife, his family and eventually to his new boss at Western Kentucky.
"There weren't any NCAA violations," Stewart said.
Putting the band together
Petrino has heard the Lamar Thomas audio. It has been more than six years since the former Miami receiver was on the air for Comcast Sports SouthEast when the infamous brawl broke out between Miami and Florida International.
"I was about to go down the elevator and get into that thing," Thomas said, among other inflammatory things.
In that moment, the embodiment of Miami swag had reached all the way to the press box.
"I listened to it [audio] before I hired him," Petrino said. "I remember that."
Lamar Thomas is now Petrino's receivers coach. A part of Thomas can't figure out why.
"I have no idea," he said.
At age 43, Thomas is 13 years removed from an NFL career, three years removed from being a high school assistant and a few months passed from being Hampton's receivers coach. This is his first coaching job at an FBS school.
Petrino explained that Thomas the player made an impression more than 20 years ago. Back then the staff at Idaho under John L. Smith would visit Dennis Erickson at Miami.
Remember, life was so innocent then.
"Lamar was real impressive about how he answered questions in the classroom during meetings," Petrino said. "I kept track of him."
When he had to assemble a staff almost from scratch, Thomas was a must.
"I actually thought it was a prank call," Thomas said, "I didn't remember meeting him. Just like I tell these kids: 'This opportunity fell out of the sky.'"
It's not exactly an island of misfit boys with the Western Kentucky staff, but there is a certain dividing line between young and old. Thomas, Scott (25 years old), special teams coach Ricky Brumfield (36) and running backs coach Kolby Smith (23) have never been full-time position coaches at an FBS program.
The remainder of the staff ranges from age 41 to 59. They have the bulk of the staff's 170 years of experience that includes 48 bowl games, 12 BCS bowls and three national championships. Former Alabama-Birmingham head coach Neil Callaway just joined as offensive line coach. Offensive coordinator Jeff Brohm rejoins his old Louisville boss. Defensive coordinator Nick Holt came from Arkansas, where he had taken the job vacated by Petrino's former mistress -- director of on-campus recruiting.
"You know exactly where you stand," Brohm said of Petrino. "He's up front and sometimes brutally up front but I think that's why he wins."
That particular trait about Petrino has not changed. He can be hard to work for. And maybe that explains why Thomas is on the staff. He's eager, and some of that Miami swag isn't the worst thing when parents get around to asking the biggest question on the recruiting trail: Why should I send my son to play for Bobby Petrino?
"He wants you to be better men," Thomas said. "That's the feeling I got when we went into homes. That's the thing I got when he talked to parents."