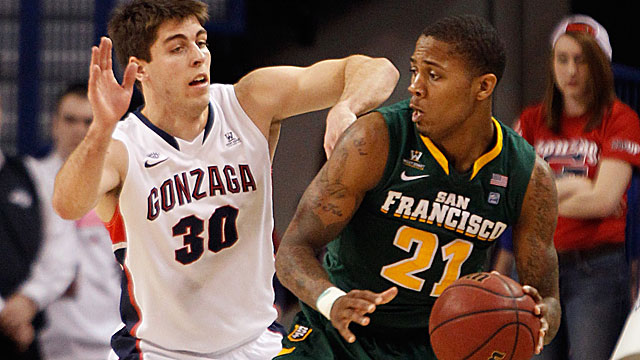 Mike Hart remembers it well. He walked into the McCarthey Athletic Center late with a couple of buddies, just prior to the festivities getting under way, and took a seat in the final row. It was Oct. 17, 2008 and he was officially a member of the Kennel Club now, rooting on the Zags. Except the Oregon native wasn't much for the cheering; instead, his mind kept wandering.
Hart was a role player at Portland Jesuit High, a senior who watched younger guys like Kyle Wiltjer and Steven Holt come in and receive immediate playing time. He never played summer basketball and didn't get a Division I, Division II or even a D-III offer.
Now he's a starter for the top-ranked team in the nation.
Just a week after holding Midnight Madness back in 2008, Gonzaga coach Mark Few and his staff held open walk-on tryouts. No invitations. Anyone can show up -- and anyone does. Usually, its a bunch of wannabes from the small campus of fewer than 5,000 undergrads. No real players. Few doesn't even bother showing because, well, it's nothing more than a formality. He probably goes fishing instead. This time Hart was one of eight to show -- and assistant coach Tommy Lloyd had never, ever heard of him.
More on Gonzaga
Related links
"We never even knew he was at Gonzaga," Lloyd said.
Hart always had the confidence he could walk-on at Gonzaga, but hadn't told anyone. He averaged fewer than eight points as a senior in high school as the resident glue guy and defensive specialist. He considered staying closer to home for college, but elected to go to Gonzaga -- a small, Jesuit school that reminded him of his high school -- over nearby Oregon. He even shot out an e-mail to former Bulldogs assistant coach Leon Rice, now the head coach at Boise State, when he knew he was heading to Gonzaga. There was no response.
Hart quickly became friendly with Gonzaga freshmen Andy Poling, a fellow Oregonian, and Grant Gibbs -- who later transferred to Creighton. They had each seen him play intramural football and also had him come down and play pickup hoops. Poling was already familiar with his game from high school and suggested he try to walk on the team. Lloyd and former walk-on Brian Michaelson, the assistant director of basketball operations, ran the event and had the eight players go against one another in 4 on 4. Then came shooting drills and 1 on 1. After the second night, Hart got the news: He was the only one to make the cut.
Hart was officially a Gonzaga Bulldog.
"I was super-excited," he said. "I went home and called my parents. It was pretty sweet."
The 6-foot-6 Hart had illusions of working his way up the ladder, but he was just a body for guys like Micah Downs and Matt Bouldin to abuse. Work hard on the scout team, don't complain and you get to don a Gonzaga uniform. That's the reward for most walk-ons around the country. Hart practiced his freshman campaign, but redshirted and the only road trip he made was to the WCC tournament.
"I thought I held my own against guys like [Jeremy] Pargo, Downs and Bouldin," Hart said.
But it didn't matter. Hart made his debut the next season when he got two minutes in the opening blowout against Mississippi Valley State. He appeared in a total of 14 games, but only in blowouts. His game had progressed, but he was still a walk-on and his role was clear. Make the scholarship guys better and prepare them for the games. The assistant coaches would work at one end of the court with the "real players" while Hart was alone down the other end of the floor. Not much changed his redshirt sophomore season, except for the fact that he got a few more minutes and was given a scholarship in the second semester when one temporarily became available. Then it was taken away prior to his junior season in favor of an incoming recruit.
Hart's true opportunity came last season when his grit, toughness, defense and hustle became traits that Few and the Zags desperately needed. He wound up starting 18 games and averaging 13.4 minutes. In the waning minutes of a nail-biter, Hart was almost always in the game -- sometimes even after sitting the first 19 minutes of each half.
"He plays at the end of every game in crunch time," Few said. "He doesn't care if he scores. He's become almost impossible for me to take off the floor."
Hart played 28 minutes in the win at BYU last week. He didn't score a single point, took only one shot and grabbed eight rebounds and had two steals. He's averaging two points and 3.5 rebounds in a career-high 16.2 minutes this season, and has turned the ball over only eight times in 502 minutes. There was almost a time, though, when Hart wasn't certain he'd be in Spokane this season. He graduated with a 3.6 GPA and wasn't certain that the Zags would have a scholarship for him this season. If he wasn't put back on scholarship, he was going to utilize the graduate transfer rule and look elsewhere.
But Few isn't stupid. He understood how valuable Hart had become, what he could bring to this year's team and tossed the walk-on a scholarship for his final season in Spokane. This group has no shortage of quality big men and a talented backcourt in Kevin Pangos and Gary Bell Jr. It needed a glue guy. It needed the Ultimate Glue Guy back.
"I understand what my abilities are, what's expected of me and what's needed of me," Hart said. "I need to give us energy, get us going and give us second-chance points. I don't play above myself and don't play above my capabilities."
Santa Clara coach Kerry Keating noticed, saying: "No one in the country relishes and executes their role on a team better. Period. There isn't a coach on any team in the country, and that includes all of the potential Final Four candidates, that wouldn't want him."
Hart didn't start the first 15 games this season, with Few instead electing to give athletic wing Guy Landri Edi the nod because of his offensive potential. The team was 9-0, but Landri Edi was struggling, and before the game against Illinois in December, Few approached Hart about moving into the starting lineup. Hart balked at the opportunity, telling his head coach that the team was winning, and it might destroy his teammates' confidence for the remainder of the season.
"He's selfless," Few said. "This is as good a kid as I've ever met or coached."
Hart says: "I'm comfortable now with my place. I don't know if I would have done that my sophomore or junior year. Then I was trying to prove I wasn't a walk-on, but now I'm not worried about proving that. I'm just trying to win games."
The Zags (29-2, 16-0 West Coast Conference) won the WCC with a former walk-on starter, and made history Monday when it earned the No. 1 ranking in the country -- the first time in program history.
"It's something that's never been done before at our school, so it's special," Hart said. "For a school like ours, it's cool to be recognized like this on a national level. That being said, we know that it's just a poll and that we need to continue to win games to validate our position."
Don't gauge Hart's value in the box score. Sure, National Player of the Year candidate Kelly Olynyk and fellow frontcourt mate Elias Harris receive most of the attention. There's also the talented, now underrated backcourt of Pangos and Bell. Hart doesn't do anything flashy. He flourishes as a help defender, plays with maximum effort, and brings energy and all the intangibles to the table. His final home game, Senior Night, came this past weekend and Hart took one final glance up high atop the McCarthey Athletic Center to the seat he once occupied.
"That feels like forever ago," he said. "That's where I probably would have been."