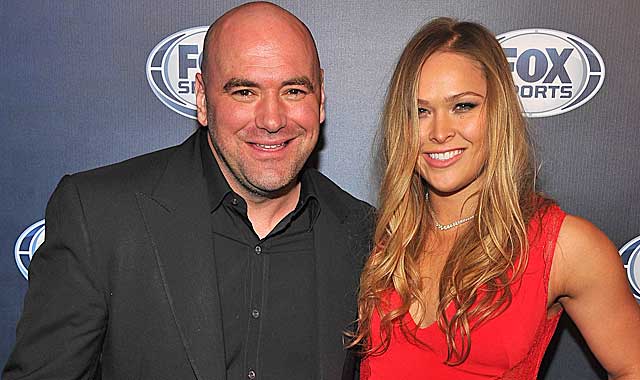 This is the UFC's best chance, maybe even its last chance, to become the crossover behemoth many of its fans -- me included -- have wanted to see.
It's not going to happen, sad to say. The UFC is a niche sport, always has been and always will be, and its partnership with Fox Sports 1 won't change that. Fox's all-sports channel launches Aug. 17 in more than 90 million homes. The dream of Fox Sports 1 is to compete with ESPN, while the dream of the UFC is to become an integral part of our national sports fabric. In a perfect world, their symbiotic relationship would help both achieve those goals.
It's not going to happen. Not for the UFC, anyway. It's probably not going to happen for Fox Sports 1, though what do I know about a sports network? Not anymore than anyone else reading this story. No sense pretending to be an expert on things that are over my head. Sports networks? Over my head. Good luck to Fox Sports 1 -- you're probably going to need it.
No amount of luck will help the UFC get any more popular than it already is, however, because it has very nearly maxed out. The UFC is about as popular as it's going to get, with some wiggle room available thanks to whatever bump it will get starting Aug. 17 from regular Wednesday night fights on primetime cable.
But UFC fans need to be realistic, and this is a change of direction for me. Realistic? Not me. Not since I showed up at UFC 68 in Columbus, Ohio, in March 2007 with plans of ripping the sport of mixed martial arts, whatever that is, and instead fell in love with it. Since then I've hoped for and even predicted the UFC's breakthrough into the big time, telling non-believers in 2009, "Get on board, or get left behind."
Sigh.
For years the UFC was trending upward, and not in a casual way. The trajectory was damn near vertical from 2005 -- the debut of The Ultimate Fighter reality show -- to 2010. Ratings. Pay-per-view buys. Media attention. The UFC was coming, and it was coming hard. Get on board, or get left behind.
What I didn't know in 2009, but what I can see now, is that almost everyone who might be interested in getting on board already was. The UFC in 2009 wasn't the next version of the NBA or MLB, a monster sport about to rise toward the top -- below football, but above almost everything else -- of the TV food chain. The UFC in 2009 had reached the people it was going to reach. That's what I think happened. It's like NASCAR, or hockey. Those sports aren't for everybody, but if one of those sports might be for you, you've already tried it and found out.
Again, there's wiggle room here. Fox Sports 1 is about to put UFC fights on live, primetime TV on a near-weekly basis. If there are any remaining untapped fans of this sport -- people who haven't seen it on CBS, Fox, Spike, Fuel, Fx, Versus or pay-per-view at a bar or a friend's house -- Fox Sports 1 will squeegee them to the surface. But it won't be many. Picture yourself with a nearly empty tube of toothpaste, trying to squeegee the last little bit to the surface. That's my working analogy here. The UFC has crested. Shaddup.
PPV results are mysterious -- and the UFC likes it that way, releasing PPV buys only from shows that do well -- but veteran MMA journalist Dave Meltzer of Wrestlingobserver.com reported that UFC buys rose from 2007-10, then dropped by nearly 33 percent in 2011, then hovered in the same range in 2012. That's the wrong end of a bell curve.
Obviously the UFC is doing enough business to remain a thriving business. Don't misread what I'm writing here. The sky isn't falling on the UFC, not in the sense that its future is on life support as it was at various times in the early 2000s. It has generational growth potential, with new waves of fans growing up in a world that didn't exist two decades ago -- one where the UFC is an established viewing option. Hell, just Saturday the "UFC on Fuel 8" show in Japan had an average viewership of close to 500,000, a modest number in general but staggering in that it was the most-watched show in Fuel history.
The UFC is here to stay, and it sells enough PPV cards to keep offering them. Good for them, and good for me. Those PPV numbers are inflated by one, every single time, because of me. But fans like me -- fans who buy what the UFC is selling because it's the UFC, dummy, and we love this sport -- are rare.
The UFC doesn't sell cards; fighters sell cards. Four of the five top-selling PPV cards in UFC history were headlined by crossover professional wrestler Brock Lesnar. Six of the next 12 top-selling cards featured Canadian welterweight Georges St. Pierre.
Six of the top 10 PPV cards in UFC history were from 2006-09. That's a scary trend for a sport that hit its high-water mark in 2009 and then started doing the dogpaddle. UFC president Dana White, brilliant businessman that he is, swallowed his misogynistic pride and courted the next big thing in MMA, former U.S. judo star Ronda Rousey, and gave her the headlining spot at UFC 157 on Feb. 23. Rousey produced in the neighborhood of 500,000 PPV buys, not close to one of the top-20 shows in UFC history but still an enormous amount given that three shows in the previous eight months -- UFC 147, 149 and 150 -- were some of the lowest-selling shows in eight years.
When Rousey fights, we'll watch. Same for St. Pierre and light-heavyweight champion Jon Jones. Anyone else, though, and the UFC isn't must-see TV. The people have spoken. Well, since 2009 they have mostly yawned.