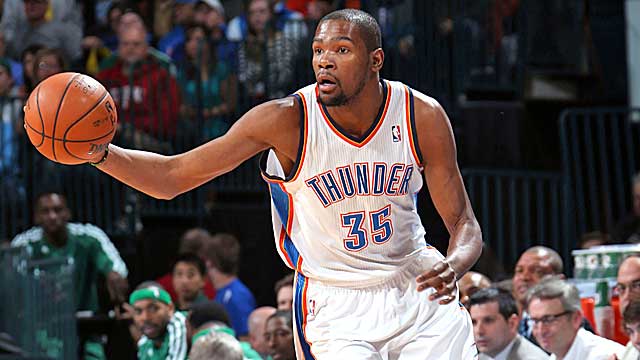 Thursday night happened, and the world went looking for Trey Johnson. We were calling his school, his coach, his friends. Anyone got a number for Trey? Please pass it on. We have something to say to that kid, although it's not what you might think. The world's a rough place these days, always ready to kick a kid when he's down, but that's not the reaction the world had for Trey Johnson.
You're saying you don't know who Trey Johnson is, but I'm guessing you do. He's the kid from Hugo, Okla., who hit that shot at the end of that playoff game a few days ago. You know the shot, right? Final seconds, Hugo ahead by one point, needing to run out the clock. Inbounds pass to Johnson, running free in the backcourt, where he ... gets confused and scores a layup on the wrong basket. Clock expires. Hugo loses.
That kid. That shot. This one, here. It went viral, because that's what we do. Show us an embarrassing moment and we'll watch it, and we'll spread it on Twitter or Facebook so our friends can watch it, too. Pretty soon everyone has seen it, and then everyone moves on.
Meanwhile, the kid.
The kid.
He's 16 and he's a quiet kid, Trey Johnson is. Good student -- makes the honor roll. Plays three sports and plays them well. This is information I got from his basketball coach, Darnell Shanklin, who seems to be the right kind of man to handle this situation.
Shanklin is protecting his kid, protecting Trey Johnson, from the glare. The world wants to talk to Trey, and even though most of us have the best intentions -- we want his story, yes, but we also want to assure him that he's not alone, that we've screwed up, too -- Darnell Shanklin isn't budging.
"I don't think he's ready," Shanklin told me this weekend.
Understood.
I was going to tell Trey about the final game of my high school baseball career, a state tournament semifinal. We lost by two runs. I made the final out, but that's not the reason for the loss, or for the telling of this story. We were down two because of a play late in the game, when the bases were loaded and our center fielder charged a routine single and ran right over the damn ball, letting it roll under his glove, back to the fence. By the time everyone was finished running, four runs had scored and the game was nearly over and the center fielder wanted to crawl into a hole and die.
I was the center fielder.
Smaller thing, I know. There was no Internet in 1988. But still it happened, and at that moment it was the worst feeling of my life. Until the Trey Johnson story happened, though, I hadn't thought about that play in years. That's what I wanted to tell Trey -- we've all messed up, and we all get past it. Impossible as it is to believe at this moment, Trey Johnson, you're not alone.
Turns out, Trey didn't need to hear that from me. He heard it from Derek Harper.
I know you don't remember the Derek Harper play, but holy ... It was a bad one. It was Game 4 of the 1984 Western Conference semifinals. The Mavericks, Derek Harper's Mavericks, were winning by one point when he dribbled out the final six seconds against the Lakers.
Only, the Mavericks weren't winning.
The game was tied. Harper thought they were winning, though, and with the home crowd and a national TV audience as his witness the Dallas rookie dribbled out the clock (1:30 mark) and celebrated and then realized ... oh. The game went to overtime, where the Lakers won for a 3-1 lead, and they closed out the series in Game 5.
So anyway, Derek Harper heard about Trey's mistake. Derek Harper, who recovered from his rookie mistake to play 16 seasons in the NBA and finish among the top 20 in league history in assists and steals. Harper called Trey on Friday, telling him it happens. To all of us.
Derek Harper is one reason Trey is going to get past this. Another reason is because, as Shanklin told me, Trey's a smart young man with a solid family foundation and friends all over Hugo, good folks in his corner. Shanklin is one. Another is the local media. Reporters from the Hugo News helped the hash tag #HugHugo trend nationally on Twitter on Friday night.
And then there's the state's biggest paper, the Oklahoman. It was an Oklahoman reporter who helped facilitate the phone conversation between Harper and Trey, and it was another Oklahoman reporter who helped Thunder general manager Sam Presti get in touch with Trey. They spoke Friday evening, when Presti invited Trey to the game Sunday against the Celtics. Later Friday night, the Thunder sent a Tweet for its roughly 430,000 followers that told Trey, "Your Oklahoma basketball family's with you!"
Came Sunday. Before the game, Trey was chatting with NBA scoring champion Kevin Durant. During the game, he sat in the front row with his coach, Shanklin, and teammate Nick Brown. After the game, a Thunder victory, Trey was congratulating Kendrick Perkins and walking out of the arena with the Nike sneakers worn that day by Russell Westbrook. Signed, of course.
Look, what the kid went through on Thursday night was brutal -- but it's going to be OK. That's what the world is telling Trey, and he seems to be listening. If he listens hard enough, he'll hear something that in the throes of Thursday he never could have imagined. He'll hear lots of us, friends and strangers alike, cheering for him.
We're cheering for him because he is us. The world isn't easy and everybody loses, but if Trey Johnson can get past this -- when he gets past this -- everybody wins.