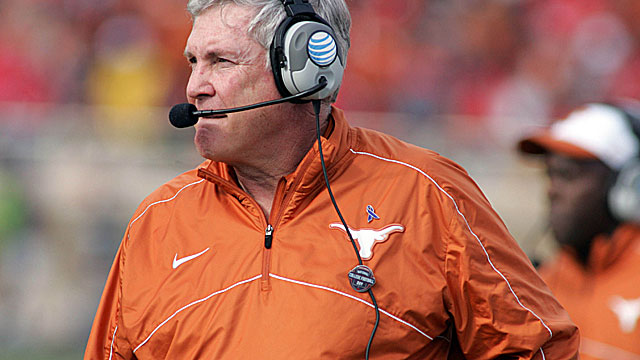 AUSTIN, Texas -- There isn't a problem that can't be solved over a greasy hamburger. That includes Texas football during a long lunch here at Dirty Martin's Place, a classic burger joint on Guadalupe Street.
Today's subject: Tempo. Today's interview subject: Mack Brown. The word itself is more than 300 years old. The Longhorns' coach is in a bit more of a hurry.
"Tempo will find you," Brown explains to his players later that day at practice.
More on Longhorns
Related links
More college football coverage
It is the current buzzword at Texas that has exhausted linemen, opened eyes and been the promise for a rebranding of Longhorns football. Tempo. Texas wants to run 90 plays a game and score half that number in points. Not a bad place to start in the decidedly up-tempo Big 12.
We're not going to tell you Texas is simply reloading. Things haven't quite been the same since Colt McCoy led the Horns to the 2009 national championship game. In fact, there has been an epic bottoming out (5-7 in 2010) followed by incremental improvement the past two seasons.
This is definitely a rebuild at a place where, "nine wins ... is a disaster," according to Brown. The dichotomy is obvious: Texas could be favored to win the Big 12 in 2013 but is still on the mend -- physically and psychologically. It also has gone from a coach-in-waiting (Will Muschamp) to a coach committed.
"I've had everything bad said about me," said Brown over one of those Dirty Martin's classics. "I really, truly matured enough where it's not about me anymore. I can really care less [about critics]. I don't care about a legacy. I don't care about a record. ... I want to win games."
Tempo, then, has found the Longhorns throughout the program. Offensive coordinator Major Applewhite has it mapped out on his office PC. There they are, a list of the leading practitioners of the zone-read, no-huddle offense -- "Oregon, Clemson, Arizona, Louisiana Tech. A lot of their emphasis is how to go fast. The beauty in it is simplicity of scheme and beauty of tempo," Applewhite said.
The offense is his after the departure of Bryan Harsin for Arkansas State. Applewhite speaks admiringly of the Texans running offenses at some of those schools -- Sonny Dykes (Cal), Larry Fedora (North Carolina), Chad Morris (Clemson). Texas wants to be one of them -- again. McCoy threw more than half the time in 2009. But even during that season, Texas was recruiting punishing backs knowing it had to become more balanced, knowing there would never be another Colt. (Or, as it turns out, an RG3, Andrew Luck or Johnny Football. See below.)
"If you miss on a quarterback, the rest of it exposes you," Brown said. "We weren't running the ball as well and the quarterback wasn't working out. All the sudden you look up and nothing is working out. People know that you're not quite as good. Media piles on, the other team piles on."
Tempo. No huddle. No time. This is Texas at the moment. Brown is 61, entering his 16th season, and seems reborn. He is not an old man, or coach, by any means. His energy level might be higher after going 22-16 the past three seasons. Most important, Brown is surrounded by a young staff with young ideas and a stabilized lineup (nine seniors with at least some starting experience).
Outside the lavish Texas facilities he has widespread support where it matters -- among influential boosters, including billionaire Tom Hicks, and AD DeLoss Dodds.
"He's in his 60s and he's evolving," Applewhite said. "'What can we do to update a website? What can we do to rejuvenate our recruiting?' ... When you read the Internet and read these 'keyboard coaches', [I think], 'You don't even know the guy.'"
Summary: As delightfully unbalanced as the Horns were in '09, things swung back the other way with some uncertainty. By 2011, Texas resembled more of an SEC team, finishing 21st in rushing (running the ball 62 percent of the time) and 11th in total defense. Last season there was a meltdown defensively. The Horns scored 45 at home and lost to West Virginia. It had to score 56 to beat Baylor by six.
A budding defensive superstar, coordinator Manny Diaz, was humbled. His upward-trending career arc was interrupted. Diaz was in charge of the worst Texas defense, statistically, in history
"As you know," he said, "your guru card has 'idiot' written on it and it can flip over very quickly."
At age 39, Diaz has risen from ESPN production assistant to veteran defensive coach in the ACC, SEC and Big 12. He turned down interest from Florida International to be its head coach in the offseason in order to resurrect his Texas D.
Tempo has hit Diaz's unit too. It was boat-raced, outmanned when injuries hit -- notably defensive end Jackson Jeffcoat and linebacker Jordan Hicks. There was a small senior class. October messed with their heads. The unit gave up 178 points and 2,000 yards in four games that month.
"In October," Diaz said, "we couldn't keep up."
"You play slow when you feel like you're alone out on the field," he added. "You play faster when you know you've got a buddy. ... Once we start to lose that trust, if you think tackling is hard, worrying about thinking about tackling is 10 times as hard."
More of that dichotomy: Last season alone, the defense was good enough to get 10 sacks against Oregon State in the Alamo Bowl and play as if it was two-hand touch in a rout at the hands of Oklahoma.
"On one hand, you're not proud of that," Diaz said. "On the other hand, you're proud you managed the situation. You understand the [offensive] neighborhood you're playing in."
The unit is better, if not totally locked in at 2011 levels. Might as well pass the Longhorn chips and fried pickle slices and hope for the best. Diaz's defense -- maybe his job -- is going to depend largely on how the quarterback handles the new offense.
The position has largely been a mystery post-Colt. Five-star Garrett Gilbert was a bust. Meanwhile, Texans have won the past two Heismans. Texans, it should be noted, that didn't go to Texas. Luck (Stanford), Robert Griffin III (Baylor) and Johnny Manziel (Texas A&M) became stars at other schools.
"We had lost our ability to run the ball," Brown said in his typically clipped summary of the situation. "That's a killer to me in this game. ... Get refreshed, start over. New energy. We still weren't very good because we didn't have the quarterback clicking."
Tempo, then, has found David Ash, too. As a sophomore, he started 12 games and had a better completion percentage than the nation's top two efficiency leaders -- Alabama's AJ McCarron and Georgia's Aaron Murray. Still, there was something missing -- full confidence from the coaching staff that he was the No. 1 starter.
"Well, uh, yeah, that's kind of what happened," Ash admitted.
Case McCoy, Colt's brother, had to come off the bench last year to save the Horns at Kansas. Ash injured his ribs against TCU in a Thanksgiving night loss. Even though he was cleared to play the next week, Ash did not take a snap in the season finale at Kansas State. When Ash was named starter for the Alamo Bowl it marked the seventh time in two seasons Texas had changed quarterbacks.
"There's a lot of coaches here who have been around us for a long time who know what they're doing," Ash said. "Most people don't think so."
Case McCoy didn't help himself going forward after being sent home from the Alamo for reportedly missing curfew. Now the joy and burden and job of being Texas' quarterback are squarely Ash's.
"There's so many distractions, especially at this place where there's so many people that football is important to," said Applewhite, Texas' quarterback from 1998-2001. "You can get pulled and believe anybody. To keep your mind pure you've got to focus on football and kind of stay clear. Otherwise, [there's] your high school coach, mom and dad, aunt and uncle."
And Vince Young. Yeah, that Vince Young. He's back in school this semester, on track to graduate in May, working out with the team, mentoring Ash.
"He thinks it's funny to call me 'Ashley,'" Ash said.
What? Why?
"Maybe he thinks I'm pretty," Ash added.
Not too pretty, hopefully for this offense.
"We won't lose our physical identity," Applewhite said. "Tempo does not mean you're soft. That's the biggest thing."
Ideally, Texas would like to become Oregon or Oklahoma State offensively. Oregon at its base level is a power running offense. The Ducks haven't been out of the top six in rushing since 2007 while throwing for 167 touchdowns in that span. The Cowboys have averaged 150 yards rushing, 300 passing since 2010.
Just as ideally, Texas would like to rejoin the Big 12 party. The league had five of the nation's top 15 offenses. Texas has the potential, but has to move around some pieces. Big backs Joe Bergeron, Malcolm Brown and Jonathan Gray are playing in a different offense where it's almost certain there will be fewer touches.
The receivers -- Jaxon Shipley and Mike Davis -- are going to love it. Ash, at 6-feet-3, 223 pounds, would look imposing if he were running a seven-on-seven drill. Now it's just a question of not looking over his shoulder while Texas looks ahead. Always ahead.
"We are Texas," Brown said, wrapping up a long, greasy, wonderful lunch. "It's not like every minute of my day is not trying to get us back and get better."
In a hurry.