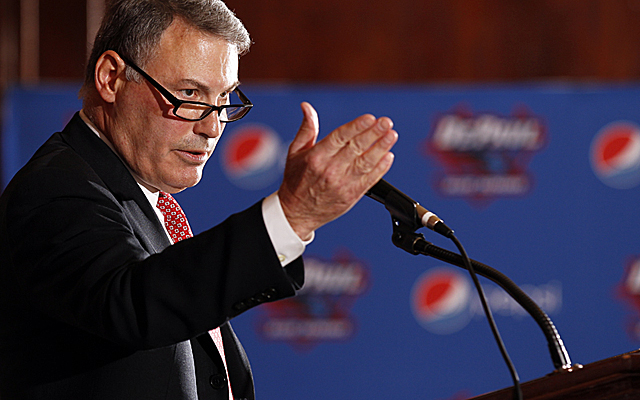 NEW YORK -- When Mike Aresco became the commissioner of the Big East on Aug. 14, 2012, he knew he was in for a challenge. Aresco, a former attorney who spent most of his career putting together big deals (SEC football, NCAA basketball tournament) for ESPN and CBS, is one of the most skilled negotiators in his industry. But nothing prepared him for what happened next.
Since taking the job last summer Aresco has seen the following changes to the conference he inherited:
More on conference moves
Related links
More college football coverage
• On Sept. 12 Notre Dame cut a deal to join the ACC in all sports but football. Notre Dame was going to leave in 2014-2015 but will now join the ACC on July 1.
• Boise State and San Diego State had agreed to join the Big East for football only in 2013. In December, Boise decided to stay in the Mountain West and in January, San Diego State followed suit.
• In November, Rutgers announced it was leaving the Big East to join the Big Ten in July 2014. Maryland is also leaving the ACC to join the Big Ten. The ACC responded by taking another of Aresco's teams in Louisville.
• The seven Catholic schools that don't play FBS football -- Georgetown, Villanova, Seton Hall, DePaul, Providence, St. John's, and Marquette -- officially announced on March 7 they were leaving the Big East to form their own conference. After a series of negotiations those seven schools -- which will be joined by Creighton, Butler and Xavier -- will keep the Big East name.
• After the 2013-14 academic year Aresco's conference will be left with Connecticut, South Florida, Cincinnati, Memphis, Temple, SMU, Houston, UCF, Tulane, East Carolina and Navy (which doesn't come until the 2015 season). The conference will have to come up with a new name.
• Aresco's conference, whatever it will be called, finally signed a seven-year deal with ESPN for about $120 million, or $18 million per year. Two years ago the Big East presidents turned down a reported nine-year deal worth $1.17 billion ($130 million per year) from ESPN thinking they could get more. A lot has happened since then and not much of it good.
So now what? That's what I wanted to talk about when I caught up with Aresco last week during the Big East basketball tournament at Madison Square Garden:
Question: You have been putting out fires and bailing water since you took this job. Has it been tougher than you could have possibly imagined?
Aresco: It's been one thing after another since I got here. We lost Notre Dame about a week in. Then the Big Ten and (Jim) Delany struck. But to tell you the truth, we've managed those issues as best we can and now we can finally start to look forward.
Q: How difficult was it when the Catholic schools decided to go off on their own?
Aresco: The Catholic schools were in a situation where they felt they were being buffeted by the winds of college football expansion. They felt it had nothing to do with them. They wanted to know when it was going to end and, in good conscience, I could not give them an answer. They wanted to go off on their own and we understood that. It was a logical settlement for both sides.
Q: You and your presidents agreed to let the Catholic schools keep the Big East name and to play their tournament in Madison Square Garden. Was that a lot to give up?
Aresco: The reality is that our new conference would have found the Garden to be more of a liability. The reality is that we would not have a strong Northeast presence anymore and to play our tournament in Madison Square Garden would have been very risky.
Q: Why were you willing to give up the Big East name?
Aresco: We would have liked to have kept the name because it has a lot of built-in brand equity. But that is also a double-edged sword. There would have been inevitable comparisons to the old Big East and the fact is we have a different geographical makeup now. We didn't want to be compared to the Big East of the past. We want to build a new football brand.
Q: Your conference rules require a 27-month waiting period for teams to leave and join other conferences. But Notre Dame and the Catholic schools are leaving as of June 30. Why didn't you take a harder line and make them stay for one more year?
Aresco: The exit of the Catholic schools could have been delayed but the more we looked at the financials the more it made sense to try to get a deal done now. If those schools stayed another year then that's all people would have been talking about. The idea is to make a clean break with the past and to get everything settled down. And once the Catholic schools were leaving then it made sense for Notre Dame to try and go to the ACC early. If they didn't want to stay one more year they wouldn't be happy and it's better to work out a settlement.
Q: So Rutgers and Louisville are going to play one more year in your conference. Won't that be disruptive?
Aresco: I don't think so. This is the last year for Syracuse and Pittsburgh but things went fine. There has been no rancor. Look, conference realignment is what it is. If somebody wants to go to the Big Ten they go. There is a way to do it. It doesn't mean that you're not tough in negotiations. But there are ways to do this without acrimony.
Q: Your TV deal for the new conference is done. So what's next?
Aresco: We have some serious work ahead of us. We must find a good name that works and reflects the new reality of who we are. We have to come up with a good logo and branding that the public will accept. We feel we are going to get great exposure with our new ESPN deal with some Thursday night and Friday night windows. Some of our new schools like SMU, Houston, Memphis, Tulane, and East Carolina have never had this kind of exposure before. Now it is up to us to perform on the field and on the court.
Q: When Navy comes (in 2015) you'll have 11 schools. How quickly will you go to 12?
Aresco: We'll go to 12 sooner rather than later. We didn't want to do it in March and disrupt the focus on the tournament.
Q: Most people believe that conference expansion and realignment are not over. Is it possible that after all this work you could lose more schools down the road?
Aresco: Anything is possible but we believe that if this group of schools can stay together we can be a challenger brand. In football there is the opportunity to land one of the top bowl spots in the new playoff format if our conference finishes first among the Group of Five (Big East, Mountain West, Conference USA, Sun Belt, Mid-American). Cincinnati was No. 3 a few years ago. We think the Florida schools (UCF, USF), can become the brands we want.
Q: But what about basketball?
Aresco: Again, we have a really good core. We have four proven basketball brands in UConn, Cincinnati, Temple and Memphis. We have (coach) Larry Brown at SMU. Houston wants to regain their former glory. I think we are going to be a good basketball league. But right now we have to find a couple of locations to play our men's and women's basketball tournaments.
Q: Any regrets taking this job?
Aresco: You can't have any regrets. I knew it was going to be a challenge. The reality is that a lot of people felt that a break like this was inevitable. Our job was to navigate our remaining schools through these tough times. What we have now is a good alignment of schools with the same athletic and academic interests. We have been looking back for so long in this league. It is time for us to look forward.