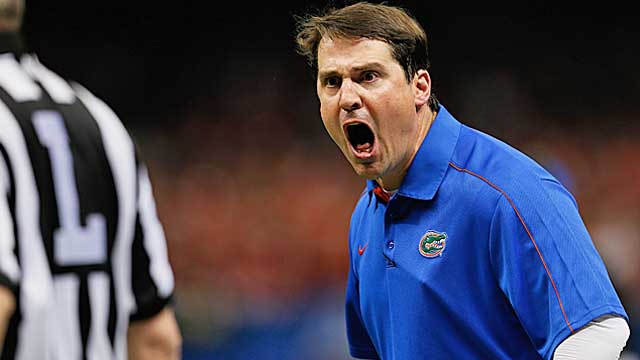 The SEC has won seven straight national championships and right now our Dennis Dodd has five teams from that conference in his early, early Top 10 for 2013. Texas A&M and Alabama are 1-2.
So during our next couple of visits I'm going to break down the burning questions that we have about the SEC during Spring ball. Let's start with our Five Burning Questions about the SEC East:
1: Can Georgia reach 3rd straight SEC title game?
In 2012 Georgia posted only its third 12-win season ever and came within 5 yards of beating Alabama in the SEC championship game. They did it with the best offense in school history (527 points) and a defense that had a lot of future pros.
Virtually all of the offense is back, including quarterback Aaron Murray, the only quarterback in SEC history to throw for more than 3,000 yards in three consecutive seasons. With sophomore running backs Todd Gurley and Keith Marshall, who combined for 2,144 yards last season, plus a deep receiving corps, Georgia is going to score a lot of points.
More on SEC
Column

Related links
More college football coverage
But this spring Georgia is looking to rebuild its defense.
"The reality is that we lose a lot of good players [like LB Jarvis Jones], but we are actually deeper in guys who have played," said defensive coordinator Todd Grantham.
Georgia's schedule has been the source of some criticism the past two seasons because it did not include Alabama, LSU, Texas A&M or Arkansas from the other side. This year, however, the Bulldogs meet Clemson, South Carolina, and LSU in the first four games.
"Can't ease into this season," Murray said.
Names to remember: Sophomore linebackers Jordan Jenkins and Josh Harvey-Clemons. Big-time athletes.
2: Gators all the way back under Muschamp?
Florida won 11 games last season and that total included victories over LSU, South Carolina, Texas A&M, and Florida State, all ranked in the top 10 at some point. The only regular-season loss was to Georgia (17-9) when the Gators turned it over six times.
Florida almost made it to Atlanta despite ranking No. 103 in total offense, No. 114 in passing offense, and No. 76 in scoring offense.
Florida won 11 games by playing great defense (No. 5 nationally) and by taking care of the football.
Key stat: In 2011, Muschamp's first year as head coach, the Gators were 7-6. They were minus-12 in turnover margin. Last season Florida was plus-15 in that category. Florida was minus-5 in turnovers in their two losses to Georgia and Louisville and plus 20 in the 11 wins.
"You can win a lot of games that way," said Muschamp.
Quarterback Jeff Driskel caught a lot of heat in his first year as a starter but he will be a completely different player in his second year in the system of OC Brent Pease.
"The difference in Jeff from this time last year until now is night and day," said Pease.
Names to remember: Offensive linemen Max Garcia (Maryland) and Tyler Moore (Nebraska) were both starters at their former schools. Both transfers will have an immediate impact in Gainesville.
3: Can Spurrier get South Carolina to SEC title game?
Consider that South Carolina had exactly one 10-win season in its history when Steve Spurrier became coach in 2005. Now the Gamecocks have won 10, 11, and 11 games over the past three seasons.
Last season Spurrier had 10 goals for his team and they reached eight of them. The only goals not met were: Win the SEC East and win the SEC championship.
"We still want to be in the SEC championship. That was the goal when we got here," Spurrier told me last week.
Now Spurrier has the luxury of two quarterbacks. Senior Connor Shaw is the starter and the unquestioned leader of this team. Dylan Thompson came off the bench when Shaw was hurt last season. He threw for more than 300 yards in the regular-season ending victory over Clemson. When Shaw hobbled off the field late in the Outback Bowl against Michigan, Thompson threw a 32-yard touchdown pass to Bruce Ellington with 11 seconds left to beat the Wolverines 33-28. Both quarterbacks are going to play this fall.
"We don't have to worry about how they are going to get along because they are great friends," said quarterback coach G.A Mangus.
It also helps to have the best football player in the country on defense in Jadeveon Clowney.
"All we're trying to do this spring is to get Jadeveon to play on every play," said defensive coordinator Lorenzo Ward. "Because when he doesn't want to be blocked, you're not going to block him."
Names to remember: Sophomore receivers Shaq Roland and Shamier Jeffery. Roland was the South Carolina high school player of the year in 2011. Jeffery is the brother of Alshon, the former Gamecock All-American. Both have been told it's time to grow up and make an impact.
4: With talent losses, can Vols compete?
Compete in the SEC East? Yes. Challenge for the division championship? No.
Florida, Georgia, and South Carolina all won 11 games a year ago and all expect to win in double digits again this season.
Tennessee is literally starting over with new head coach Butch Jones, who shared a couple of Big East championships at Cincinnati. The Vols have lost a ton in the passing game with the departures of quarterback Tyler Bray and NFL caliber receivers Justin Hunter and Cordarelle Patterson.
That's the bad news.
The good news is four of five starters return on the offensive line and Rajion Neal (708 yards) and Marlin Lane (658 yards) ran for more than 1,300 yards in what was overwhelmingly a passing offense. The defense will be better under new coordinator John Jancek because it could not possibly be worse than 2012 when it finished dead last in the SEC (471.33 ypg).
This spring is about getting everybody on the same page after four different head coaches since 2008. Jones has raised the enthusiasm level in Knoxville, which is a start.
But ultimately, winning in the SEC is about players and Tennessee doesn't have enough of them now. That could change. But it won't happen this spring.
Name to remember: While Justin Worley did get some snaps last season (23 passes) behind Bray, redshirt freshman Nathan Peterman has been impressive in spring practice. Peterman, from Fruit Cove, Fla., was recruited heavily by Butch Jones at Cincinnati.
5: Who plays QB at Vandy?
Jordan Rodgers is gone, leaving behind a Commodores team that won nine games in a season for the first time since 1915 and closed with seven straight victories. And James Franklin, the third-year head coach, wants Vanderbilt fans to know that it is only going to get better.
"Everybody better get used to it," Franklin said after Vandy beat N.C. State in the Music City Bowl. "We're not going anywhere."
But for Vanderbilt to put together its third straight bowl season the Commodores have to find a quarterback this spring to throw to one of the best sets of receivers in the country in Jordan Matthews (94 catches) and Chris Boyd (50 catches).
Austyn Carta-Samuels was a two-year starter at Wyoming and played sparingly last season after transferring to Vanderbilt. He is the favorite to win the job but Franklin has recruited well and has options.
Redshirt freshman Patton Robinette led Maryville (Tenn.) to a state championship in 2011. He was 29-1 as a starting quarterback. Signee Johnny McCrary was a dual-threat quarterback from Georgia who enrolled early and is going through spring practice.
Names to remember: Running back Jerron Seymour ran for 268 yards in 2011 as a backup to Zac Stacy, the school's all-time leading rusher. He sat out last season with a knee injury. He is a speedster with big-play potential. He will join Wesley Tate and Brian Kimbrow as Vanderbilt's running back by committee.
Tony Barnhart is in his fifth season as a contributor to CBSSports.com. He is a college football analyst for CBS Sports and The CBS Sports Network. He is the host of "The Tony Barnhart Show" on the CBS Sports Network. Prior to joining CBS he was the national college football writer for the Atlanta Journal-Constitution for 24 years. He has written five books on college football.