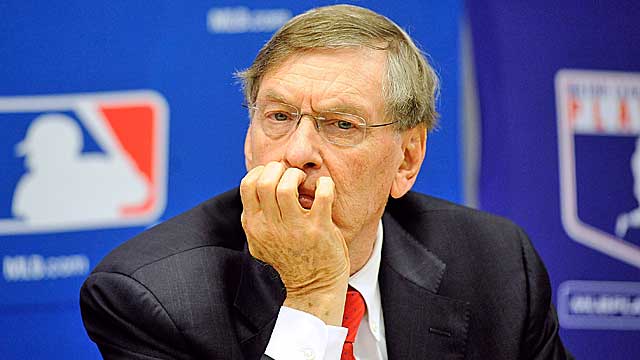 Bud Selig is serious about catching the cheaters in baseball. Say that for the MLB commissioner. He's not shrugging his shoulders at the hopelessness of the situation, and he's not grandstanding for public approval. That lawsuit against the Miami clinic that may have replaced BALCO as baseball's newest drug bazaar is no empty act. It's real, and it's spectacular.
It's just not going to work.
But credit Selig for trying. He's trying so very hard to clean up his sport even if he has to know that he has no shot at it, because the drug-makers will always be ahead of the drug-testers. Selig's tenure as commissioner hasn't been the smoothest, with a strike that screwed up the 1994 and '95 seasons and that ridiculous tie at the 2002 All-Star Game, but the narrative is changing. At least, it better be. Selig has grown the sport by growing the postseason, but anyway, enough of that. The point here isn't to rehash Selig's 21 years in charge but to applaud him for being the only commissioner of our three biggest pro leagues to be so serious about cleaning up his sport.
Comparatively speaking, the NFL in particular is a joke. Football requires explosiveness and brute strength much more than baseball does, so it stands to reason -- I have no proof in my corner, just logic -- that those athletes are the most egregious users of performance-enhancing drugs. And yet baseball catches more players than anyone, and baseball is first to test for HGH, and baseball is now using the courts to try to catch the cheaters.
That's what this Biogenesis lawsuit is all about, you know. Baseball can't force players linked to that lab to talk, not without a subpoena. And what do you know? If MLB gets Biogenesis into a courtroom, MLB has a subpoena. Players would be forced to talk or take the Fifth, which I trust in the eyes of baseball -- if not the courtroom -- would be the equivalent of a Breathalyzer refusal: an admission of guilt.
The ACLU might not like it, but the ACLU isn't running baseball. Bud Selig is, and he's serious about cleaning it up. He's so serious, he's pursuing a lawsuit that could ultimately cost the franchise he once owned, the Milwaukee Brewers, their best player. Ryan Braun, who was caught exonerated from using steroids by a loophole chain-of-custody issue with his specimen, is reportedly among the players linked to Biogenesis. A statue of Selig stands outside Miller Park in Milwaukee. Think that thing might get egged if Selig's lawsuit ends with Ryan Braun in a puddle of contrition on the witness stand?
Selig doesn't care. He's already working with the strongest union in professional sports on tougher penalties for cheating. The current penalties are too tolerable, what with players willing to risk a 50-game suspension for a first offense, and in the case of recidivist cheaters like Manny Ramirez, a 100-game suspension for Strike 2. Selig wants a year-long suspension for the first guilty test and a lifetime ban for the second.
Confusion about baseball's evolving PED rulebook is no excuse, either. Which substances and supplements are banned by MLB? There's an app for that.
Selig is serious about this, finally. He wasn't for a long time, and he has paid -- deservedly so -- for that inattention. But people change, and when they do their legacy should change as well. No longer is Selig the Man Who Looked Away while Barry Bonds, Mark McGwire and Sammy Sosa (and Alex Rodriguez and ...) made a joke of the most revered record book in sports. Now he's trying. Really trying.
But again, it won't work. Already the drug-makers have come up with a synthetic testosterone that allows a player to get stronger and recover faster than the human body can do naturally, and the testosterone is undetectable after 24 hours. How do you catch that? You don't -- with one caveat, courtesy of former BALCO head Victor Conte:
"The only people that get caught are the dumb, and the dumber," Conte told USA Today.
That's what Selig is up against, but he's looking for shortcuts -- like this Biogenesis lawsuit, necessitated by the refusal of the Miami New Times to hand over the records it used to unmask Biogenesis.
Even here, though, the odds are against Selig. Legal analysts are speculating that Biogenesis has destroyed documents linking players to its products, which if true would kneecap the MLB lawsuit.
(Since we're talking about this ... I appreciate the investigative journalism done by the New Times. Incredible work. But I don't agree with the refusal to give what it found to MLB. No, the media doesn't work for baseball -- but it's like what happens when a news outlet busts a collegiate rules breaker: Sincerely work for the betterment of this world, or butt out. Give what you've got to the people who can use it for good, whether it's MLB or the NCAA, or why bother? For Internet clicks? Yes, Gregg, for Internet clicks. That's the business. It's your business, actually. This parenthetical paragraph won't win me friends in my business, maybe even within my own company, but I don't care. My point is: If you're able to make a small difference for good, or a big one, why choose the former?)
Meantime, the chemists are winning this battle and always will. Testers can only test for the drugs they know about. The drugs they don't? The new ones chemists are concocting right now, to stay ahead of the system? Can't catch those. Can't stop the cheating, not unless it's done by Dumb and Dumber.
Which at times it will be. There will always be people like Melky Cabrera and Manny Ramirez, amateurs and buffoons leaving behind a fluorescent trail. But there will also be a BALCO or a Biogenesis or whatever comes next, smart companies run by smart people who cannot be stopped without a subpoena. And maybe not even then.
At least Bud Selig is trying.
What's your deal, Roger Goodell?