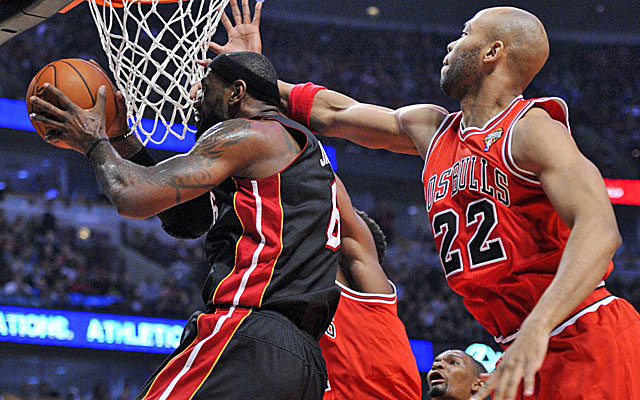 CHICAGO -- LeBron James stepped to the free-throw line in Chicago on Wednesday night, staring at a seven-point deficit with 27 seconds remaining. Twenty-seven seconds left in the Miami Heat's 27-game winning streak, this historic pursuit of history that was coming to an end.
On a rare, unexpected night of jubilation in a season without Derrick Rose -- a night without Joakim Noah and Rip Hamilton, too -- the United Center roared to life like it always has on an important basketball night here.
"End the Streak! End the streak!" The chant made its way from one end of the arena to the other, washing over James as he lined up his free-throw and dropped it in.
Twenty-seven seconds later, the second-longest winning streak in NBA history was over. For a night, the Heat's overwhelming talent and determination during this run of greatness were no match for the sheer probabilities and equalizers of the NBA grind. Shane Battier, ever the eloquent deliverer of quotes, called it like it was.
"Pretty much a garden-variety road loss in the NBA," Battier said after the clock ran out on Miami's streak -- six shy of the 1971-72 Lakers' record of 33 -- with a 101-97 loss to the Bulls' misfits and role players.
Somehow, you always knew it would end like this, when you least expected it. Not against the four-time champion Spurs on Easter Sunday, not against the conference-rival Knicks next Tuesday. It would end in New Orleans, or in Charlotte, or against a Bulls team that was not only without Rose, but also Noah, Hamilton and Marco Belinelli, too.
There's a reason it hadn't been done in 41 years.
"You don't play with great energy to start, the other team comes out firing, guys shoot above their percentages, and that fuels the confidence of the rest of the team," Battier said. "I've been in this league long enough; that's pretty much the recipe for a road loss. What's amazing is that we've avoided that or so long. That was my first thought after the game: 'We've avoided a loss like this for a long time.' "
Fifty-two days, to be exact. That's how long the defending champs went without losing -- 13-0 on the road, 14-0 at home. And it took a monumental effort, hard fouls galore, some courageous play from Kirk Hinrich and, of course, the diabolical defensive scheming of Bulls coach Tom Thibodeau to end it.
"When you look at what they've done, to be the defending world champions and have a winning streak like they had, knowing that everybody's chasing them, it's a credit to them," Thibodeau said.
Thibodeau was the mastermind behind so many of James' deflating playoff performances against the Celtics when he was Doc Rivers' right-hand man in Boston. Here he was again, putting roadblocks between James and the basket -- spelling doom for James' pursuit of history.
The rough stuff started early, when a backpedaling Hinrich wrapped his arms around James as he drove like a freight train down the lane. Hinrich was at James' mercy, as everyone is, and he said later it was the only way he could think of to make sure James had no chance for a basket and the foul.
"With his speed and strength, you can't take anything for granted," Hinrich said. "I still think I got the worst of it, obviously."
Moments earlier in the other locker room, however, James had been taking issue with the Bulls' strong-arm tactics, which he called "not basketball plays." In the fourth quarter, James also had been fouled hard by Taj Gibson, a play that the three-time MVP said should have been called a flagrant because Gibson "was able to collar me around the shoulder and bring me to the ground."
"Those are not basketball plays," James said. "And it's been happening all year and I've been able to keep my cool and tell [coach Erik Spoelstra], 'Let's not worry about it too much.' But it's getting to me a little bit, because every time I try to defend myself, I've got to face the consequences of a flagrant for me or a technical foul or whatever the case may be."
Moments after the Gibson play -- which was reviewed on video and ruled a common foul -- James took out his frustration by lowering his shoulder into a stationary and screen-setting Carlos Boozer. He was called for a flagrant.
"It's tough," James said. "It's very tough. And I'm not sitting here crying about anything because I play the game at a high level and I play with a lot of aggression. And I understand that some of the plays are on the borderline of a basketball play or not. Just sometimes you've got to, I don't know ... It's frustrating."
This is how the streak ended, with some rough-and-tumble tactics from the Bulls and some dastardly defensive schemes from Thibodeau -- both straight out of his Celtics past.
"The way they play," Thibodeau said, "you have to play with that intensity because they know you can't win a world championship without playing like that."
At the end of this remarkable run for Miami, it wasn't so much who played and who didn't. It was how those who did play handled themselves. Who knows if the Bulls get Rose back this season or not? But whenever they do, they're a threat to much more than merely a footnote to history.
"It's not about the number," Battier said. "It was never about the number. It was about winning every night we have a chance to win."
On this night, the end of the streak was about effort and toughness, and it was about all the ingredients that come together so many times across the league and cause teams to lose on the road -- again and again, except for these past 52 days for the Miami Heat.
It was about Hinrich, with his Kansas Jayhawk survival instincts, holding on for dear life as James barreled through the lane on his way to the rim. Later, with Miami within striking distance at 92-85 with 2:41 left, it was about Hinrich sneaking up on Chris Bosh and ripping an offensive rebound away from him, then scurrying away with the ball and passing to Gibson for an open jumper. That four-point swing sealed the Heat's fate as owners of the second-longest winning streak the NBA has ever seen.
"Ultimately, we want to win an NBA championship," James said. "But along the season, along those rides, you have those moments that you can reflect on. And this is one of them."
It was some ride, all the way down to the final 27 seconds and beyond.
After the vitriol spilled into the locker room, James and the defending champs made their way into the chilly Chicago night to continue chasing the only streak that matters.
Two in a row.