WASHINGTON, D.C. -- Chris Otule was always nervous, almost embarrassed to talk about it. In fact, Buzz Williams wasn't even aware of his handicap until the big Texan arrived on campus as a freshman. Now Marquette's starting center embraces it, jokes around about it, earlier this week even putting a major scare into teammate Junior Cadougan's 12-year-old brother when he literally took his eye out of its socket and put it on the table in their apartment.
That's right. Otule is the starting center for a Sweet 16 team and cannot see out of his left eye. Not partial vision, either. He has had a glass eye since shortly after birth due to an eye disease called glaucoma.
"It's all I've ever known," Otule said. "I never told anyone when I was younger because I didn't want anyone to treat me differently. I had surgery when I was young and they had to remove my eyeball."
NCAA tournament
Related links
Video
More college hoops coverage
Otule grew up in a suburb of Houston and admitted he was an "uncoordinated project" on the basketball court. He didn't start playing until high school and finally emerged as a Division I prospect due to his size and athleticism following his junior season. Williams had a longstanding relationship with Ronnie Courtney, a former D-I head coach who had taken over at Fort Bend Bush High in the summer leading up to Otule's senior year. At the request of Courtney, Williams took former Marquette head coach Tom Crean to see Otule. The duo wasn't overly impressed with his performance, but the Golden Eagles were desperate for big men and saw potential in Otule.
"He told me I sucked," Otule said. "But he said that I would improve at Marquette. That's how he earned my trust. He was brutally honest."
"He did suck," Williams added. "He was a bad player, but we really need a big guy."
Otule wound up canceling visits to Baylor and Nebraska on his official visit to Marquette and signing with Williams, who was elevated to head coach after Crean left for Indiana. A week or so before he was set to arrive on campus for summer school, Williams received a text from Otule hoping he could get a new pair of goggles once he got to college. He was wearing the old-fashioned Kareem Abdul-Jabbar goggles and wanted an updated version. The next day another text came, this time again inquiring about goggles and also whether he could also get a new pair of glasses and maybe contacts.
"I said, 'No problem, Chris. We'll get you whatever you need when you get here, the best goggles, glasses, contacts. We'll get you everything. Don't worry about it.'"
Otule arrived, got situated and then went to visit the team doctor, Ernest Eugene. Williams quickly received a call.
"Coach, you have a few minutes?" Eugene said. "Did you know Chris was blind?"
"What the hell are you talking about?" Williams responded.
That's when Eugene told Williams about Otule's glass eye.
"I couldn't believe it," Williams said.
Neither could his Marquette teammates when they found out. Fellow big man Davante Gardner didn't know until one day he saw Otule remove the glass eye and wash it before he went to sleep. Cadougan first heard about it from former Golden Eagles guard Dwight Buycks shortly after he arrived as a freshman.
"There's no way," Cadougan recalled. "One eye?"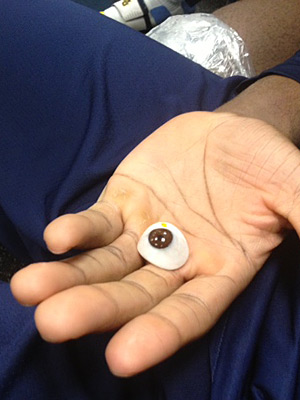 Cadougan thought it was a joke. He went up to Otule, asked him and the next thing he knew he was staring at a fake eye in his teammate's hand.
Cadougan was obviously concerned. He was the floor leader of the team and here he was playing with a big man who was literally blind in one eye. It took time, not just for Cadougan but for the rest of his teammates to understand where Otule wanted -- and needed -- the ball. Cadougan doesn't fire the same bullet passes to Otule that he delivers to Gardner, instead throwing up alley-oops. On pick and rolls with Otule, Cadougan needs to wait an extra second or two before throwing the ball to his big man cutting to the basket. When the two big men play together, Gardner understands he needs to be on the left side on the defensive end.
Otule is obviously accustomed to playing without eyesight in his left eye, since it has been that way his entire life. He said the most difficult aspect of his handicap on the court often comes on the defensive end, when the ball is on one side of the court and his defender is on the opposite side.
"My head's on a swivel," Otule said. "Or I lose the ball or my man. Sometimes I'll be too focused on either my man or the ball and they'll score behind me and I don't even know."
Otule's college career has been anything but smooth. Take the eye issue out of the equation, and the 6-foot-11, 275-pounder has still dealt with plenty of adversity. There was the broken left foot -- teammate Dwight Burke came down on it in practice -- that limited him to nine games his freshman season. He redshirted his sophomore year after breaking his other foot just three games into the season. Finally, he was healthy his third year on campus, starting 35 of 37 games and helping lead the Golden Eagles in what would be the first of three consecutive Sweet 16s. A year ago, it happened again. This time it was a torn ACL in early December against Washington that prematurely ended his season after just eight games.
"I know there were times when he thought about giving up," Cadougan said. "And who could blame him. Look at what he's had to deal with in his life and his career."
Otule is always smiling these days. Maybe it's because he's finally healthy again. He has started every game and while his numbers (5.0 ppg, 3.5 rpg) won't blow you away, his impact on this team and program can't be measured by statistics.
"He's all about the team," Williams said. "He has no ego at all. All he wants to do is win. You won't find a better kid than Chris Otule."
Otule still hasn't decided whether he'll play one more season at Marquette. He graduated in December and said he'll sit down with Williams after the season ends.
"I'm old," he said.
"He's been here a long time and graduated recently," added Gardner. "He'll probably move on."
It appears Otule is leaning in that direction, but he didn't partake in Senior Day festivities a few weeks back just in case he does decide to return for another year. He's having as much fun as ever these days, and has come out of his shell. Once a shy freshman, now he has become one of the vocal leaders of the team. He has aspirations of continuing to play basketball professionally, and understands it'll likely have to be overseas since the NBA probably won't bite on a big man who is blind in one eye and averages just five points per game.
"I say it all the time," Cadougan chimed in. "If he could see out of both eyes, he'd be a lottery pick."
Otule just smiles. It's no longer a secret, not in the locker room and not on the Marquette campus. He's comfortable now -- with himself and as the starting center on a team two wins away from the Final Four.