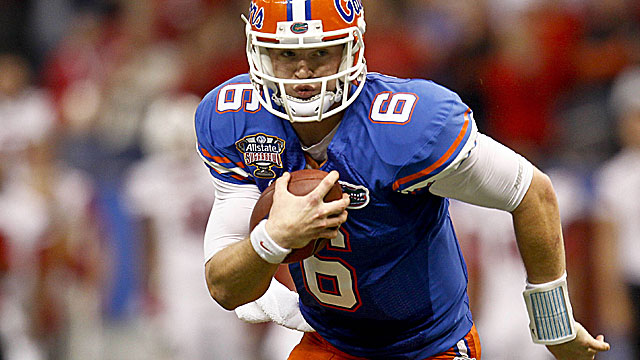 GAINESVILLE, Fla. -- The problem with young quarterbacks, a veteran coach once told me, is that they don't know what they don't know. And learning what you don't know is both necessary and painful.
That was Florida's Jeff Driskel during the 2012 season.
"Before you play college football and before you play in the SEC, you really don't know how much it is going to take to be successful," said the rising junior from Oviedo, Fla. "You have to unlearn old stuff and put in new stuff. You have to learn how to prepare. But I got better at it each week."
More on Gators
Related links
More college football coverage
In Will Muschamp's second season as Florida's coach, the Gators won 11 games and were ranked as high as No. 2 in the BCS Standings. In the process, Florida beat Texas A&M, LSU, South Carolina and Florida State, all ranked in the Top 10 at some point.
Florida's only SEC loss was to Georgia in Jacksonville (17-9) when the Gators turned the ball over six times, including a late fumble inside the Bulldogs' 10-yard line. Win that game and the Gators would have been in Atlanta playing Alabama for a spot in the BCS championship game.
And it should be noted Florida came oh-so-close to playing for it all in 2012 with the following national offense rankings:
• No. 103 in total offense (334.38 ypg)
• No. 114 in passing offense (146.31 ypg)
• No. 76 in scoring offense (26.46 ppg)
• No. 106 in sacks allowed (39 in 13 games)
• 85th in third-down conversion percentage (36.52)
And as the quarterback, the focus on and the criticism for Florida's offensive issues fell on Driskel. That's not fair, offensive coordinator Brent Pease said.
"The reality was last season we played off of our defense because it was so good," said Pease, who came to Florida from Boise State in 2012. "We played smart with the football and played our percentages knowing what our kids could do."
Translation: Driskel and the offense knew that their No. 1 job last season was not to screw up and put the defense in bad field position. The offense played accordingly and was not asked to do things the players could not. Florida turned the ball over only 15 times, tied with Alabama for the best in the SEC. Nine of those 15 turnovers came in Florida's two losses to Georgia (6) and Louisville (3).
Florida had a 1,000-yard rusher (Mike Gillislee), its first since the 2004 season. It is being kind to say the wide receivers were average at best. It only made sense not keep the quarterback's duties simple.
"As the season went on, I learned how to control my nerves and the game did eventually slow down," said Driskell, who threw for 1,646 yards and 12 touchdowns, and was intercepted five times. "I took some shots, but a lot of that was on me. I didn't know the protections well enough. I didn't know how to get the ball out quick enough to avoid the sacks. When things broke down I ran a lot and gave people too many free shots on the quarterback."
Muschamp summarized the experience: "Jeff took some shots. But it's part of learning."
Much has changed with Driskel from this time a year ago. Last spring he was getting to know Pease's terminology. He was competing with Jacoby Brissette for the starting job. There were times when Driskel would sit with Pease and not admit when he didn't completely recognize a coverage or the proper change of protection for the formation.
"Because he was competing with another guy Jeff was not as open with me as he should have been," Pease said. "But we talked about it and worked through it."
Brissette has transferred to NC State in search of more playing time and the job is clearly Driskel's. A year ago Pease had to watch video with Driskel in order to spoon feed him the offense. Now Driskel watches video alone.
"Jeff attacked the offseason and this has been part of the maturation process for him," Muschamp said. "He's in the second year of this offense and it's going to make a big difference for him."
Beyond Driskel's improvement, there are a number of other reasons to believe the Florida offense will be better. The offensive line lost tackle Xavier Nixon but two transfer tackles, Max Garcia (Maryland) and Tyler Moore (Nebraska), could be in the starting lineup when Florida opens vs. Toledo on Aug. 31. A junior college transfer, tackle Trenton Brown (6-foot-8, 350 pounds) from Georgia Military College, originally committed to Georgia before changing his mind and signing with the Gators.
This stat will blow your mind. Under Steve Spurrier, Florida produced All-America wide receivers in bunches. However, Florida has not had a 50-catch wide receiver in three seasons and hasn't had a superstar at the position since Percy Harvin left. The SEC had 11 receivers with 50 catches or more last season. Florida's leading wide receiver (Quinton Dunbar) had 36.
So Florida needed a major upgrade at wide receiver, and Muschamp feels he got it by signing five in February. DeMarcus Robinson from Peach County High School in Fort Valley, Ga. (the same school that produced Gator All-American Jacquez Green), highlights the group. He enrolled early to participate in spring practice. He should be a factor in the fall.
"All the young receivers are running well," Driskel said. "I think they are going to help us."
But Muschamp wants some big plays out of the position -- now. So he moved cornerback Loucheiz Purifoy to wide receiver for the first seven practices in the spring. Purifoy has great athletic skills and could play both positions, a la Champ Bailey or Malcolm Mitchell at Georgia.
"We just need to get better at the wide receiver position so we're giving him a chance," Muschamp said. "He's got a unique skill set and is very good with the ball in his hands. He's got the 'it' factor."
But understand this: Muschamp is a defensive guy. Purifoy could spot play at wide receiver this season, but he's not changing positions.
"He's a very good cover corner," Muschamp said with a smile.
Florida did lose Gillislee, but while the senior was having a career season, freshman Matt Jones (275 yards) was learning how to play the position. After some early struggles, the light went on for Jones in the final third of last season. Remember that name. He is going to be a star.
"Matt has embraced the role of being the Florida tailback," said Muschamp. "He is very mature and very intelligent. We feel very good about Matt."
There are some concerns on defense: New coordinator (D.J. Durkin, elevated when Dan Quinn went to the NFL's Seattle Seahawks), the loss of three of four starters up front, depth at linebacker, and the need for two new safeties. But one gets the sense that three good recruiting classes will take care of that.
The schedule includes trips to Miami, LSU, South Carolina and the usual trip to Jacksonville to play Georgia. But if the offense comes around, Muschamp expects to take another step forward.
"There are still a lot of areas where we can improve," Muschamp said. "But we like where we are."
Tony Barnhart is in his fifth season as a contributor to CBSSports.com. He is a college football analyst for CBS Sports and The CBS Sports Network. He is the host of The Tony Barnhart Show on the CBS Sports Network. Prior to joining CBS he was the national college football writer for the Atlanta Journal-Constitution for 24 years. He has written five books on college football.