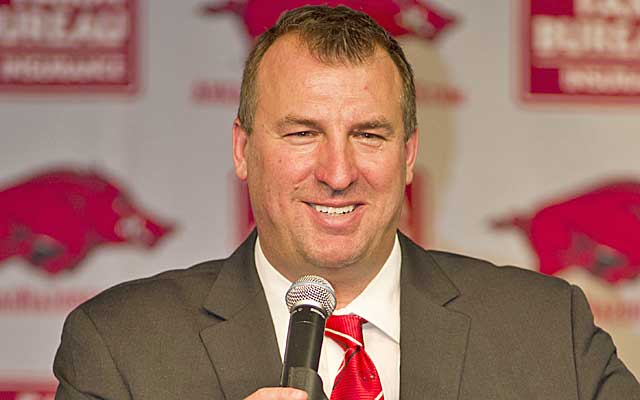 A year ago today, Arkansas' coach chose to ride a motorcycle down a country road near Fayetteville without a helmet and with a woman who was not his wife.
There have been bigger April Fools, but the list has to be a short one. Smack in the middle of spring practice, more than the fortunes of the coach and Razorbacks football were driven into a ditch.
Welcome back, then, to spring practice as we know it. Things are bit saner this year. That coach, Bobby Petrino, has a new job (Western Kentucky) and a new outlook on his personal life. And really, isn't that what spring is about? Renewal, rebirth, refiguring the revenue split in the new playoff era?
More on spring football
Columns

---

Related links
More college football coverage
Spring lets us know it's OK to start over, which is good news at a place like USC. While this month doesn't exactly kick off spring, it is the most vital offseason month between January and August. By the end of this month, 116 of the 124 FBS teams will be in action having either begun or concluded drills.
By May 1, we're sure to know more about UCLA's current quarterback (Brett Hundley) and less about Southern California's new quarterback (currently unknown).
The usual 90,000-100,000 will pile into Bryant-Denny Stadium to see their defending two-time BCS champions (and three of the past four) play an exhibition game. The mood, no doubt, will be dampened by the Saturday death of AD Mal Moore.
On the lighter side, it might be wise to get to College Station on April 13 when Johnny Football needs a hug. You might have heard the defending Heisman Trophy winner is dealing with his tragic breakup with Twitter.
Previously, Texas A&M's quarterback couldn't help himself when it came to, um, communicating with other humans.
The treat will be seeing Johnny Keyboard play some Johnny Football again. Coaches actually want to rein him in a little this season. Uh, on the field too.
Meanwhile, Texas didn't quite make it this far, playing its spring game on Saturday, but in all things Horns, the drama isn't limited to one month.
We'll come out of this month knowing -- wanting to know -- a lot more. April is the busy bridge between seasons that sustains us. It's a reminder that college football is bigger than everything except the NFL. You thought showing the combine on NFL Network was ridiculous? They've been televising spring games for years.
The month's burning issues ...
• I want to know if Braxton Miller can take the next step at Ohio State. Miller and the Bucks go to Cincinnati for their spring game April 13 at Paul Brown Stadium.
• I want to see the new zone reads and their new zoned-in coaches at Arkansas and Oregon. I want to see how Gus Malzahn lives in the shadow of everything Saban and Bama 24/7. I also want to see how long it takes Mark Helfrich to run, pass and option out from under Chip Kelly's shadow. I know one thing, Helfrich sure as heck talks slower than his old boss, because no one alive talks faster. Bring a tape recorder, Philly scribes.
• I want to see Jadeveon Clowney set the stage -- causing no injuries to teammates in the spring, hopefully -- for a legit Heisman run.
• I want to know if snow shovels will be optional for MAC spring games throughout the upper Midwest.
• I also want to know how I'm going to split myself into 33rds midway through the month. Thirty-three spring games will be played the weekend of April 12-14.
That's a mere appetizer, though, for April 20, when we get 45 games in one day.
• At the end of the month the BCS commissioners will gather in a Pasadena, Calif., luxury hotel to tell us why a playoff doesn't make sense. Wait, that was two years ago. How quickly things change when there's more money to be made.
The final version of the annual BCS meetings will deal with the site of the first playoff championship game in 2015, the selection committee and not calling it the BCS anymore. By the fourth week of April, the curse words formerly known as the Bowl Championship Series should be rebranded and renamed.
• I want to know what Bret Bielema is going to say next. He's already called out Nick Saban.
Hey, if you can't beat 'em, taunt 'em.
• This month, we might find out where Gunner Kiel is going to play. Dude, pick a lane, for gosh sakes. The former Notre Dame/Indiana/LSU quarterback/recruit/commit needs a travel agent more than anything else.
Speaking of the reason Kiel left, Everett Golson is expected to take the next step after leading the Irish to the BCS title game.
• I want to shake Kyle Van Noy's hand and offer some advice. As a national defensive player of the year candidate at a religious flagship institution, the BYU linebacker needs to keep it real. As in girlfriends. He is this year's Manti Teo, hopefully without babe buffering.
Oh, and guess who's back up on the Hog, career-wise? That previous fool on the hill is now a Hilltopper. Petrino's first spring game at Western Kentucky will be April 20.
Let the renewal begin.