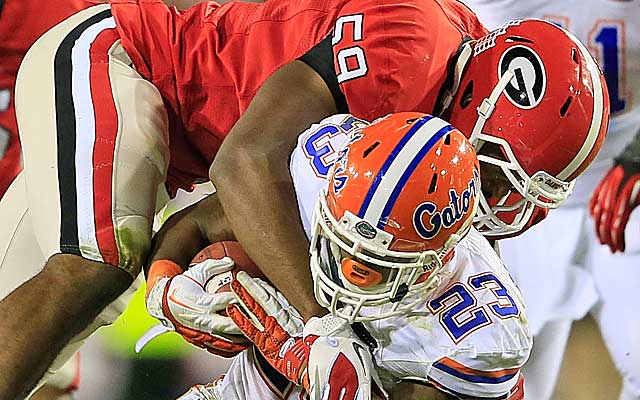 ATHENS, Ga. -- It's only April, but the narrative for the 2013 Georgia football team is pretty much set:
• Georgia will try to make its third straight trip to the SEC championship game after coming up 4 yards short of beating Alabama, the eventual BCS national champions, last December in Atlanta.
• The offense, which set a school record by averaging 37.8 points last season, returns virtually intact. If he stays healthy, senior quarterback Aaron Murray will become the SEC's all-time leading passer. Few teams will be able to match Georgia's sophomore running back tandem of Todd Gurley and Keith Marshall, who combined for 2,144 yards and 24 touchdowns as freshmen.
More on spring football
Columns

---

Related links
More college football coverage
• The defense can't be as good after bidding farewell to 12 players, seven of them starters, most of whose names will be heard during the NFL Draft. Linebackers Jarvis Jones and Alec Ogletree were difference makers who are both expected to go in the first round.
Conclusion: Georgia's rebuilding defense will have to hold on for dear life while the high-powered offense just tries to outscore everybody. This will be especially true in the first month of the season which includes games with Clemson, South Carolina and LSU.
Garrison Smith, the Bulldogs' senior defensive end, ain't buying it.
"Now we're going to be great on offense, that much I know," said Smith, who has played in 35 games for Georgia. "But there is not going to be a drop off on the defense. Yeah, we lost a lot talented guys who can play. But we've got a lot of young pups waiting, and now it's time for them to step up. We've actually got more guys who can play than we did last year."
Defensive coordinator Todd Grantham's analysis isn't quite as optimistic. But he does agree that in sheer numbers, Georgia's defense will put more talented players on the field than it did last season, when the Bulldogs won 12 games for only the third time.
Statistically, last season was strange for Georgia's defense. The Bulldogs had four starters suspended for the first two games and two of those for four games. Grantham had to mix and match players and play guys out of position to get through the first month. They gave up 478 yards to Tennessee and still won. They gave up 350 yards rushing to Alabama and still almost won. Georgia finished sixth in the SEC in total defense (357.79 yards per game) and sixth in scoring defense (16.74 points per game).
But the defense also made plays when most necessary. The Bulldogs forced 30 turnovers in 2012 (second only to LSU and Mississippi State in the SEC) and 32 the previous season. Only LSU got the ball back to its offense more often than Georgia has the past two seasons.
"We basically only had 28 guys on scholarship last year, and then we had the suspensions at the beginning of the year and that put is in a bind," Grantham said. "[This season] We're young and we're going to coach them up a bit. But we're pretty talented. We have guys who can do a lot of things. We have a bunch of guys who want to be the next Jarvis Jones."
Jones was the emotional bell cow of Georgia's defense. There were times when he took over games. Last October's 17-9 upset of No. 2 Florida was a perfect example. The Gators, who only had 15 turnovers all of last season, committed six against Georgia. In that game Jones had 13 tackles, three sacks, two forced fumbles and two fumble recoveries. In two seasons as a starter, Jones had 28 sacks.
"He was relentless in his play and the rest of our team would feed off from him," Grantham said. "He would get the other guys going. It's tough to ask one guy to replace all that, but you never know."
Coach Mark Richt reminds his visitor that Georgia has been in this situation before.
"Two years ago, people wondered who was going to rush the passer after Justin Houston [a two-time All-SEC player in 2009 and 2010] left," said Richt, set to begin his 13th season at Georgia. "But then Jarvis stepped up."
Smith said the defense has already found who's next at Jones' old position.
"Jordan Jenkins is going to be the second coming of Jarvis Jones, in my opinion," he said. "You look at his body type. He's strong. He has long arms. He has incredible reach."
Jenkins (6-foot-3, 257 pounds) started six games as a freshman, compiling eight tackles for loss and five sacks.
Sophomore Josh Harvey-Clemons is a rangy (6-5, 207) athlete who can play safety or outside linebacker. Grantham may use him in both spots by playing him at safety until third and long. Then he becomes a pass rusher.
"Josh is one of those guys like Jarvis Jones, where you want to put him where he can be the most disruptive," he said. "We think we can find ways to let him affect the game."
The list of players waiting in the wings goes on, but right now Richt likes what he sees.
"I see a pretty lean football team with good quickness," Richt said. "We're going to do more things by committee. We'll play more guys with a closer competition."
Georgia also has 13 players -- six on defense -- who graduated from high school early and enrolled last January. With both starting safeties gone, look for an early enrollee, like freshman Tray Matthews, to be in the mix.
"It [the early enrollees] has been great for us. I've told those guys that they are a class unto themselves," Richt said. "They learn a lot about football and academics. I'll bet they'll be smiling when the other freshmen come in."
If you detect there is a sense of urgency about putting together this Georgia defense this spring, you're right. The Bulldogs open on the road at Clemson, a consensus top 10 team that also returns one of the top offenses in the country -- led by quarterback Tajh Boyd. In fact, Georgia faces Clemson, South Carolina, and LSU among its first four games. Those who have complained about Georgia's schedule (no Alabama, LSU, or Arkansas from the SEC West the past two seasons), won't be able to do that in 2013.
"We pretty much have to have things set when we leave here in the spring," Grantham said. "There is not going to be any time for experimenting when we get here in the fall. We have to get ready to play against a great offense."
Smith added: "Our first game is not a warm up. It's going to be the real deal. If you want to win the national championship, you have to win every game that counts."
Bottom line, said Smith: Georgia may have lost a bunch of household names on defense, but the Bulldogs will still be good enough to give their team a shot at getting back to Atlanta.
"I think about [coach] Bill Belichick with the Patriots," Smith said. "Every year, he plugs in a bunch of new players and they are good. We have a bunch of young guys that people haven't heard of, but they can play."
Tony Barnhart is in his fifth season as a contributor to CBSSports.com. He is a college football analyst for CBS Sports and The CBS Sports Network. He is the host of The Tony Barnhart Show on the CBS Sports Network. Prior to joining CBS he was the national college football writer for the Atlanta Journal-Constitution for 24 years. He has written five books on college football.