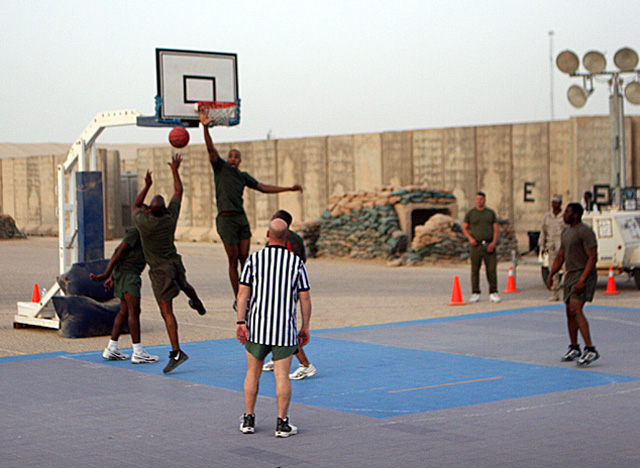 ATLANTA -- Make a mistake in a college basketball game and there's a good chance you'll have a later opportunity to make amends.
The life-and-death gauntlet of daily existence in a war zone isn't always as generous with second chances.
It's a somber fact Robert Brooks remained keenly aware of following a collegiate basketball career at Georgia Tech and subsequent stints serving as a U.S. Marine Corps officer in both Iraq and Afghanistan. The only man who has both played in a Final Four and served in either war zone boasts a unique perspective on the pressures that accompany the two memorable experiences.
"I don't feel any pressure [in a combat zone]," Brooks explained, "and I think it's because I played college sports. Just like in college, we all succeed together or we all fail together. That kind of pressure has always helped me perform.
"I don't panic. I don't stress about anything. I look at the situation, see what it is, get as much information as possible and then consider all the different outcomes before making a decision and rolling with it. Sometimes you have to make adjustments on the fly. You just do what you have to do, what you've been trained to do."
The two-year co-captain, who would become a Marine captain, figures to be more than a little introspective when back in Atlanta to enjoy this weekend's Final Four at the Georgia Dome, just a stone's throw from the Georgia Tech campus he once called home.
Brooks was a gritty but undersized frontcourt player on a deep and talented Yellow Jackets team that reached the 2004 Final Four in San Antonio, eventually falling to Connecticut in the national championship game. A starter earlier in his career, the wiry, 6-foot-8, 210-pounder spelled eventual NBA center Luke Schenscher for much of his senior season, helping the Yellow Jackets enjoy the most successful season in school annals.
Then as now, Brooks readily did whatever was asked of him.
"I've never had a kid in the more than 25 years I've been in coaching who is more team-oriented than Robert Brooks," said then-Georgia Tech coach Paul Hewitt, now at George Mason. "You love coaching kids like that."
Brooks isn't the first big-time basketball talent to have traded in his high-tops for desert camouflage and an M-16. Former University of Miami star and 1999 NBA first-round draft pick Tim James served in Iraq as a member of the U.S. Army, after walking away from the game in 2008. Current Dallas Mavericks rookie Bernard James (no relation to Tim James) is also no stranger to a war zone, having served three tours of duty in the Air Force before enrolling at Florida State and eventually being selected in the second round of last summer's NBA Draft.
But Brooks has a unique place among Final Four participants to have served in Iraq or Afghanistan.
The 30-year-old Saginaw, Mich., native admits to often feeling worlds removed from the heady days of charter flights shuttling him and his teammates all over the country, lavish hotels and throngs of rabid fans and inquisitive media following the Yellow Jackets' every move.
In the nine years since he took the floor against UConn in the national championship, Brooks has found a higher purpose -- national security.
• • •
When Brooks entered the military following his graduation from Georgia Tech in December 2004, it meant he was signing up for the family business. Brooks' grandfather, stepfather and older brother served in the U.S. Army. One uncle had been a Marine. Another was a Navy Seal during the Vietnam war. So Brooks' enlistment in the Marines was hardly a journey into the unknown. The trials he might have to face in war were a different matter altogether.
"I was concerned about his well-being," admitted Hewitt, noting the escalation of a conflict that was in full throat nine years ago.
But his deep love of country and strong sense of duty compelled Brooks into action, and his Georgia Tech teammates supported his decision, even as the bloody conflicts in Iraq and Afghanistan raged.
"I thought it was a good fit the more I thought about it," said Marvin Lewis, the former Yellow Jackets shooting guard now working as an associate athletic director at the University of Maryland. "And I knew he'd definitely have no problem leading young 18- and 19-year-olds after everything we'd already gone through."
Brooks arrived at Parris Island for boot camp a little more than two weeks after receiving a business management degree from Georgia Tech, firm in his resolve to do his part in serving America and protecting those desperately in need of help. Eventually he'd attend Officer Candidate School at Quantico, Va., receiving his commission as a second lieutenant in March 2007.
Despite the life-and-death magnitude of what Brooks and his fellow Marines had signed up for, the first question invariably posed to him along his journey was always the same: What was it like to play in a Final Four?
Brooks' answer was equally as consistent.
"It was incredible, it was a lot of fun," Brooks would say. "It was a high unlike anything else, and gave me memories that will last a lifetime."
As it turned out, Brooks wasn't completely through with basketball either. His impressive collegiate pedigree meant he was a virtual lock for the All-Marine team that toured the world playing teams from other nations' armed services. Brooks was later tapped to play on the U.S. All-Armed Forces team, an all-star squad that took the best players from each of the different services.
Future Maverick Bernard James was among his teammates on the All-Armed Forces team, and Brooks was one of several older players who immediately recognized the youngster's raw potential and wisely convinced him to go back to school.
Bernard James would eventually chart a course for an NBA career. Meanwhile, the stakes were about to get higher for Robert Brooks.
• • •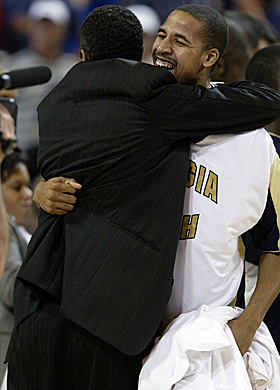 Brooks remembers the airport scene upon the Yellow Jackets' return to Atlanta from St. Louis, just after an overtime win over Kansas that earned the team a berth in the Final Four. Georgia Tech had made it to the final weekend for the first time since 1990 -- entering 2004, the Jackets hadn't even won an NCAA tournament game in eight years -- and the student body and long-suffering fan base showed up in the thousands to greet their heroes.
It was bedlam on campus all week, as Final Four fever gripped the Georgia Tech community. School president Dr. G. Wayne Clough fostered the delirium by sending a university-wide memo excusing all students from academic assignments that week if they were going to San Antonio to support the men's basketball team. Once in San Antonio, supportive fans clad in their gold-and-white were everywhere -- almost literally. Brooks and his teammates were getting dressed in the upper-level rooms of the team hotel, when they noticed a large group of Georgia Tech fans gathered on the roof of a nearby parking deck, eager to catch a glimpse of the team and showcase their support.
"It was crazy," Brooks says of the scene.
Brooks -- who appeared in 111 games during his four-year career at Tech -- didn't play at all in the Final Four win over Oklahoma State and played sparingly in the 82-73 championship loss to UConn. But that's incidental to Brooks, who says he'll always recall the palpable energy that surrounded that weekend.
"It's not that I miss playing," he said. "My teammates will always be my teammates. What I miss most is the fans, the crowd. That energy from college basketball is awesome and I miss that."
• • •
Battalion supply and logistics officer Robert Brooks arrived at Camp Al Taqaddum, just outside the southeastern Iraqi town of Habbaniyah, in January 2009. More than four years after trading the comforts of civilian life for full Marine regalia, Brooks volunteered for duty in Iraq.
"I wanted the experience," he said. "That's what I joined up for."
Located in the dangerous al Anbar Province about 45 miles west of Baghdad, TQ, as the camp is informally referred, was largely an oasis from the widespread violence that had gripped the country following the removal of Saddam Hussein. Nearby Lake Habbaniyah not only provided the young Marines a beautiful backdrop each day, but also a welcome breeze that helped ease the searing desert heat. Still, this was Iraq. It was always understood that danger was not far away in a war-ravaged land where improvised explosive devices (IEDs) and unexpected insurgent attacks regularly claimed American lives at even the most innocuous times.
On several occasions, Brooks' battalion came under enemy mortar fire.
"I didn't get too shook up by it," Brooks recalled. "We didn't have much time to dwell on fear because we had Marines to look after. It all went back to training. Training just kicks in and you do what you've been trained to do."
Brooks' stay in Iraq was largely without incident, however, and his battalion was fortunate not to sustain any casualties during its tenure in TQ. He was even occasionally able to play outdoor pickup basketball with other Marines during down time, and took in some college basketball games on tape delay when his busy schedule allowed. His days of mixing it up underneath the basket each night against the likes of Duke's Carlos Boozer, Maryland's Lonnie Baxter and North Carolina's Brendan Haywood were a distant memory. Those weren't really battles, after all.
• • •
His first tour complete, Brooks rotated home in September 2009, but his stay was brief. He requested duty in Afghanistan and by December had reported to Forward Operating Base (FOB) Dwyer in the volatile Helmand Province of southern Afghanistan. Brooks and the 35 Marines he commanded were busy from the outset, loading and unloading supply convoys in support of offensive operations in a region that was claiming a disproportionate number of American lives. Again, Brooks' camp was fortunate to avoid casualties. The Marines had already begun winding down their role in Afghanistan prior to Brooks' arrival, leading to his permanent stateside return in April 2010.
The former college basketball star-turned-warrior tended to administrative matters in Quantico for a year, before assuming his current responsibilities as a Marine Corps recruiter for the last two. Who better to serve as the public face of the U.S. Marine Corps?
This summer, Brooks will transition back into the civilian life he left soon after the buzzer sounded against Connecticut in April of 2004. His career plans are up in the air -- the hotel management field is one option. Though the lessons he learned at the highest level of Division I basketball will be part of Brooks' perspective during the next stage of his life and career, so will the skill and wisdom he absorbed during nearly a decade in the military. Anyway, according to Brooks, those lessons are largely the same.
"It didn't matter how physically strong you were," Brooks says, referring to either college basketball the military, or both. "You had to be mentally tough and learn to push through the pain, the fatigue, the cold and the hunger. You had to really want to succeed, develop that mental strength. And that's what Coach Hewitt did for us."
"Everything I experienced in college through basketball as a student-athlete prepared me for the Marine Corps."
John Hollis is an Atlanta-based freelance writer who covered Georgia Tech's 2004 national championship run for the Atlanta Journal-Constitution.