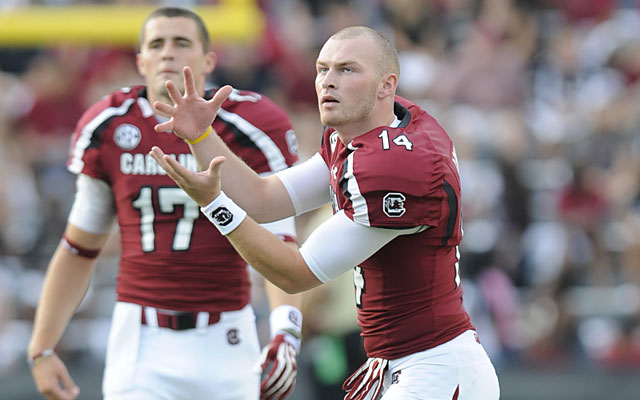 COLUMBIA, S.C. -- Hollywood could not have scripted it any better.
South Carolina trailed Michigan 28-27 in the Outback Bowl with the final minutes ticking down. Connor Shaw, the Gamecocks' junior quarterback, was leading his team down the field in hopes of getting in position for the winning score. Shaw, who had been nursing a bad foot since late October, planted that foot in the turf of Raymond James Stadium in order to extend a play.
"I just felt everything in my foot go limp," said Shaw, who hails from Flowery Branch, Ga. "I wanted to stay in the game but you have to do what is best for the team."
More on South Carolina
Related links
More college football coverage
Shaw, the son of a coach, took himself out of the game with his team on the Michigan 43-yard line.
Enter Dylan Thompson, who had been subbing for Shaw since the foot injury first occurred against Tennessee on Oct. 27. In fact, Thompson had started at Clemson on Nov. 24 when Shaw couldn't go and threw for 300 yards in a 27-17 victory. Earlier in the game with Michigan, Thompson had thrown a 70-yard pass to set up a four-yard touchdown toss to Ace Sanders. Thompson was comfortable and confident when he re-entered the game in Tampa.
While the whole world thought South Carolina was playing for a field goal and the lead, head coach Steve Spurrier and quarterbacks coach G.A. Mangus saw something in the Michigan defense they knew Thompson could exploit.
"We ran the same play earlier in the game and it was open," Shaw said. "Michigan ran a stunt and so there was nobody to hold the No. 3 receiver. Dylan recognized it right away. He looked off the safety and just let it go."
With a blitzing defender bearing down on him, Thompson threw the ball perfectly down the hash to Bruce Ellington, who waltzed 32 yards for the winning touchdown with 11 seconds left.
The first guy who ran -- actually, hobbled -- off the sideline to greet Thompson was Connor Shaw.
"One of the neatest pictures after that game was Connor and Dylan sort of hugging each other when it was over," said Spurrier, who led South Carolina to 11 wins for the second straight year. "You don't see that very much among quarterbacks."
Shaw, who is sitting out spring practice after surgery to repair that damaged foot, is now a rising senior and will be the starting quarterback when South Carolina opens the 2013 season on Aug. 29 at home against North Carolina. But Thompson, based on his play in the second half of the season, has definitely earned a significant number of snaps per game. And Shaw is just fine with that.
"It's unusual, but the fact of the matter is they are the best of friends," Mangus said. "We don't worry about figuring out how much each guy is going to play. They are going to figure it out."
"If it was anybody else, there could be bad karma in the locker room," said Shaw, who is 17-3 as South Carolina's starting quarterback. "But the fact is we support each other 100 percent."
And because Spurrier now has two good options at quarterback (there were several seasons at South Carolina when he didn't have one -- remember Stephen Garcia?) and because the Gamecocks have the best defensive player in college football in junior end Jadeveon Clowney, it is not a stretch to believe that South Carolina could post double-digit wins for the third consecutive season in 2013.
To put that in perspective: When Steve Spurrier arrived at South Carolina in 2005, the Gamecocks had posted exactly one 10-win season in their history (1984, when Joe Morrison's team started 9-0 and finished 10-2).
They had never won 11 games in a season. South Carolina had never finished a season in the top 10 of the final AP poll. Now the Gamecocks have done it for two straight seasons, including a school-best No. 7 finish in 2012.
"When I got here there were all kind of first possibilities," said Spurrier, who has now won 125 games against SEC competition (87 at Florida, 35 at South Carolina, three at Duke), second only to Bear Bryant. "We like doing things that have never been done before."
Spurrier, a believer in the principles of both Sun Tzu ("Keep your friends close and your enemies closer"), and John Wooden ("One of the greatest motivating things a coach has is the bench") is big on goals. He believes that you put the goals up on the wall for everybody to see and start checking them off.
During our visit he reached behind his desk and pulled a piece of paper out of a folder. Written on the paper were 10 goals his team had established for 2012:
• Win 8 games. Check
• Win 9 games. Check
• Win 10 games. Check
• Win 11 games. Check
• Win all home games. Check (South Carolina had not done it in 25 years)
• Beat Clemson. Check (for the fourth straight season)
• Win the bowl game. Check
• Finish in the top 10. Check
• Win the SEC East.
• Win the SEC championship.
"We accomplished eight of our 10 goals and that's not too bad," said Spurrier, who turns a young 68 on April 20. "But the goal we set when we got here was to win the SEC championship. We still haven't done that."
A seventh SEC championship would be a historic feat for Spurrier. He is currently tied with Vince Dooley (Georgia) and John Vaught (Ole Miss) at six. He would stand alone behind Bryant's 14 with another conference title. It is the last major "first" at South Carolina that has eluded him.
The schedule gives him a chance.
The SEC schedule gods did Spurrier no favors last season. The Gamecocks started 5-0 and then had to play No. 5 Georgia, No. 9 LSU and No. 3 Florida in consecutive weeks. The LSU and Florida games were on the road.
South Carolina dominated Georgia (35-7), a team that would later come within one play of beating Alabama in the SEC title game. The Gamecocks lost 23-21 at LSU to snap a school-record 10-game winning streak. At Florida the Gamecocks dug themselves a huge hole with three early turnovers in their own territory. Florida had only 183 yards of total offense but won 44-11.
On Oct. 27 against Tennessee the unthinkable happened. For the second straight year running back Marcus Lattimore severely injured his knee and was lost for the rest of the season. Nobody knew it at the time but Lattimore's college career was over. South Carolina had to hold on to win 38-35 over the Volunteers.
South Carolina did not collapse and closed out the regular season with wins over Arkansas, Wofford and Clemson.
"We didn't play all that well at LSU and at Florida we just gave them the ball three times," Spurrier said. "But I have to give our guys credit. We hung together pretty good after that."
This season the schedule is more favorable. LSU rotates off from the SEC West and Mississippi State rotates on. Georgia, which has missed Alabama and LSU during the regular season the past two years, faces LSU at home on Sept. 29. Florida has to go to LSU on Oct. 12. South Carolina goes to Georgia on Sept. 7 and hosts the Gators on Nov. 16.
If South Carolina can win the SEC East, the Gamecocks probably won't be favored in a matchup against Alabama or Texas A&M, the early picks to win the West. Spurrier, however, remains the eternal optimist.
"We've recruited well the past few years," Spurrier said. "We've been able to tell kids that we finished in the top 10 two years in a row. Our guys are practicing well because Marcus (Lattimore) set the standard on how to work. We do have a lot of good players but mentally now we're good enough to compete with anybody and we don't have to go to the ballpark thinking that everybody is better than us."
ABOUT TONY BARNHART
Tony Barnhart is in his fifth season as a contributor to CBSSports.com. He is a college football analyst for CBS Sports and The CBS Sports Network. He is the host of 'The Tony Barnhart Show' on the CBS Sports Network. Prior to joining CBS he was the national college football writer for the Atlanta Journal-Constitution for 24 years. He has written five books on college football.