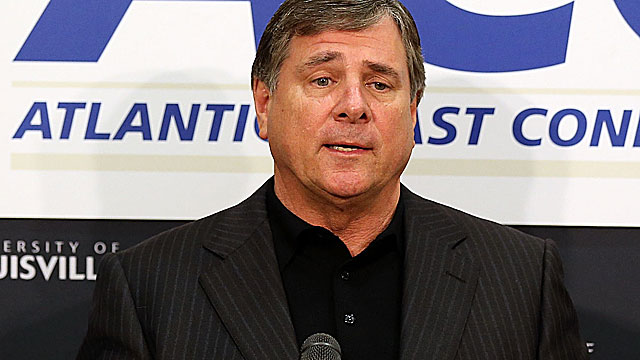 Louisville was about to be kicked out of the league.
That's what Tom Jurich remembers about his first days on the job.
"Conference USA was trying to get rid of Louisville," the Cardinals AD said. "Louisville was not a good neighbor. The presidents and ADs had had enough of Louisville."
Few disagreed.
More on Louisville
Related links
Video
More college hoops coverage
"The Louisville attitude prior to Tom's tenure," former Southern Miss AD Richard Giannini stated in an email, was "they were always better than everyone else."
Louisville? Better than everyone else? Easy to believe now when Jurich oversees two Final Four basketball programs, a BCS bowl-winning football program, and has Louisville headed to the ACC.
These are the days when Louisville can be ranked with the best. The ACC finally reached out to the Cardinals when the Big Ten poached Maryland, keeping Louisville above college athletics' Mendoza Line. If the men's basketball team's second straight Final Four run hasn't captured the nation's attention, injured guard Kevin Ware has.
But according to Giannini, a veteran Conference USA administrator, back in the day Louisville advocated unequal revenue sharing. There were two NCAA major infractions cases in basketball in less than two years. All those factors greeted Jurich when he arrived from Colorado State on Oct. 20, 1997 to a hot athletic mess.
"I hate to use the analogy right now, but it was like having a broken leg," Jurich said. "You can't race with a cast on your leg. You had to get that fixed."
Just in case you don't get it, that's a Ware reference applied to a 16-year old dilemma.
"Just think of that time, if you're Louisville, and you don't have a home," he said. "You're on major probation for basketball, football is 1-10, spiraling out of control downward and then you have no conference. Then what does the world look like?"
Certainly not like it does this week. Louisville never has been better -- as a school, as an athletic department, as a fashion center. (You've seen the basketball uniforms, right?) This is a salute to Jurich, who has taken an urban campus co-existing in the same state with superpower Kentucky and made Louisvile its own distinct brand.
With a few bumps along the way.
"Keep talking about us," Jurich would always tell reporters when they called.
It was meant as a guerilla marketing tactic during the dark days of conference realignment. Keep Louisville out front in the discussion. The Cardinals, along with four other schools, left Conference USA for the Big East in 2004. That arrangement became unstable as the uncomfortable relationship between Big East football and basketball schools inevitably caused the conference to split in two.
In those phone conversations with media, Jurich was planting the seed. Louisville, he believed, deserved to remain a BCS school. The most logical landing spot was the Big 12 when the 2010 tsunami of realignment arrived. The league stayed at 10 when Nebraska and Colorado left in 2011. When Missouri and Texas A&M bolted in '12, the Big 12 went with TCU and West Virginia.
Jurich went so far as to fly to Texas to reportedly meet with Texas power broker DeLoss Dodds.
"I got discouraged when the Big 12 didn't want us," he said. "When that fell apart, I thought 'Gosh darn, what are we missing?' I knew that we had everything. ... There are a lot of great people in there. I think there were a lot of people who did want us in there."
In conference realignment you're either a market or a brand or sometimes just a warm body just to fill out a league roster. Louisville was in danger of being none of those.
It may have been as simple as West Virginia-Oklahoma on a Saturday afternoon being more marketable in a TV package than Louisville-Oklahoma. And before you head for the Twittersphere to vent, realignment remains almost all about football -- about 80 percent compared to 20 percent basketball in terms of revenue from television contracts.
"My take is recent football success," said a media consultant on why Louisville had been left out. "This stuff is all so cyclical. You could make the argument that Louisville has never done it so they're not cycling back to anything."
The Cardinals went to BCS bowls six years apart. TCU was a warm, friendly, body for the Big 12 -- leaving the Big East before it had played a game. The Horned Frogs hop-scotched their way across the conference landscape, playing in back-to-back BCS bowls as a Mountain West member. West Virginia had played Notre Dame for a national championship in 1988 and in three BCS bowls since 2005.
But while West Virginia and TCU each played in a BCS bowl from 2007-09, Louisville was going 15-21 with Steve Kragthorpe.
"If you looked at potential, market data and things of that nature, Louisville stacks up very well," said the consultant who did not want to be identified. "Louisville is like the kid down in the minor leagues who hits .375 and hits 30 home runs but has never done it at the major league level. They have a lot of potential."
But if you stick around the realignment musical chairs long enough there is a chance for everyone. When the ACC called, Louisville had essentially beaten out UConn and Cincinnati for a BCS lifeline the same way West Virginia and TCU had trumped the Cards.
In 2007, the Sports Business Journal named Jurich the country's No. 1 AD. In any casual conversation, he's never out of the top five because of his accomplishments.
At Louisville, with the nation's No. 50 TV market.
At Louisville, which built a 22,000-seat downtown arena for its national basketball program.
At Louisville, which happily played midweek games to showcase its football program.
"When ESPN really bought into us as a program and put us on weekday nights," Jurich said. "It alienated a lot of our fans, but it not only branded us nationally but branded us internationally. People wanted to watch Louisville play football."
At Louisville, which went from the dregs of the Ron Cooper era to John L. Smith to Bobby Petrino.
"And then getting Rick," Jurich reminded. "He's Elvis."
Elvis -- or if you prefer, Rick Pitino -- was hired in 2001. This week is a celebration of his seventh career Final Four and third at Louisville. You may have noticed Elvis has been out front lately, coaching the hell out of his team and comforting Ware.
"Sunday, Rick Pitino was absolutely magical," Jurich said. "I'm not talking about a magical sense. The leadership he provided was off the charts. If there has ever been a better performance than what he did, and I'm talking any coach, I've never seen it." But whatever happened in those dark days of 1997? Why are the Cardinals here? The Conference USA commissioner back then was one Mike Slive, who went to become (arguably) the most powerful man in college athletics.
"You take the job," Slive told Jurich back, "we'll make everything work."
Really? Jurich says he turned down the job four times before coming.
"The biggest break this university got was Mike Slive not kicking it out of C-USA," Jurich said. "That's what the rest of the conference wanted ... I think there were lawsuits and everything, trying to get Louisville out of the league. Mike had the ADs and all the presidents, they were all telling him one thing and I think he was fed up too.
"I look back today and shudder. What if we had gone through that without a conference?"