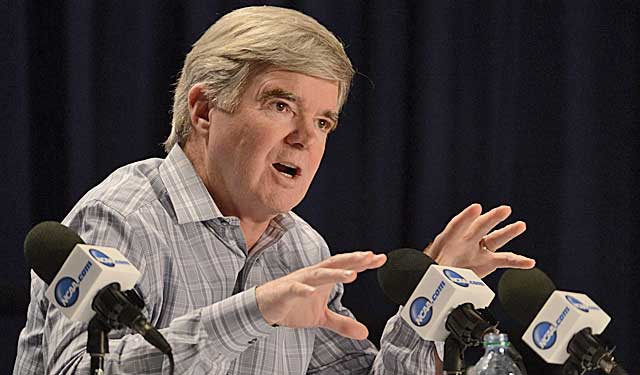 ATLANTA -- Here's the question that wasn't asked during 40 minutes of press conference hell for Mark Emmert at the Final Four:
Isn't it strange how the rich and powerful, from Exxon to Fannie Mae to the NCAA, can be so walled off from the everyday when it comes to accountability?
Coaching careers have been altered, even ruined -- often rightly so -- because the answers, "I don't know" or "I wasn't supposed to know," weren't good enough in the NCAA enforcement process. Lack of knowledge about something you lack knowledge about has never been a solid excuse in the NCAA's infractions sauna.
More on NCAA
Related links
More college football coverage
Except that's exactly the conclusion reached in February in an external review regarding Emmert, the NCAA president, and his No. 2 -- chief operating officer Jim Isch -- in the Miami case. Emmert says he didn't know about the use of outside attorney Maria Perez until the deed was done. Isch, the man who approved a $20,000 expenditure for Perez' use, was not responsible for "vetting its appropriateness."
What?
A reasonable person (or columnist) can detect a double standard. Coaches lose their jobs and livelihoods for not knowing or being unable to recall certain details. These guys get raises. Or soon will after the money from this latest Final Four rolls in.
Miami has become the biggest flash point in NCAA history because it involves ... the NCAA. It has never been fully explained why the executives weren't required to know about the expenditure for $20,000 for an outside attorney in the Miami conflagration. Former enforcement director Julie Roe Lach was fired. Investigator Ameen Najjar lost his job (although for a different reason).
Why, then, do we still believe that Emmert or anyone can put out these fires? The NCAA cannot continue to exist in its current form. Not with a change agenda that has swallowed up a decent person in Roe Lach. Not with the unprecedented intrusion into Penn State that has caused continuing anguish.
Not when the next enforcement official to pursue the next major infraction case gets on campus and is asked: Why the hell should we trust anything you say?
It may just be that the NCAA is ungovernable. The presidents were put in charge of the NCAA 25 years ago. Since then, half of FBS has been hammered with major penalties -- in football alone. Nice job, fellas. There are too many constituencies with too many needs. Too much centralized power. Oh, and too little oversight.
Roe Lach was the victim of a changed culture, one that has gone too far too fast under Emmert. Under the old enforcement system, a series of directors oversaw cases. Emmert chose to have a more "team" approach, according to several sources familiar with the process. Roe Lach was required to go out on the road and engage the membership in an outreach attempt. Fine, except that back home there were none of those old directors to run the shop.
Results: Due to a ruling that defies definition even today, Ohio State players accused of taking extra benefits were allowed to play in the 2011 Sugar Bowl.
There was the hiring of a football enforcement "czar" Bill Benjamin, who resigned a few months later.
Morale, at least recently, has been at an all time low. Najjar was painted as a rogue investigator by the NCAA. But how many more like him are there?
"I'm not sure what you mean when you talk about those cases causing a loss of confidence in enforcement," Emmert said Thursday.
You're kidding right?
That's where we stand at this moment in time when documents continue to be leaked, sources continue to talk -- some of them from inside the NCAA walls -- and outrage continues to build. The Miami case has become that flash point. Emmert has become its lightning rod.
"If you're going to launch a change agenda, you've got to be willing to deal with criticism," Emmert said. "So, OK. I deal with criticism."
The problem is, we might never be able to come back from this point. The narrative that the problems are localized to Miami has been shredded. NCAA critics and the disenfranchised are now motivated to leak those documents, pass along inside information and sue. No organization can function if it is being eroded from the inside.
It used to be that we thought big-time college sports were dirty. Now we can't trust those who would keep them clean. During that 40-minute annual Final Four press conference the NCAA president filibustered -- more than half of the time was taken up by an opening statement -- and was snippy, bordering on arrogant.
"If you're not getting sued today," Emmert said cavalierly as his organization continues to take hits, "you're not doing anything."
Lawyer up, bucko, because you ain't seen nothin' yet. Thursday morning an ESPN.com story broke detailing allegations that NCAA investigators "intentionally misled" and were "lying" to Miami officials.
CBSSports.com reported three former Miami coaches asked the NCAA to preserve evidence in case they do sue.
And that was just Thursday. This week USA Today questioned Emmert's tactics at his other stops at UConn, Washington and LSU.
None of this is being written/reported, unless Miami blows up in Emmert's face revealing all the flaws of the system. It's a feeding frenzy and it is just. It also doesn't end with the media. Donna Shalala has all but said she will sue if the school isn't credited with time served (self-imposed penalties) by the NCAA. There's enough litigation against the association in the pipeline elsewhere to choke a law clerk.
"I've said they're like a cat with nine lives," said an attorney who has worked closely with schools and coaches against the NCAA. "They have been in litigation. There have been these dark predictions of doom months down the road."
And the NCAA always emerges unscathed, but, these days, not any more credible.