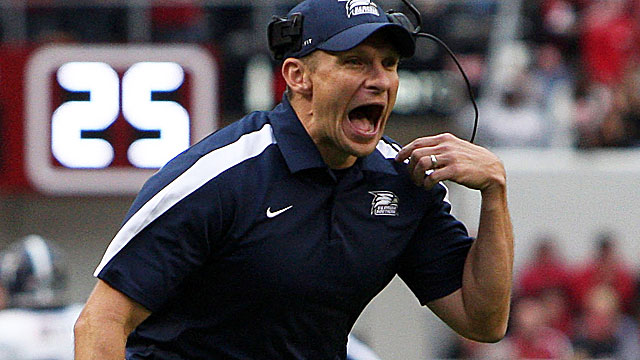 Dr. Brooks Keel, the president of Georgia Southern University, knew his school had made the right decision on its football future while watching the NCAA basketball tournament.
"There is Florida Gulf Coast University playing on national television," said Keel. "I spent three years at Florida State and my wife has a doctorate from the University of Florida. And we looked at each other and said 'Where is Florida Gulf Coast?'"
The Keels pulled out their iPads and quickly learned about Florida Gulf Coast, located between Naples and Fort Myers in southwest Florida. The University was founded in 1991 but already has more than 11,000 students.
More on Georgia Southern
Related links
More college football coverage
Most people didn't know it existed until coach Andy Enfield's team reached the Sweet 16.
"Now I have a very good appreciation for that university," said Keel, who became Georgia Southern's president in 2010. "I'm convinced that a year from now or five years from now someone is going to see a Georgia Southern football game on television and say, 'Hey, that looks like a pretty good place to go to school.'"
No school playing football at the FCS (formerly Division I-AA) level has been more successful than Georgia Southern, located about an hour from Savannah in Statesboro. Georgia Southern played football from 1924 to 1941 when it discontinued the sport because of World War II and decided not to bring it back. Then in 1981 Georgia Southern hired Erk Russell, the charismatic longtime assistant to Vince Dooley at Georgia, to resurrect the football program.
It didn't take long. By 1985 Georgia Southern won the first of six FCS championships, more than any other school. Youngstown State is second with four championships. Appalachian State has won three.
There have been a few down years, but for the most part Georgia Southern has been a national power at the FCS level for almost 30 years. The Eagles, now coached by Jeff Monken, reached the FCS semifinals last December, losing (23-20) to North Dakota State, the eventual national champion.
But in March, Georgia Southern announced that it was closing that chapter of its football history to move up to the FBS level by leaving the Southern Conference and joining the Sun Belt.
Georgia Southern will play one final season in the Southern Conference but will not be eligible to win the championship. The school will play a Sun Belt schedule in 2014, but not be eligible for a bowl. Full membership comes in 2015.
Schools like Georgia Southern, Appalachian State, Georgia State and Old Dominion have decided to roll the dice and make the financial commitment to leave the FCS level and join FBS. The brass ring they are chasing is better national exposure for their football programs and their universities and the potential financial rewards that come with it.
The fact is that Georgia Southern used the popularity of football as one of several tools that allowed it to grow from a small college into a major university. When Russell re-booted the football program in 1981, Georgia Southern had a student body of around 6,000. It now has a total enrollment of more than 20,000 with some nationally ranked academic programs.
Its College of Information Technology is the only one in the Southeastern United States. It is also one of 10 universities in the world to teach the cutting-edge technology of virtualization on VMware software.
Georgia Southern's Family Nurse Practitioner Program is ranked No. 19 by U.S. News and World Report.
"I love the FCS and I love that level of competitive sports," said Keel, who was a vice-chancellor at LSU before he become the Georgia Southern president. "But the fact is that ESPN doesn't love it. Our goal is to move Georgia Southern from a regional to a national brand. This (moving to the Sun Belt) gives us a chance to do that. This gives us a chance to market our university on a national platform."
But it ain't going to be cheap.
There are the obvious costs of going from 63 to 85 full scholarships. Recruiting budgets must be enhanced. Travel costs will go up significantly because of a bigger team and a conference footprint that includes Texas and Arkansas.
Georgia Southern will soon begin an expansion to add 6,300 seats to Paulson Stadium (currently 18,000). It will spend another $10 million to build football facility of 57,000 square feet.
But the payoff could be large in comparison to life at the FCS level, where there is very little money. In addition to increased national exposure on television, there is shared bowl money (the conference has two guaranteed slots, New Orleans, GoDaddy.com). And when the new four-team playoff arrives in 2014, a slot in one of the six participating bowls will be reserved for the highest-ranked of the five conferences without automatic bids (Mountain West, American Athletic (formerly Big East), Sun Belt, Conference USA, Mid-American).
And here is another reason the move makes sense for the Georgia Southerns and the Appalachian States of the world.
Appalachian State has a contract to play at Georgia on Nov. 9 for a guaranteed payment of $450,000. In 2014 Appalachian State will return to Michigan for the first time since upsetting the Wolverines in 2007. As an FBS school, Appalachian State will be paid $850,000 for the visit.
And here is one final reality. With the field of the four-team playoff decided by a selection committee, strength of schedule will be a big issue moving forward. Accordingly, schools will be taking a harder look at their non-conference schedules. The Big Ten has already announced that its teams will no longer schedule FCS opponents when the current contracts run out some time in 2015. Should other conferences follow suit it would make the financial plight of FCS football more difficult than it already is. "The reality is that FCS football is special and the thing I'm really going to miss is the playoffs," said Monken. "But the new four-team playoff (in FBS) is going to catch fire. And once fans at that level get a taste of it there is going to pressure to expand. And we could get to a day where the Sun Belt conference champion gets into that playoff. That is something our fans could get really excited about."
Are there going to be growing pains for these schools? You bet. But given the changing landscape of college football, staying put in FCS just isn't an option for schools like Georgia Southern.
"Our fans are used to winning and winning a lot," said Monken. "The expectation is that we will have a football program that is super successful. Most of the people I run into are excited about the move. Some question why we are leaving something that's comfortable and taking a risk. But any time there is a chance for great gain, you have to have some risk."
Tony Barnhart is in his fifth season as a contributor to CBSSports.com. He is a college football analyst for CBS Sports and The CBS Sports Network. He is the host of "The Tony Barnhart Show" on the CBS Sports Network. Prior to joining CBS he was the national college football writer for the Atlanta Journal-Constitution for 24 years. He has written five books on college football.