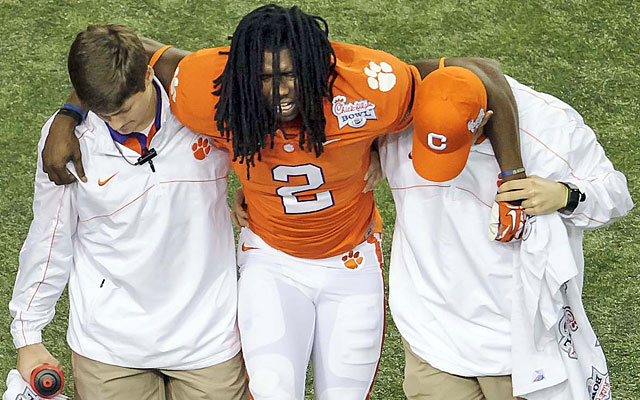 CLEMSON, S.C. -- For a normal wide receiver, catching 57 passes for 708 yards would be considered a pretty good season.
That is what Clemson's Sammy Watkins did as a sophomore in 2012. For him it was considered a disappointment because Watkins, as we now know, is not a normal wide receiver.
As a freshman in 2011, Watkins exploded onto the college football scene, rewriting the Clemson record books in the process. He caught 82 passes for 1,219 yards and 12 touchdowns. He ran for 232 yards and had 33 kickoff returns for 826 yards and a touchdown. Only seven games into the season he had broken 11 Clemson records for freshmen. He became only the fourth true freshman (Herschel Walker, Marshall Faulk and Adrian Peterson), to be named first-team AP All-American.
More on Clemson
Column

Related links
More college football coverage
He made it look easy. Almost too easy.
Watkins now admits he didn't handle his 2011 success very well in 2012.
"My sophomore year I started being nonchalant. I was too laid back," Watkins said. "I thought the game of football was easy. It's not."
Watkins dug his own hole. In May he was arrested for possession of marijuana and illegal possession of a controlled substance. He was suspended for two games. He was limited to six catches for 24 yards in the big showdown against Florida State. Then came a nasty stomach virus that forced him to sit out the Boston College game on Sept. 27. Only twice did he surpass 100 yards receiving in a game last season, something he did five times in 2011.
While Watkins was trying to regain his freshman form, DeAndre "Nuke" Hopkins became Clemson's featured receiver with 82 catches for 1,405 yards. Hopkins, quarterback Tajh Boyd (3,869 yards passing) and running back Andre Ellington (1,491 rushing) were carrying the offense. Watkins became a complementary player after being a superstar the year before.
"Sammy just never got into a groove," offensive coordinator Chad Morris said. "Every time it looked like he was on the way back something else would happen. He was going to be a huge part of the game plan against LSU [in the Chick-fil-A Bowl] and then he gets hurt on the second play of the game. Sammy just couldn't catch a break last season. But for most players 708 yards receiving is pretty good."
But Watkins has decided that he doesn't want to be like most players. That is why he has thrown himself into this spring practice.
"Last year I wasn't taking care of my business as I should," Watkins said. "I wasn't taking care of my body. I wasn't lifting weights like I should. Now I'm going 100 percent in practice. I've learned to practice like I'm playing in a game. I tell the scout guys to play hard and hit me. Last year I didn't do anything physical in practice. Now I am."
With Hopkins gone, that is music to the ears of Boyd, the senior.
"We are setting up our offense in a way so that if Sammy stays healthy he is going to have a big year," said Boyd, who threw for 36 touchdowns last season. "There is nothing Sammy can't do on a football field. He is special."
Clemson is moving Watkins to the "boundary" receiver position that Hopkins played last season. Simply put, it is difficult to double cover the receiver in the boundary position because it opens up too many opportunities for other offensive players on the wide side of the field. With Watkins on the wide side last season, almost always double-teamed, Hopkins had lots of chances to make plays.
"The hope with this move is to get Sammy more single coverage and let him use his natural ability to make plays," Morris said. "And if they do double cover him we should be able to take advantage of that."
Coach Dabo Swinney said he has no doubt that Watkins will return to his previous form.
"In this game there are special players who make a difference," Swinney said. "Sammy Watkins is one of those players. I'm not worried about Sammy."
Watkins says that in his third year at Clemson he wants to become a team leader.
"I never saw myself as a leader like Tajh and some of the other guys," Watkins said. "I didn't realize there were guys on the team that looked up to me. Now I have to speak out."
Watkins says he doesn't think about the NFL very much but this is clear: If he returns to his 2011 form and stays healthy and with Boyd as the triggerman, Watkins will be one of the best, if not the best, receiver in college football.
"You approach the game differently when you know everybody is watching," Watkins said. "It makes you work harder."
Watkins said there is a sense of urgency in Clemson's practices because the Tigers, sure to be in the preseason top 10, open the 2013 campaign Aug. 31 against Georgia, another top-10 team.
And for Watkins, there is an added sense of urgency because he has something to prove -- to himself and others.
"I know I have a gift," Watkins said. "And I know now that I can't take it for granted. What I did last year was on me. I have to prove to my coaches and my teammates that I can play like the old Sammy."
Tony Barnhart is in his fifth season as a contributor to CBSSports.com. He is a college football analyst for CBS Sports and CBS Sports Network. He is the host of The Tony Barnhart Show on CBS Sports Network. Before joining CBS he was the national college football writer for the Atlanta Journal-Constitution for 24 years. He has written five books on college football.