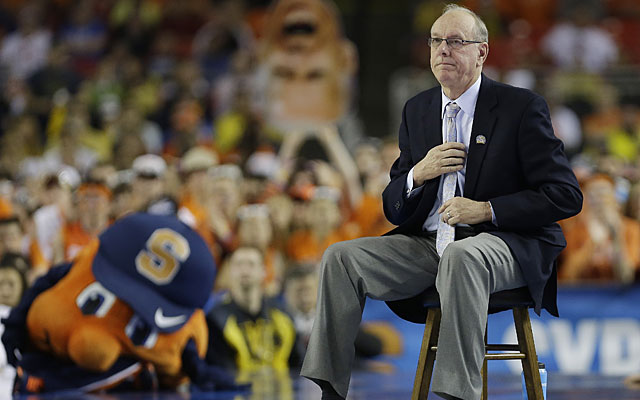 This has happened before, you know. With other people! My postgame exchange with Jim Boeheim at the Final Four attracted a wee bit of attention, but it wasn't the first time something like this has happened, OK?
A few years ago someone asked LeBron James a question at a press conference, and everyone went nuts. So don't look at me like I'm the only idiot out here.
Oh, right. I asked that LeBron question, also.
Maybe I am the only idiot out there. Ah, well. Just like it did in 2011 with LeBron, it makes for an easy week of Hate Mail.
From: Brian Read
How do you feel about completely embarrassing yourself on national television?
About like last time, I guess.
From: Morgan McNenny
While your question to Jim Boeheim was reasonable, the follow-up attitude was disrespectful. Jim Boeheim is a Hall of Fame coach. What have you, Gregg, achieved in your lifetime?
Lived down the street from OU football coach Barry Switzer as a little kid in Norman, Okla. Was second-grade chess champion at Oxford (Miss.) Elementary. Scored three goals in a youth soccer game once, the third one from 30 yards out. That about covers it.
From: Julian Garcia
Your behavior during the Jim Boeheim interview is despicable. A formal apology is more than warranted. I have uninstalled the CBSSports app from my phone and deleted CBSSports.com from my browser favorites. I understand that CBS or its affiliates will be the sole airers of certain sports events, and I'll be forced to watch it in those stations, but I will no longer respect any of its reporters while you remain their colleague. The only way to regain my respect is to offer your sincerest apology to Mr. Boeheim.
Jeez, Julian, how angry do you get when something truly bad happens?
From: Ed Baker
Your a f---ing IDIOT! You are the definition of a f---ing douchebag. Your ignorant f---ing questions and reporting are Idiocracy. Frost your tips if you can, wear your tshirt a little tighter, add an ear-ring and turn your hat around backwards and ask some more stupid f---ing questions. I will get your insignificant ass fired!
Good luck, Ed, but my boss entertains requests only from people whose IQ is above 65. Maybe you can get someone to call on your behalf.
From: Drew Pastian
You're an arrogant jerk. You're no better than a fan who blogs out of his parents' basement. I look forward to someday meeting you and expressing these opinions face to face. In the mean time, keep up your mediocre, unprofessional work. I pray for the chance to meet you someday.
Curious: To whom would you address such a prayer?
From: Drew Pastian
Set up the match. I will knock you out in the first round. Let's do this -- $2,000 to the winner's charity of choice. I'M WAITING!
Looked you up, Drew. I found exactly one Drew Pastian in America. Is this you? He's 37. Lives in South Dakota. Once earned $5.15 an hour working for the school district. Oh, and he writes me obsessive, pathetic emails and graduated in 1994 from Gregory High School. Even your high school has my name on it, Drew. I own you in so many ways, I should be paying property tax.
From: Kris Rojack
When are you gonna stop being a puny little twerp? I don't expect you to answer me because you're a coward who hides behind the CBS label.
This might seem silly to you, Kris, but I like to picture readers when I'm reading their emails -- and I can't picture you. With a name like that, I can't tell: Are you male or female?
From: Kris Rojack
Still haven't heard back from you, you coward. Gregg Doyel is a p---y. If you have any b-lls, you'll get back to me.
Male. Definitely male, of the meathead variety. But listen, Kris, I'm already paying property taxes on Drew Pastian. I'll have to own you some other time. Unless we can work out a lease or something.
From: Martha M. White
The way you started off the postgame press interview at the Final Four was a sham. Subtly trying to get under Coach Boeheim's skin and barking out an irrelevant question ... you'd never try to unnerve Coach K of Duke, I am sure.
From: Jon
Take a second and think about the questions you're asking. That question to Boeheim is indicative of your abysmally low IQ. Go back to Journalism school, jackwaggon.
What the hell is a jackwaggon?
From: Joe Allanson
Try reporting respectfully instead of trying to be a witty douchebag. You just make yourself sound like a tool.
What tool makes a sound? Oh, you mean like a jackhammer ... wait a minute. You think that's what the last dude, Jon, meant to call me? A jackhammer?
From: Kevin Bosiacki
You're such a schmuck! Boeheim answered the retirement question two weeks ago at the Big East tournament and you ask the same question. What a moron you are! Sad for CBS that they have people like you working for them! Good luck jackass!
Jackhammer, Kevin. The word you're looking for is "jackhammer."
From: Phil Mason
Do the rest of us all a favor. Retire.
What else could I possibly do, Phil? I'd be nervous to retire so young with nothing to fall back on.
From: Bruce Tillman
Can't believe that question to Boeheim. If you've run out of material, perhaps you should try your hand at standup comedy.
People have told me I'm funny and quick on my feet, but I've never thought about doing standup. You think I could? Thank you, Bruce. Awfully damn nice of you. Please write again.
From: Jim Wittenborg
Was there any real reason to be so confrontational with the Syracuse coach? Go buy a camera and join the paparazzi -- it's more your style.
I don't know, Jim, that last guy sold me on trying my hand at comedy. If that doesn't work out, maybe I'll try the camera thing. Thank you.
From: Jay
I love that Boeheim put you in your place. Just know that when you go to bed, most people hate you.
Just know that when you went to bed the other night, you did so after writing an email to me.
From: Charles Morton
I see why Jim Boeheim responded to your question the way he did, not to mention it was idiotic timing and was insulting to detract from the game that kids just gave their hearts to. Really, this is what CBS stands for?
Technically, CBS stands for Columbia Broadcasting System. Which I didn't know until today. But if you think a company that employs more than 25,000 people and is worth several billion dollars is symbolized by little ol' me, well, thank you. I needed a pick-me-up, Chuck. All these other folks have been so mean. But not you. Thank you.
From: Rxabrpj67
pI
This was a pathetic attempt at spam, Spam-Bot.
From: Rxabgjk91
Lastly, rinse the footwear of numerous colours in a different manner. You will notice an extensive number of footwear at those sites, and http cheapugg co.uk cheap ugg boots ukurl length. Tremendous comically, UGG boors is actually unpleasant abbreviations.
Much better.
From: Roboyn25
However, it is also believed that it is the worldwide surfing craze in Australia in 1960s makes UGG boots famous around the world.
But this is just silly.
From: Phil Mensonies
You are such a d-ck! You are such a smarmy a--hole who hides behind this columnist gig. Get a life! Just show some humility a--hole when you are wrong. That wouldn't be weakness but rather strength when you can recognize your mistakes. But then again, you are weak and could never see your own stupidity and lameness.
Did you know your name is an anagram for "homeliness pin"? Wear that pin with pride, Phil. You may be ugly, but don't let anybody make fun of you. Ever.
From: Toby
You get paid for questions like the one you asked Boeheim?
Hadn't thought of it in so many words, but ... yes. What a world.