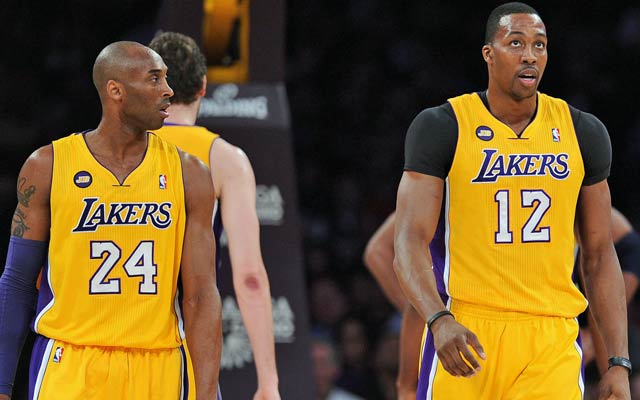 EL SEGUNDO, Calif. -- The Lakers brought Dwight Howard to Los Angeles to be the face of the franchise, the star of the future, once Kobe Bryant was finished.
That plan has taken a bit of a detour.
Bryant is not finished after surgery to repair his ruptured Achilles' tendon on Saturday, but the Lakers need Howard to grow into the leadership and franchise cornerstone role that was fancied for him in two years. Achilles injuries being what they are -- Elton Brand and Chauncey Billups have never been the same -- the dynamics that Bryant left Friday night when he limped off the floor will never be the same.
More on Kobe Bryant
Column

Related links
This is Howard's team now, and assuming the Lakers can persuade the big fella that $30 million more and a long-term home in one of the most dynamic cities in America will work for him, there may be no changing that once Bryant comes back.
Please don't expect any overnight transformations from Howard. He's not Kobe Bryant and never will be. He's still going to do impersonations in the locker room, step inbounds sometimes before passing the ball in, shoot left-handed 3-pointers in practice and shoot 82 percent from the foul line in practice and only 49 percent in the games. (It's true; I took the numbers straight from the whiteboard at the Lakers' practice facility on Saturday. In practice, Howard has made 1,252 of 1,532 free-throw attempts, or .822. In games, he's made 343 of 694, or .494).
But Howard took some important steps in the right direction on Saturday. After practice, when it was time for someone to step up and say something -- spin the devastation of this Bryant injury forward into an action plan –- it was Howard who filled the void. His message was simple, and less profane than your garden-variety diatribe from Bryant: Things happen for a reason. It's time for all of us to trust each other and move forward. We can still accomplish something.
"We're not clueless," Howard said. "We know how to play basketball. Look at the guys on this team. We know how to play. We're not going to sit here and be like, 'We don't know what to do now that Kobe's out.' We're all sad that he's gone. It hurts. All of us came in here together with the same mission, the same goal, and to see your top dog go down hurts all of us. But we can't sit here with our heads down from now on. We've got to pick each other up and we've got to move forward. And I don't think he would want us to have our heads down. I think he'd want us to go out there and fight just like he would fight. So that's what we're going to do."
Not a bad first day on the job for Howard as the new leader of the Lakers. But the simple fact is that leadership must transcend words. It must be backed up on the court. And frankly, if Howard had been more demanding, healthier and more prepared -- and if he'd had a coach who was interested in riding his 27-year-old 7-footer to the playoffs instead of his 34-year-old shooting guard -- things might have turned out differently.
The only coach with that kind of clout has a mustache and a limp, but his name isn't Mike D'Antoni; it's Phil Jackson. And Phil Jackson isn't walking through that door. Besides, not even Phil Jackson could have stopped the wave of injuries that doomed these Lakers, so let's just get over that part of the narrative and move on.
The Lakers must move on with Howard playing as dominant a role on the floor as he did with his voice on the first day of post-Kobeolithic era.
"What pushed me?" Howard asked, when queried on why he spoke up on Saturday. "Everybody's looking at me. So I've got to tell the guys how I feel."
Yes, all eyes are on Howard now. These past few weeks when the Lakers had to rely so much on Bryant -- too much on Bryant -- can't be undone. But a new day with Howard serving as the centerpiece that he was in Orlando can -- and must -- begin on Sunday against the Spurs, when the Lakers begin their final two-game push for the playoffs.
"That's why they brought me here," Howard said.
Not exactly. The Lakers brought Howard here in the hopes that he could blend with Bryant, Steve Nash and Pau Gasol in the short term and then embrace a much more difficult job description: replacing Bryant as the leading man and meeting the lofty responsibility of being an all-time great Lakers center. As long as Howard stayed in L.A., he would secure his place alongside Kareem, Wilt and yes, Shaq, on the Mount Rushmore of one of basketball's signature franchises.
Will he stay? That was not a topic Howard was eager to engage on Saturday, and frankly, I don't blame him. It wasn't the time or the place.
"That's for the summer," Howard said. "Right now ... it's the two games that we have left and the playoffs. I'm not looking at the summer right now. The only thing that matters is us winning a championship this year. This summer won't do anything right now. So there's no need to sit up here and talk about it."
Things change, injuries happen and the greatness of Bryant wasn't going to last forever. Even when he comes back next season, when he turns 35, who is to say that Bryant will ever be able to restore the pecking order that was in place when he limped off the floor and toward the locker room on Friday night?
"I'm not going to say it's all on one person's shoulders," Lakers GM Mitch Kupchak said. "But everybody's going to have to carry a little bit more right now, and certainly Dwight's one of them."
Dwight's the one of them.
Whenever Nash returns from hip and hamstring injuries -- it could be Sunday, D'Antoni said, or not -- the ball will be back in his hands. The plays will be run through Nash and Gasol, who has gotten comfortable in his role as a high-post trigger man in D'Antoni's offense. To be blunt, without Bryant dominating everything, the ball will move more freely in D'Antoni's system than it ever did with Bryant on the floor. The ball will find energy, as D'Antoni likes to say, instead of finding Bryant's eager and capable fingertips every time down the floor.
D'Antoni could live with that because more often than not, Bryant delivered. Without him, the player most capable of filling that void on the floor is the one who spoke up in practice on Saturday.
"I'm of the mindset that usually the leaders are what you do on the floor and how you do it," D'Antoni. "We're all men, and everybody should lead themselves. Obviously when he speaks up, people listen. But it has to be collectively shared, and also people have to follow what he does on the floor."
What will Howard do on the floor? He better lead. The Lakers need him to do that much sooner than anyone expected.
"We have to count on each other; we have to trust each other," Howard said. "Of course this team is going to ride my back. My back is still healing, but I feel like I can do all things to take this team to the next level."
He doesn't have to do it all, like Bryant. But he has to do more. His actions have to outweigh his words.