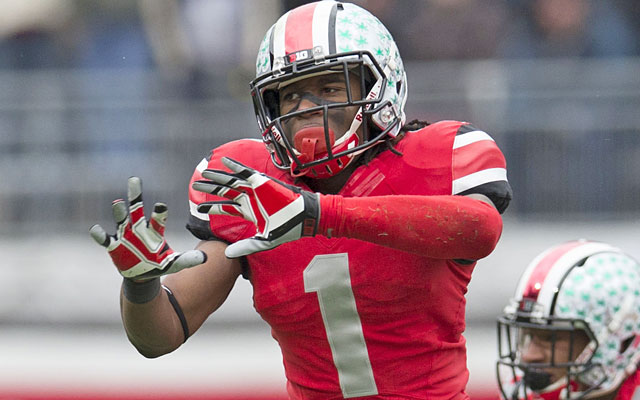 Six years ago we wouldn't have dreamed of a sophomore winning a Heisman (Tim Tebow, 2007). We were almost desensitized when a freshman won in December (Johnny Manziel). Those were mere class ranks, though. Now comes the hard part.
Why can't a defensive player win the Heisman?
"I believe I can win it," Ohio State All-Big Ten cornerback Bradley Roby said.
More on Heisman
Related links
More college football coverage
Deep in their hearts, so do a lot of players. The seal has at least been loosened with Nebraska's Ndamukong Suh finishing fourth in 2009 and a fifth-place finish for LSU's Tyrann Mathieu in 2011 before Notre Dame's Manti Te'o placed second last year.
Trend or anomaly? Whatever, they're all chasing Michigan cornerback Charles Woodson, who helped his 1997 win by returning punts and catching a few passes. A seal would truly be broken -- at least in the modern age -- if a "pure" defensive player won it.
• South Carolina's Jadeveon Clowney goes into what is likely his final season already armed with a Heisman moment.
• Alabama All-American linebacker C.J. Mosley has two championship rings to flash to voters.
• There are worst places to be than BYU for linebacker Kyle Van Noy, this year's Manti Te'o. Before you start clicking for imaginary girlfriends, the correct comparison is this: Van Noy is from a religious flagship, a linebacker and also considered a national defensive player of the year candidate. That Te'o enough for you?
If there is no overwhelming Heisman favorite -- what are the odds of Johnny Football repeating? -- why not a defensive Heisman? Mathieu was invited in 2011 despite being suspended for a game for reportedly testing positive for synthetic marijuana.
If you dismiss Woodson, then Teo was the first "true" defensive player to finish as high as second since Hugh Green in 1980.
"This is probably the best setup a defensive player has had in a long time," said CBSSports.com blogger Chris Huston, the Heisman Pundit himself. "It comes on the heels of a defensive player finishing second. I still think defensive players are at such a disadvantage in terms of statistics and impact on the game."
"It's going to be hard for Jadeveon Clowney to win it at South Carolina."
Because -- Huston notes -- it's South Carolina, not a traditional power. And tradition goes a long way when it comes to the Heisman. Since 1990, players at 16 schools have won. Thirteen of the 16 schools have won national championships in their history.
Still, Clowney has to be the defensive favorite. He even did some clowning around, catching a "touchdown" pass in the spring game. If you agree that Clowney is that favorite and if South Carolina competes for a national championship -- a Heisman advantage -- there is still built-in bias.
"It's going to be hard for a defensive player to put up the numbers," Huston said. "I don't think he can get 20 sacks. Teams will run away from him, will outscheme him. The question becomes, if Clowney is schemed away from and gets 15 sacks, is that going to be enough?"
Don't know, but it would be fun to watch. Teo's story was inspirational before some of it unraveled. His 1,706 points were the second-most ever received by a defensive player, just short of Woodson's Heisman-winning total of 1,815.
Van Noy had one of the best games by a defender in a bowl -- ever: eight tackles, five solo, 1½ sacks and two touchdowns, a recovered fumble and interception return against San Diego State in the Poinsettia Bowl. The Cougars finished third in total defense with Van Noy tied for second nationally in total sacks and forced fumbles.
Roby knows the drill, cuts right to the chase. He's going to have to look a lot like Woodson to get some run.
"Coaches have to be in a place where they're comfortable putting you on the other side of the ball [offense]," he said.
"Clowney's a good player, but they're not going to give the Heisman to a D-end," he added. "You always run away from a defensive end. You always throw to a different side for a corner. As a quarterback, you're always the center of attention. You're always able to produce." Roby is coming off a season in which he led the nation in passes defended (19) playing for an undefeated team. One problem. If there is a designated Heisman candidate for the Buckeyes, it has to be quarterback Braxton Miller.
"I feel like the Heisman is the best player on the best team," Roby said. "If we all did good, they'd give it [to] Braxton before they'd give it to me. ... That's how those awards are. That's why I want to go after the defensive ones."
That would be the Thorpe Award, given to the nation's best defensive back. The only Big Ten player to win the Thorpe since 2000 was Ohio State's Malcolm Jenkins in 2008.
"Corner is probably the second-hardest position to play," Roby said. "It's the only position on the field where everybody sees your mistakes. ... This year I'm focusing on the picks. I want the picks. I want the ball. I want to change the game all the way around."
The opening will have to come for the favorites on the other side of the ball. In other words, Johnny Football can't become Archie Griffin -- winning consecutive Heismans. Miller can't account for 30-40 touchdowns and Ohio State can't chase a national championship. Georgia's Aaron Murray can't become the SEC's career leading passer and the Bulldogs can't go to a BCS bowl. Marcus Mariota and De'Anthony Thomas have to split the vote at Oregon.
Yeah, pretty much all that has to happen, for a certain freakish South Carolina D-end to have a chance.
"If Clowney doesn't win the Heisman this year," Huston said, "I don't think a pure defensive player can do it. The problem is the same everyone else has. That is, expectations. When you read a game story, you're never going to see the lead be: 'Jadeveon Clowney had three sacks to lead South Carolina to a 28-12 win over Georgia.'"