The high-powered agent, who has represented no shortage of top talents and seen pretty much everything in his career, found himself in something of a state of shock. He was meeting with staff last year, shortly after the National Scouting Report submitted initial grades for 2013 draft prospects, when a relative pall was cast over the room.
It was unlike any report he had seen before.
"We could see this coming a year ago," the agent said of this upcoming 2013 NFL Draft, which could be the most unpredictable in decades. "This is the weirdest draft I've ever been a part of. We looked at those initial grades and seven of the top 10 grades went to linemen. There were literally no skill players. I've never seen anything like it. We have no idea how it will play out next week. I don't think anyone does."
More 2013 NFL Draft coverage
Columns

---

| | |
| --- | --- |
| | 2013 NFL Draft |
Thus the story of the 2013 draft was etched nearly a year ago. It isn't very sexy and it's anything but top-heavy. It's more grunt than glitz, at least when it comes to the first round, but it is anything but boring. This draft has the potential to be one of the most intriguing pieces of reality television we've seen in quite some time, with a lack of bona fide locks, teams themselves in the dark about who will be picked where and some great differences of opinion about where even the top players should be slotted.
Combine that with the fact it is only the second draft under this new CBA -- where entry-level players are now ridiculous bargains coveted by teams, ushering in an age where even trades in the top five no longer are difficult to pull off nor taboo -- and we have the makings for a wild three days at Radio City Music Hall. Take that mock draft and throw it in the trash now, because there are going to be more wrinkles, more surprises (think the Jags taking Tyson Alualu in the top 10 a few years back, and multiply it) and more action than we've seen in a long time.
There isn't much separating first-round talent from third-round talent, so plenty of teams will be interested in trading for established talent rather than making a pick. Smart teams will stick to the best-player-available approach. That could result in, say, the Giants, who seem to be set at receiver, nabbing one at No. 19 -- even with Victor Cruz and Hakeem Nicks on the roster (though one might not be in a year). And the weak teams may feel pressured more than ever to address a "need," given the lack of impact players available in free agency and the relatively stagnant salary cap (increasing value of cheaper rookies).
So, with all of this swirling around, let me join the legion of agents, scouts and general managers among the chorus of pre-draft confusion.
"In a normal year, you would have a pretty good consensus on seven or eight of the top 10 picks," one longtime scout said. "That doesn't exist in this draft. Even most of the kids who you are pretty sure are going to go that high have some big questions about them or things they have to overcome."
In a normal year, most teams would have 18 or so players with a first-round grade; some clubs I've talked to believe the number is more like 10-12 this year ... but there could be 45 players who teams believe are worthy of going between the end of the first round and the middle of the second. Which, well, sounds like bedlam. "This is a crazy draft," one general manager said. "No one has it figured out. And the closer we get to it, the cloudier it will get."
"There are kids who will be picked in the top three of this draft who would be in the middle of the first round of most drafts," said an agent who happens to represent at least one client who could go that high. "There aren't quarterbacks. There are no top running backs. After the top receiver [Tavon Austin], it's a crapshoot. The pass rushers have issues. There are a lot of good corners, but I don't know about great ones."
So, now that I've established this three-day event is going to be beyond murky, let me take a crack at providing some clarity (or what I hope proves to be clarity):
All right, genius, who is going first overall?
Texas A&M left tackle Luke Joeckel will be the first name called next week. According to numerous league sources, the Chiefs are locked in on him, barring anything unforeseen, after also strongly considering Central Michigan left tackle Eric Fisher. But Joeckel has played in a tougher conference and is a safer pick, and in a league where first-time general managers is becoming the rule (especially guys with college backgrounds), you are going to see a lot of clubs deferring to the safest guy (more on that later, when we delve into the guards).
This has been in the cards since Andy Reid traded for quarterback Alex Smith, extended wide receiver Dwayne Bowe and franchised right tackle Branden Albert. As much as Kansas City would love to trade down (a familiar refrain in this draft), that option won't emerge.
Will a quarterback go in the top 10?
Absolutely. I get all the theories about West Virginia's Geno Smith falling out of the first round, I just don't buy them. He is the best quarterback in this top-shallow draft, there isn't a 1B to his 1A, the cost is so cheap now that it doesn't matter if you take him second overall or 12th overall or 22nd overall -- so why not take him the first chance you get if you think he can play?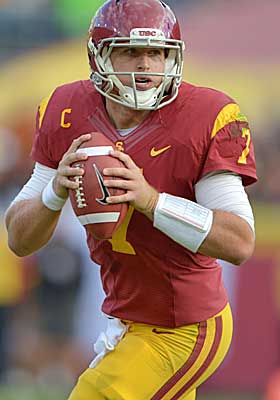 In this day and age, you don't get fired for drafting the next JaMarcus Russell -- which is impossible under this CBA -- but you do get whacked for passing on the next
Robert Griffin III
,
Russell Wilson
,
Colin Kaepernick
or
Andy Dalton
. And with roughly eight of the top 10 picking teams still needing a quarterback, the need has never been greater.
Jacksonville, Oakland, Philadelphia and Buffalo are among the teams investing a ton of time and energy evaluating Smith and I don't buy them all passing on him.
All right, tough guy, how many QBs go in Round 1?
Three. Smith is going. Period. Come on. With the economic system decidedly team-friendly, everyone is going to pass on the best quarterback available? OK, so once you get into picks No. 20 and beyond, those teams don't need a starting quarterback (except for Minnesota, in case the Vikes don't know it). But that's where the trades come in, and the mantra of, "Take the safe player."
Matt Barkley has the pedigree, starting games the past eight years going back to his freshman year of high school. He comes from a pro style offense, and he is plug-and-play. But even if it doesn't work out, this is a kid who no one disputes would have been top 10 a year ago, so they can't kill you for moving up to the end of the first round to trade for him. Trust me, that kind of groupthink is prevalent these days (for better or worse).
Syracuse quarterback Ryan Nassib is rated the second-highest at his position in this draft by some, including some quarterback-needy teams, and everyone knows he played for Buffalo's new coach, Doug Marrone, in college. So if the Bills don't take a passer in the first overall, the pressure for the Bills to move up to get Nassib grows, since if they try to sit and wait someone might jump them. He is plug-and-play in Marone's system, which is no secret. So despite some of the inadequacies at quarterback, when you look at the issues with the receivers and running backs and all that jazz, I still say quarterbacks get pushed up the board.
So will there be a lot of trades?
You betcha.
I expect at least one trade in the top five -- Detroit, at fifth overall, would be willing to fall all the way back to the 20s, sources said, to pick up value along the way. Quarterbacks are obvious targets late in the first. Teams can control their rights for five years, plus two years on the franchise tag, in the first round, vs. a max of four years in the second round. And with Austin the most explosive skill guy in this draft -- and with teams like Miami (12th), Tampa (13th) and St. Louis (16th) coveting him -- a club like Minnesota, with two picks in the 20s, moves into the top 10 to get him (the Jets, at No. 9, will look long and hard at Austin, too, sources said).
Will any running backs go in the first round?
Nope. In years past we've come close to this, but this is the year. The group is not strong, the top guy by some accounts, Eddie Lacy, ran slow and the position continues to be systematically devalued in this age of pass-happy, spread offenses. Every year teams find gems in the middle and late rounds at this position, and established vets can't find jobs. Their prime is shorter than at most any other position and as usual, there are an abundance of options in the middle rounds to offset the need to grab one right away. I expect Jonathan Franklin of UCLA to be the first one off the board, with the Jets and Steelers among those looking hard at him. But the value isn't there in the first-round these days, and the Browns moving up for Trent Richardson last year, and the Saints moving up for Mark Ingram the year before are moves under scrutiny now.
Furthermore, I see only one tight end going in the first round -- though the group is deep overall -- and that's Tyler Eifert from Notre Dame.
So, where are all the kids coming from?
There is going to be an early run on tackles -- Joeckel, Fisher and rising tackle D.J. Fluker, who I continue to hear the Cardinals are high on -- are all likely to go in the first seven picks. While some teams are down on Oklahoma offensive tackle Lane Johnson, enough feel he is relatively safe that I expect him to go in the first half of the first round.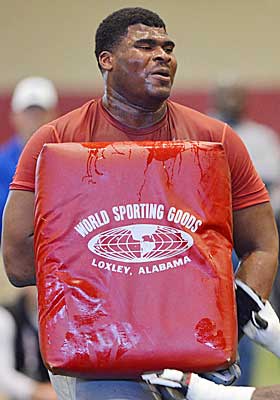 If the Lions can't trade down, they are seriously looking at guards -- and, again, think safe. Alabama's Chase Warmack is considered by some to be one of the best talents in this draft, and
Jonathan Cooper
of UNC would both be in play at that pick, and though interior offensive lineman usually are pushed down the draft board, that may change for this unusual class.
"Those guards are clean," one general manager said. "They're both good kids with no off-field issues. They're healthy, experienced. They have a track record of performing at a high level for multiple seasons. You can't say that for a lot of the kids at the top of this draft."
So, expect a run on tackles, guards and defensive linemen in the first half of the first round, with more receivers and corners going in the second half of Round 1.
In terms of "clean" players, besides the top two guards and the top two tackles, defensive tackle Sharriff Floyd and corner Dee Milliner are generally seen as the cream of this draft, with things starting to drop from there. Some scouts I spoke to include Oregon DE/OLB Dion Jordan with this elite group, but others worried about his production against better opposition and whether or not you were drafting a body type more than an actual player.
Will Manti Te'o go in the first round?
Yup. I doubted it for a while, but have talked to too many evaluators at this point to expect anything to the contrary. The Bears and Vikings spent a lot of time with him and came away impressed. He would be in play for the Ravens at No. 32 overall, sources said, but I don't see a scenario developing where they take him -- if they can get value moving up for a left tackle that's in play, receivers could make sense here and they like LSU inside linebacker Kevin Minter very much, too, though he has a second-round grade.
Despite Te'o's rough final game and rough combine and all of the other stuff going on with him, pencil him in among the top 32 picks.
Who are some rising small-school guys?
• Kent State guard Brian Winters played all five offensive line positions in college and though he projects as a guard at the NFL level, he could swing around. There is an outside shot he creeps to the back of the first round, though I hear the most buzz at the top of the second round. The Bills, Cardinals and 49ers all scheduled late visits with him, sources said, which is usually a sign of intent.
• Georgia Southern safety J.J. Wilcox was playing on the other side of the ball a year ago with no real draft hopes. Now, he might not slip past Arizona at the top of the third-round (they are high on him), while Green Bay has done a lot of work on him as well, sources said. The Ravens and Cowboys need safeties and could jump on him in the second or third round, depending on how the opening picks go.
• Robert Alford, a corner from Southeast Louisiana, ran a 4.37 at the combine and teams like what they see on film. No shortage of clubs have made the trip to the outpost where he played college ball to work him out. He could surprise some by being one of the top three to five corners off the board. Sneaking into the first round is not out of the question.
How are some prospects with medical situations coming along?
• Houston corner D.J. Hayden nearly died from a heart injury but has made a strong recovery, he continues to blow away scouts and expect him to overcome the early fall to go high in this draft. Truly amazing story, and too much talent to overlook in this zany draft.
• Same with Utah tackle Star Lotulelei, who was given a clean bill of health after a heart irregularity was detected at the combine, and I don't believe he slips past the Panthers at 14th overall.
• Jarvis Jones has seen specialists for his spinal condition and been on the rise lately, sources said. Teams are more comfortable with the health, have gone back to watch tape and are blown away by the Georgia linebacker. There are knocks on most of the pass rushers in this draft, and I get the sense Jones still goes within the top 17 picks and possibly in the top 10.
Who is falling?
Before the combine, Texas A&M defensive end Demontre Moore generated heat as a top-10 pick, given his production in the first half of the season. But he ran slow, lifted little and has had trouble keeping up weight. He looks like a tweener, isn't good against the run and is the youngest player in the draft. So people went back to his tape, and while noting his production, wonder about his size. "He's so thin, you have to wonder if he can play with men," said one scout who studied him closely. "He's so young. He's not a rare athlete." Add in a pot arrest and some maturity issues and it's not a pretty picture right now. He could possibly fall a ways into the second round.
• There was a time when Tennessee's Cordarrelle Patterson was being considered as the second receiver to come off the board. No longer. There are issues with maturity and football acumen. He is one year removed from junior college and remains very raw, and teams are clearly getting scared off. Teams love his ability to get yards after the catch. But can he figure out where he needs to be on the field. Some position coaches have been very turned off about his knowledge of routes and the overall passing game. "No way is he going in the first round," one GM said.
• George inside linebacker Alec Ogletree already has the disadvantage of playing a devalued position. Couple that with his DUI and other off field issues -- "major character red flags," as one evaluator put it -- and this is another player who once had big first-round buzz who could fall a ways into the second. Again, at a time when safe is good, taking a risk for an inside linebacker is counterintuitive to the way many GMs are thinking, and it is going to likely take a grizzled, established decision maker with plenty of picks at his disposal and big cajones to call his name.
Short supply there.