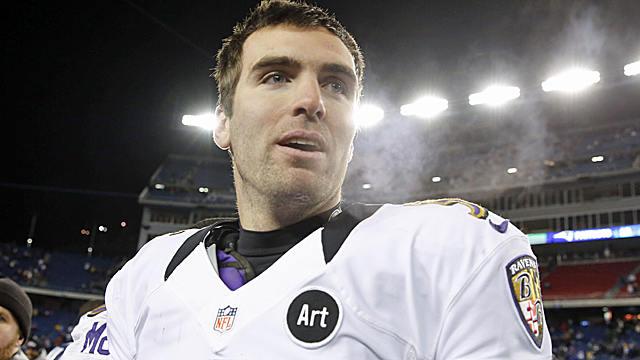 It's April, we're still a week from the draft, and no one truly knows who the NFL's dominant teams will be in 2013. But we have an idea. And with the schedules for each club released Thursday night, there's no better time than the present to try to dissect which contender could run into trouble with a pretender, or a stretch in its schedule.
More on NFL schedule
Related links
So, yeah, I'm going to take a look at potential trap games five months before the season begins, because, well, it's football, and even in the doldrums of the spring it dominates the sporting conversation in this country. I'll take a look at teams that I believe have a legit shot to go deep this season, or teams that were a factor last season, and try to pinpoint where a possible slip-up might occur.
Baltimore Ravens
All in all, the Super Bowl champs look like they were dealt a decent hand in the schedule department (you know, except for the part where they have to open up on the road at Denver on a Thursday night instead of hosting that game). If they do end up in a fight to retain their AFC North title, that Week 17 game at Cincinnati could be tricky. Joe Flacco has struggled more there than anywhere else. The Bengals figure to be Baltimore's chief opposition in the division and Baltimore will have played prime time games in three of the previous four weeks.
New England Patriots
Things always seem to set up for the Patriots in terms of schedule, at least part of which comes from being in such a weak division. I can't help but wonder if they get into a little trouble on Monday night coming out of their bye in November, going to Carolina, where Cam Newton might be able to create some problems. AFC challengers Denver and Houston follow, so it could be a case where you look past a relative NFC lightweight.
Denver Broncos
It's Super Bowl or bust for the Broncos, and while much will be made of the Manning Bowl in Week 2 and Wes Welker getting his revenge against the Pats late in the season, I'm looking at a trip to San Diego in Week 10. Coming off the bye, I'm thinking this could be tougher than it looks. The Chargers season unraveled after they blew a huge lead to Denver a year ago. If San Diego is going to be a factor again, it has to be able to play with the best team in the division. The following week, Denver gets its first look at the new-look Chiefs led by Andy Reid, and then play KC again a few weeks later. If they take care of business here, they cruise to another AFC West championship, and if they hit a hiccup here, then maybe the division becomes closer than most expect.
Houston Texans
The St. Louis Rams may not be a juggernaut, but they are a damn solid football team. The defense has added major bite under Jeff Fisher and they may be catching the Texans at just the right time next season. Houston went from a
Super Bowl
pick to a pretender in the second half of last season. Starting in Week 3, they get tested again at Baltimore, vs. Seattle, at San Francisco, and then hosting the Rams. They will be pretty beat-up after playing three of the most physical defenses in the league before they get to the Rams, who will also try to punch them in the face. Calls for Matt Schaub's head could be underway if these defenses expose the Texans at all. This stretch against the NFC West could prove pivotal (to say nothing of having to face New England, Indy and Denver in December).
Seattle Seahawks
I love this team and where it is headed, but I wonder a little bit about having the late Week 12 bye and some of the traveling they will be doing. So Week 11, before the bye, and after having come back from another cross-country trip, this one to Atlanta, an emotional game given that's where their season ended last year, looks like a trap to me. It's the Vikings, and it could mean a massive dose of Adrian Peterson. It's Sydney Rice and Percy Harvin, two Seattle receivers, facing their old teams, as well. Meetings with the Saints, 49ers and Giants follow the bye, so dropping a game against Minnesota could sting.
San Francisco 49ers
There is every reason to believe this club will be within sniffing distance of a Lombardi Trophy this season, if not outright hoisting it. Every game in the NFC West, at least those involving the Seahawks, 49ers or Rams, will be a challenge. However, after its Week 9 bye, San Francisco faces a tough stretch with Carolina, New Orleans, Washington, St. Louis and Seattle, so the ensuing trip against Tampa Bay might prove problematic. It's a long road trip late in the season against a team that has struggled in recent years, but one that certainly has some talent. San Francisco will have just completed recent trips to New Orleans, Washington and Jacksonville, so the frequent flier miles, and travel fatigue, might be setting in. (I'm guessing they will stay East between the road trips to the Saints and Redskins in Weeks 11 and 12.)
Green Bay Packers
The 49ers, and quarterback Colin Kaepernick, absolutely shredded the Packers in the playoffs, ending a season with high hopes. Read-option stuff killed the Packers to the point they made studying how to stop it an offseason priority. And so the Packers start 2013 against the 49ers, and then, in Week 2, get the Redskins, who run a ton of it as well (assuming Robert Griffin III is healthy and back under center). That will be a unique little stretch and could be telling, as Green Bay's schedule is pretty relentless all the way around. Given how many NFC teams run variations of this offense, we'll get an early dose of just how much Green Bay has reacted.
New York Giants
The Giants flat-out could not stop people at times when they had to last season, and that, among a few other issues, undermined any attempt to repeat as Super Bowl champs. There is still a lot to like about them, and I have an early feeling they end up atop the NFC East when it's all said and done. Week 16, at Detroit, could be a tricky spot for them, however. One thing the Lions can do is chuck the ball all over the place and pile up the yards. The game comes amid a rough stretch -- Green Bay, Dallas, at Washington, at San Diego, Seattle, at Detroit, Washington -- and might be one that's easily overlooked, except NFC games (NFC tiebreakers) will end up being crucial given how closely bunched this conference stands to be.