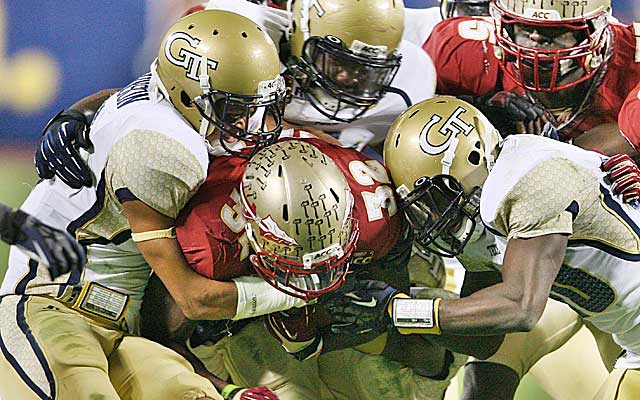 ATLANTA -- Jeremiah Attaochu vividly remembers when Georgia Tech hit rock bottom in 2012.
On Oct. 27 the Yellow Jackets lost 41-17 at home to Brigham Young in what coach Paul Johnson admitted was the worst offensive game in his five years at Georgia Tech. And as bad as the offense was, the defense was worse.
Georgia Tech's defense thought it had bottomed out only three weeks before when defensive coordinator Al Groh was fired after a 47-31 loss to Clemson. But against BYU, with assistant coach Charles Kelly in charge, the Georgia Tech defense gave up 40 points for the fourth time in five games.
Georgia Tech was 3-5 and in total free fall as a team.
"I just sat in my locker and cried," said the rising senior defensive end. "Nothing was going right. It just felt like the season from Hell.
"But we knew we could fold up or make the decision to be good. Some character was built that day."
Georgia Tech won three of its next four games and got a bid to play in the ACC championship game when Miami self-imposed a postseason ban. The Yellow Jackets lost a tough 21-15 decision to No. 13 Florida State but then came back to beat Southern California 21-7 in the Sun Bowl to finish 7-7.
It wasn't a great season for Georgia Tech by any means. But when you're 3-5 and headed toward disaster, you'll take a 4-2 finish and live to fight another day.
"We've gotten some momentum. I can't say that it's all about the bowl game but we have guys that are excited about playing the game and where we could go this season," Johnson said. "We'll just have to wait and see."
If Georgia Tech, which won an ACC championship (later vacated by the NCAA) in 2009, is going to contend for the league's Coastal Division against Miami and Virginia Tech this season, the Yellow Jackets must do something about the defense. Georgia Tech gave up 40 or more points six times last season (one of those was a 68-50 win over North Carolina). The year before the Yellow Jackets started 6-0 but collapsed on defense down the stretch, being outscored 48-14 in the final quarter of the final seven games. Georgia Tech led its bowl game against Utah 27-13 with seven minutes left and lost 30-27 in overtime.
"It's pretty obvious that we have to play better on defense," Johnson said.
There are two reasons to believe that Georgia Tech will be better on that side of the ball in 2013. The first is the return of eight starters, six of them seniors, from a defense that survived the worst and held USC to just seven points in the bowl game. The second is the return of Ted Roof as defensive coordinator.
Roof, a former defensive captain under Bill Curry at Georgia Tech, has seen a lot in his 25 years as a coach. He was a defensive coordinator at Georgia Tech from 1998-2001 under George O'Leary. He was the head coach at Duke for four seasons (2004-07). He spent one year at Minnesota (2008) before becoming the defensive coordinator at Auburn, where the Tigers won the 2010 BCS national championship.
Last season he helped an old friend, Penn State coach Bill O'Brien, get that situation stabilized. Penn State was No. 2 in the Big Ten in scoring defense (19.08 ppg) in 2012.
But when Johnson called and gave Roof a chance to come home, it was an offer he couldn't refuse.
"It was a chance to for my family to get back to a place that has been so good to me," Roof said. "There are a lot of guys around that I played with and being back with them has been great. If I have a chance to help Georgia Tech I'm going to do it."
The atmosphere for Georgia Tech's defensive players has changed. Groh, from the Bill Parcells/Bill Belichick school, is one of the better defensive minds of his generation. Incredibly cerebral, his game plans were complex -- perhaps too complex according to his critics. When Johnson let Groh go, he simply said that Groh's vast knowledge simply wasn't translating onto the field.
Roof is smart but much more old school.
"The first thing he told us right off the bat was NPH -- Nobody Plays Harder," linebacker Quayshawn Nealy said. "One of the first days of practice guys were kind of slack running to the ball. He said this time he would let the seniors handle it. But if we didn't, he would handle it next time. We haven't had a problem since."
In his talks with Roof, the Georgia Tech head coach made it clear that he wanted to see more aggressiveness on that side of the ball.
"I've known Ted for a long time and we've coached against each other," Johnson said. "I see his passion for this place. He really wanted to be here. He has a fiery attitude. I think our guys will enjoy playing for him."
Roof knows that his players have been through a lot since last season. In the beginning there were a few hugs of understanding. But since spring practice started it has been all business.
"I just believe that if you really want to help kids get better you push them and drive them," Roof said. "Some tough things happened to them but that's football and that's life. You deal with it. You learn from it. You grow from it. And then you move on."
This much is clear from talking to the Georgia Tech players. There will be nothing passive about Georgia Tech's defense in 2013.
"We're going to be blitzing a lot more than we have done in the past. We're going to be very aggressive," Nealy said. "Players like that because it gives them a chance to make plays."
Georgia Tech's triple option offense again led the ACC in rushing and finished fourth nationally (311.21 yards per game) last season. Johnson's teams have averaged more than 33 points in three of the past four seasons. In years past the defense was asked to just hold the rope and get an extra possession or two for the offense and let them win the game.
The plan is to change that mindset under Roof.
"Coach Roof said we're going to bring pride and excitement back to defense at Georgia Tech," said Attaochu. "We're the ones who are going to be making the highlight plays. We want to put our offense in position to win the game."
This much is clear. Whatever Georgia Tech is going to do on defense must be ready to go on Day 1.
Georgia Tech opens the season with Elon of the Southern Conference, but then the Yellow Jackets play four consecutive games within the ACC Coastal against Duke, North Carolina, Virginia Tech, and Miami. All four of those teams are expected to be very good on offense.
"There won't be any easing into this season," said Roof. "The fact is that we'll go as far as our leadership takes us. Our job is to put a product on the field that the Georgia Tech people can be proud of. We've got a lot of work to do."
Tony Barnhart is in his fifth season as a contributor to CBSSports.com. He is a college football analyst for CBS Sports and The CBS Sports Network. He is the host of The Tony Barnhart Show on the CBS Sports Network. Prior to joining CBS he was the national college football writer for the Atlanta Journal-Constitution for 24 years. He has written five books on college football.