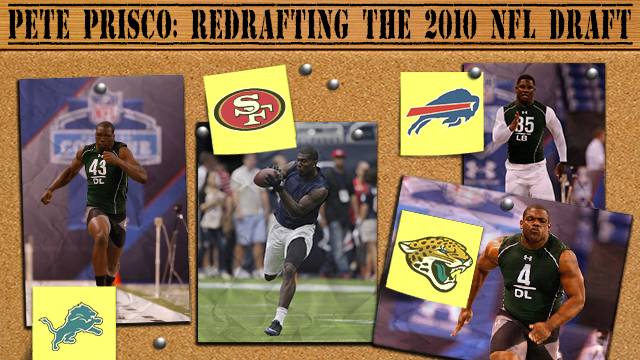 Hindsight is 20-20, right?
That's what makes doing a re-draft of the 2010 NFL draft so much fun. Who made the mistakes? Who had the hits? What players busted?
In re-drafting the 2010 first round, one thing is for certain: It wasn't a great first round. There were a lot of misses and much of the round hasn't yet developed into the players teams had hoped.
More 2013 NFL Draft coverage
| | |
| --- | --- |
| | 2013 NFL Draft |
By contrast, several prospects from round two thru six have developed, which is why you will see them here in my 2010 first-round re-draft.
Among those players are New England tight ends Rob Gronkowski and Aaron Hernandez, Cincinnati defensive tackle Geno Atkins and Seattle safety Kam Chancellor.
The top pick stays the same with St. Louis taking quarterback Sam Bradford. I still think he has a chance to be a good one, although it better start happening soon. He's been hurt by poor line play, poor receiver play and injuries. He'd still be the first player taken in a quarterback-starved league.
So here's the 2010 first-round re-draft. Not much stayed the same.
1.  

 St. Louis Rams -- Sam Bradford, QB, Oklahoma: Of course, they would still take him. You can't win without a franchise quarterback.
2.  

 Detroit Lions -- Jason Pierre-Paul, DE, South Florida: They took Ndamukong Suh, and he's been a good player, but there is much more value from an outside pass rusher like Pierre-Paul.
3.  

 Tampa Bay Buccaneers -- Gerald McCoy, DT, Oklahoma: They stay with the guy they took since he's coming off a Pro Bowl-caliber season.
4.  

 Washington Redskins -- Trent Williams, T, Oklahoma: They also stick with the guy they drafted. He is a good player at a value position.
5.  

 Kansas City Chiefs -- Russell Okung, T, Oklahoma State: They took safety Eric Berry, and he's a solid player, but Okung is better at a more important position.
6.  

 Seattle Seahawks -- Earl Thomas, S, Texas: They picked him later in the first round, so why not now? He's a Pro Bowl player. Actually drafted: Okung.
7.  

 Cleveland Browns -- Joe Haden, CB, Florida: He is emerging as a potential Pro Bowl player. They stay with their original pick.
8.  

 Oakland Raiders -- Ndamukong Suh, DT, Nebraska: They have a huge hole in the middle of their defense and he would have filled it. Actually drafted: Rolando McClain.
9.  

 Buffalo Bills -- Sean Weatherspoon, OLB, Missouri: They lack a speedy playmaker in their linebacker group. He would fix that. Actually drafted: C.J. Spiller.
10.  

 Jacksonville Jaguars -- Geno Atkins, DT, Georgia: They took Tyson Alualu in this spot, and it didn't work. Atkins is one of the NFL's best and he went in the fourth round to the Bengals.
11.  

 San Francisco 49ers -- Dez Bryant, WR, Oklahoma State: Can you imagine his talent in that San Francisco offense? Actually drafted: Anthony Davis.
12.  

 San Diego Chargers -- C.J. Spiller, RB, Clemson: They drafted Ryan Mathews in this spot, but Spiller is a better player.
13.  

 Philadelphia Eagles -- Eric Berry, S, Tennessee: They've have big problems at safety for a while. Berry would fix it. Actually drafted: Brandon Graham.
14.  

 Seattle Seahawks -- Demaryius Thomas, WR, Georgia Tech: They need a stretch-the-field receiver and he is it. Thomas has been a good first-round pick by Denver. Actually drafted: Earl Thomas.
15.  

 New York Giants -- Rob Gronkowski, TE, Arizona: He was a second-round pick, but in this draft there is no way he lasts that long. The Giants would love to have him. Actually drafted: Pierre-Paul.
16.  

 Tennessee Titans -- Mike Iupati, G, Idaho: They are considering a guard this year, so why not Iupati, who is a Pro Bowl player for the 49ers? Actually drafted: Derrick Morgan.
17.  

 San Francisco 49ers -- Anthony Davis, T, Rutgers: They took him with their earlier first-round pick in the original draft, so we pencil him in here. Actually drafted: Iupati.
18.  

 Pittsburgh Steelers -- Maurkice Pouncey, C, Florida: He was their pick in 2010, and remains the pick to anchor their line.
19.  

 Atlanta Falcons -- Jimmy Graham, TE, Miami: He went in the third round, but they take him here to get another weapon on their offense. Actually drafted: Sean Weatherspoon.
20.  

 Houston Texans -- Antonio Brown, WR, Central Michigan: He went in the sixth round to the Steelers, but with such a need at receiver the Texans would grab him to pair with Andre Johnson. Actually drafted: Kareem Jackson.
21.  

 Cincinnati Bengals -- Kam Chancellor, S, Virginia Tech: The Bengals are in need of safety help and they could land Chancellor, who has become a Pro Bowl player after being a fifth-round pick by Seattle. Actually drafted: Jermaine Gresham.
22.  

 Denver Broncos -- Navorro Bowman, ILB, Penn State: He was a third-round pick by the 49ers and has developed into a Pro Bowl player. The Broncos could use a thumper like him. Actually drafted: Demaryius Thomas.
23.  

 Green Bay Packers -- Bryan Bulaga, T, Iowa: They drafted him here and, despite some injuries, he's a solid player. So he remains the pick.
24.  

 Dallas Cowboys -- Daryl Washington, LB, TCU: He has developed into a top-level linebacker for Arizona after being a second-round pick. Actually drafted: Dez Bryant.
25.  

 Denver Broncos -- Aaron Hernandez, TE, Florida: The Patriots and Tom Brady love his pass-catching skill. So would Peyton Manning. Actually drafted: Tim Tebow.
26.  

 Arizona Cardinals -- Dan Williams, DT, Tennessee: He was their original pick, and as their starting nose tackle he stays in this spot.
27.  

 New England Patriots -- Emmanuel Sanders, WR, SMU: Hey, they tried to get him as a restricted free agent, so why not put him in here? He's done a nice job as a third-round pick by the Steelers. Actually drafted: Devin McCourty.
28.  

 Miami Dolphins -- Kareem Jackson, CB, Alabama: He was the first-round pick by Houston, so here we pick him for the corner-needy Dolphins. He showed good improvement last season. Actually drafted: Jared Odrick.
29.  

 New York Jets -- Kyle Wilson, CB, Boise State: With Darrelle Revis traded, he will step in and start. So they stay with their original pick.
30.  

 Detroit Lions -- Carlos Dunlap, DE, Florida: They could add him to Pierre-Paul from earlier and have a heck of a front. Dunlap has developed into a solid one after being a third-round pick in 2010 for the Bengals. Actually drafted: Jahvid Best.
31.  

 Indianapolis Colts -- Eric Decker, WR, Minnesota: They could use help outside and Decker has performed well since being a 2010 third-round pick by Denver. Actually drafted: Jerry Hughes.
32.  

 New Orleans Saints -- Jared Veldheer, LT, Hillsdale: As a third-round pick, Veldheer has developed into a nice starting left tackle for the Raiders. The Saints have a hole there. Actually drafted: Patrick Robinson.