AUBURN, Ala. -- The color poster features a photo of a smiling Gus Malzahn. It's not one of those big, broad "Hey, Everything's Great!" smiles. It is the measured, tempered smile of a man who knows he has a lot of work ahead of him -- and is actually looking forward to it.
The words on the poster fall somewhere in the spectrum between hope and a broad declaration of fact:
"It's a New Day!"
"It's what we told our guys the first time we met with them," said Malzahn, who replaced Gene Chizik as Auburn head coach after the Tigers went 3-9 last season. "What's past is in the past. There is nothing you can do about it. What we can control is what we do moving forward."
Long-suffering Auburn fans -- and in this part of the world long suffering is watching Alabama win three of the past four BCS national championships -- are praying that Malzahn is right. Because if ever there was a college football program in need of a new day and a fresh start, it's the Auburn Tigers.
Has any program in recent college football history fallen faster and farther than Auburn since 2010? In that season, Chizik's second, the Tigers used a veteran squad (25 seniors) bolstered by two transformational players -- quarterback Cam Newton and defensive tackle Nick Fairley -- to go 14-0 and win the school's first national championship since 1957.
Since the Auburn family celebrated by holding up the crystal football in Arizona in January 2011, not a whole lot has gone right:
• While Newton won the Heisman Trophy and led Auburn to a championship, claims that his father shopped his services sparked an NCAA investigation that would last two years. No violations were found, but the allegations hung over the program during the entire run for the BCS title. Auburn's critics used words like "tainted." No fun.
• In 2011, with Newton and Fairley in the NFL, Auburn went 7-5 in the regular season. There were lopsided losses to Arkansas (38-14), LSU (45-10), Georgia (45-7) and Alabama (42-14). The record would have been worse if not for two nail-biters. In the opener against Utah State, Auburn was outplayed for 58 minutes but scored two touchdowns in the final two minutes to win 42-38. The next week Auburn stopped Mississippi State on the 1-yard line on the last play of the game to win 41-34.
• After the 2011 season Malzahn, the offensive guru and one of the highest paid assistants in college football, left to become head coach at Arkansas State. Chizik rebuilt his staff and promised Auburn was going back to the blue-collar style of its roots.
• In March 2012 four Auburn players were charged with armed robbery. They were dismissed from the team.
• Auburn's 2012 season was nothing short of a disaster. The defense was among the worst in school history. The offense was the ultimate square peg in a round hole. The players had been recruited to run Malzahn's system, not the power running game installed by Scot Loeffler. After a 12-10 loss to LSU on Sept 22, fans could see the Auburn team sag. Alabama pounded the Tigers again, 49-0, on the way to another SEC championship and a second straight national title. After just four seasons, and just two years removed from a national title, Chizik and his staff were out.
• Under Malzahn, things were rocking along in the early months of 2013. Then on April 3 came a report on (former New York Times and Sports Illustrated reporter) Selena Roberts' website where former players charged Auburn with grade fixing, payments to players and various other potential infractions. On April 4 ESPN reported irregularities in the Auburn drug-testing program for synthetic marijuana.
In both cases Auburn forcefully and passionately attempted to shoot down the stories with its own investigations. Even if nothing comes of the stories, the process is wearisome to the institution.
• Tuesday, Auburn fans had to watch while the beloved oak trees at Toomer's Corner, the site for so many historic celebrations, were uprooted and taken away. They had been poisoned in 2010 by an Alabama fan irate over Auburn's 28-27 win over the Crimson Tide. Attempts to save the trees failed.
"What has happened around here over the past year I wouldn't wish on anybody," senior Jay Prosch said. "It has been tough. We need some good news."
Malzahn, just eight years ago a successful high school coach in Springdale, Ark., was called back to Auburn to stabilize a program that had clearly lost its bearings.
"You could tell when we first got here there were some mental scars and trust issues," said Malzahn, who was 9-3 in his only season as a college head coach at Arkansas State. "The key is to be consistent. We have been working to get our edge back. Team bonding has been a big focus for us."
There are reasons to believe that among the four new head coaches in the SEC this season (including Bret Bielema at Arkansas, Butch Jones at Tennessee and Mark Stoops at Kentucky), Malzahn has the best chance to be most successful in his first season.
With Malzahn, Auburn now has a clear offensive identity. His up-tempo, no-huddle offense has moved the ball and caused headaches for opposing defenses everywhere he has been. Because it limits substitutions, it has become an effective counterpoint to the big, fast defenses of the SEC.
"But in my three years in the SEC I learned that if you don't play great defense you simply aren't going to win consistently," Malzahn said. "So that is going to be an important thing for us."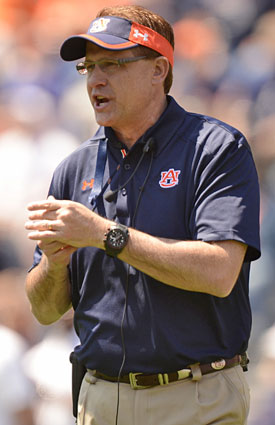 By a set of unusual circumstances, veteran defensive coordinator Ellis Johnson was available. Johnson had turned South Carolina's defense into a consistent top 10-unit and in the process helped Steve Spurrier make the Gamecocks a contender in the SEC East. Johnson left in 2012 to become the head coach at Southern Mississippi.
"I loved Coach Spurrier, but I thought being a head coach would be fun," Johnson said. "I thought it was the right move."
It wasn't. Southern Miss, a year after Larry Fedora won a Conference USA championship, went 0-12 under Johnson.
"It was a disaster," said Johnson, who was fired by new athletic director Jeff Hammond. "I am very fortunate this opportunity was available. I am absolutely thrilled to be back in the SEC."
Like Malzahn, the no-nonsense Johnson arrived in Auburn and found a group of players who were not in a good place.
"When we got them it was a combination of a dog with his tail tucked between his legs and one that was ready to bite everybody," Johnson said. "In many ways they were totally beat down. It was a frustrated bunch."
Once Malzahn had his coordinators in place, he went about putting together a staff that could coach at a high level and recruit against the most successful staff in the country at Alabama.
Malzahn convinced Rodney Garner, Georgia's recruiting coordinator the past 15 years, to come home where he had played defensive tackle for Pat Dye. Former Auburn quarterback Dameyune Craig left Florida State to return to the Plains.
"We felt like it was important to have some Auburn guys who love Auburn," Malzahn said. "Rodney was one of the first guys I thought of. I didn't know if we could get him."
Malzahn also brought in veteran coaches like Tim Horton and Charlie Harbison, known to be great recruiters. J.B. Grimes has been an offensive line coach for 35 years.
Much has changed in a short period of time. The strength and conditioning program under Ryan Russell has been altered and ramped up to allow Auburn's players to handle the fast tempo that Malzahn wants on both sides of the ball.
"Man, we do everything fast around here," defensive end Dee Ford said. "We practice fast. We work out fast. We get on and off the field fast. It's really different."
Because Malzahn is only one year removed from Auburn, the learning curve to install his offense has not been quite as steep.
A decision on the quarterback won't come until August. Junior Kiehl Frazier -- who ran a version of Malzahn's system at Shiloh Christian in Springdale, Ark. -- and sophomore Jonathan Wallace are both capable of running this offense.
The big thing in Malzahn's first season is to restore some sense of stability to the Auburn program, something that is easier said than done with Alabama in position to win its fourth national championship in five seasons. In a part of the world where patience with losing is in short supply, Malzahn has a clear, measured understanding of where Auburn is going.
"The first year is about establishing the program and building a good foundation," Malzahn said. "We know we have deficiencies. But we will recruit to address those deficiencies."
A visitor pointed out that in the one year he was out of the conference, the powerful SEC West got even more powerful with the addition of Texas A&M.
"It's the toughest division in the toughest conference in America," Malzahn said. "We know that. But the best way to address that is to go to work and get better. That is what we plan to do."
And he said it with an ever-so-slight smile.
ABOUT TONY BARNHART
Tony Barnhart is in his fifth season as a contributor to CBSSports.com. He is a college football analyst for CBS Sports and CBS Sports Network. He is the host of The Tony Barnhart Show on CBS Sports Network. Before joining CBS he was the national college football writer for the Atlanta Journal-Constitution for 24 years. He has written five books on college football.