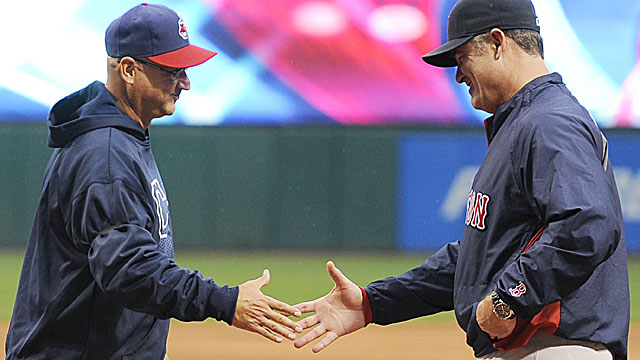 Two items from Cleveland in the summer of 1988, and you choose which one is less likely:
A UFO was sighted.
Five members of the sixth-place Indians would move on to manage big-league clubs during the 2013 season.
Yeah, that's a tough call, right? But here's a hint: As the Indians host the Phillies in an interleague series this week, those are not UFOs managing the two clubs.
Unless, of course, you really stretch the definition so it somehow casts a net over Charlie Manuel.
More on Indians
Related links
"They probably saw that I became a big-league manager and thought, 'Hell, if Charlie can do that, I can, too,' " cracks the Phillies' Manuel of the other four men comprising this summer's bizarre Cleveland connection.
"That's funny," says Padres manager Bud Black, another '88 Indians alum.
You never know what's in store during a Midwestern summer.
A UFO really was sighted in Cleveland on July 18, 1988 -- at least, if you believe www.ufostalker.com.
But according to airtight proof from www.baseball-reference.com (sadly, there is no www.managerstalker.com), the '88 Indians actually did spawn five men managing this season: Manuel, Cleveland's hitting coach in 1988, and four players -- Black, current Indians manager Terry Francona, John Farrell (Red Sox) and Ron Washington (Rangers).
There appears to be neither rhyme nor reason as to why Cleveland, circa 1988, became the Cradle of Managers.
"If you'd have told me that a bunch of managers would have come from that team, all of us would have told you you're crazy," Francona says. "We were just trying to hang on.
"We were on a bad team, and we were all just trying to hang on. Me, Blackie and John Farrell used to hang out a lot and talk baseball. I just think it's a coincidence. It just happened."
Doc Edwards' Indians that summer were a bumbling bunch that finished 78-84, sixth in the AL East. They were outscored by 65 runs.
And maybe one reason why their 16-4 start melted quickly was because, as pointed out by the trusty 1989 Elias Baseball Analyst, the '88 Indians had the strongest tendency in either league toward hitting fly balls. Yet they only finished eighth in the 14-team AL in homers.
Then, as now, Cleveland was a blue-collar city which prided itself on traditional standards. A billboard back in the day read, "Cleveland: The Home of Superman, Rock 'n' Roll and WMMS 100.7 FM." Today, WMMS is the "FM radio home for your Cleveland Indians."
Maybe, it was something in the air. The record-high temperature in the city, after all, was set on June 25, 1988 -- a smokin' 104 degrees.
Maybe, it was something in the Lake Erie water ... or the fertile Great Lakes soil.
"Or the midges, those bugs that come out every so often," Farrell chuckles.
Washington was a 36-year-old utility man hanging on to the twilight of a career he built through sheer determination and hard work.
Black, then 31, was a left-handed pitcher who joined the Indians on June 3, 1988, in a trade with the Royals.
Farrell, 25, was a right-handed pitcher in his first full season of what would be an eight-year career.
Francona, 29, a first baseman-outfielder, was better known in Cleveland as the son of former Indians star Tito Francona than on his own merit.
And Manuel was a longtime minor-league manager who was in his first season as the Indians' hitting coach.
"It's funny to look back at that list," says Bob DiBiasio, the Indians' public relations director in '88 and senior vice-president, public affairs today. "Nothing against Tito and Ron Washington, but you really saw it in Buddy and John Farrell.
"The incredible professionalism they had as two young guys. One thing about that group, I remember they hung out in the clubhouse after games talking ball.
"They weren't in a hurry to get home."
Together, under the tutelage of Edwards, while they were losing ballgames they were gaining their Hardball PhDs.
"Doc Edwards was a class act," Washington recalls. "He wasn't a big name, but he knew the game. And what he did was allow players to be who they were and to play.
"That's what I loved about Doc Edwards. He would never second-guess you. All he tried to do was help you be better."
Edwards became a manager following a brief five-year playing career with the Indians, Kansas City Athletics and New York Yankees. Turned out, 1988 was his only full season as a big-league manager. He replaced Pat Corrales in Cleveland midway through the 1987 season, and was replaced by John Hart midway through the 1989 season.
"Doc was a lot like Dave Garcia," says DiBiasio of another Indians manager (1980-1982). "Every day was a teaching day."
At home today in San Angelo, Texas, where he still manages an Independent League team at 76, Edwards swears he did not conduct early afternoon, pre-batting practice classes in Managing 101, or teach extra-credit How to Write Out a Lineup Card courses.
"You got lucky is what you did," he says over the telephone, sharp as ever, still tracking his former players. "You get some people with some good brains in their skull. ...
"I think you just sort of gravitate toward guys. You don't talk about it, but you feel it. You talk baseball, and they'll let you know who wants to talk baseball."
As DiBiasio notes, Black and Farrell became fast friends practically from the day Black arrived.
"I remember that he knew the game, talked the game, whether we were out to eat, on the bus, in the clubhouse," Black says of Farrell.
Says Farrell: "I do remember having conversations with Bud Black shagging balls during BP, 'Have you thought about what you're going to do after playing?' I don't know that there was a clear-cut answer.
"There always was the thought of staying in the game. And as careers evolve and opportunities present themselves, we're extremely fortunate to have [two] of 30 positions."
Though he was a first baseman-outfielder, Francona even back in those days had the uncanny knack of being able to relate to everybody.
"Sometimes you're on teams where the pitchers hang with the pitchers and the position players hang with the position players," Farrell says. "He was with everybody. He always interacted with everybody. Coaches, young players, old players, pitchers. He was always fun to be around and he always had a way.
"You could be laughing about something and then ask a question about the game, and his answers were always spot-on."
Farrell's first big-league staff job came under Francona in Boston, where he was the Red Sox pitching coach from 2007-2010. The two teamed to win the second World Series title of Francona's Red Sox tenure in '07.
Washington?
"I called him 'Sweets,' " Manuel says. "Because of how he played. He had a passion and love and desire. He took it real seriously. He had a lot of fun, and the players loved being around him. He had charisma."
You can still see all of that on display in Texas, where the Rangers players have developed a fierce loyalty toward Washington practically since general manager Jon Daniels hired him to manage before the 2007 season.
"My locker was next to Julio Franco," Washington says. "I talked lot of baseball with Julio. The one thing I wanted to do when my career was over was coach. I never wanted to be a manager. I wanted to be an infield instructor. I wanted to be a third-base coach. That's what I wanted to be.
"Managing was something that happened upon me. I had really thought I reached pinnacle of my career when I was third-base coach in Oakland."
Instead, Washington soared higher, managing the Rangers into the most successful era in franchise history with World Series appearances in 2010 and '11.
The Indians in 1988 were not successful. Not even close, although the roster also included, among others, Franco, a young Joe Carter, Cory Snyder, Brook Jacoby, Mel Hall, Jay Bell and Willie Upshaw.
So they needed all of that fun, charisma and, yes, especially, ability to learn as they foundered at the bottom of the AL East.
"I remember John Farrell was a kid who came fast from A ball to Triple-A, and he got a left-handed hitter 0 and 2 and wanted to come in on him but left the ball out," Edwards says.
So. ...
"What were you thinking there?" the manager asked the pitcher.
"I wanted to come in, but I was trying to make sure I didn't hit him," Farrell answered.
"Now you're telling me you've got to stay away from the hitter," Edwards explained. "You can't worry, because if you do, you'll never master that.
"So the next time a lefty came up he hit the guy. He looked at me for my reaction in the dugout, and I took my cap off and tipped it to him.
"He was a tremendous competitor."
There are other memories from that season long ago, but none tops Washington's of old, legendary Municipal Stadium -- the giant, cavernous home to both the Indians and Browns that preceded modern Progressive Field.
"I remember two times a year, we sold that sucker out because of Marathon Oil," Washington says. "Two times a year, they bought it out and we'd have 72,000.
"One night, I made an error. And a fan made up a sign just that quick: 'To err is human, but to error is Ron Washington.' "
He roars at the memory.
"It sure didn't take him long to make a sign," he says, still marveling all these years later.
Fact is, nobody could know at the time that Cleveland was running a Manager Mill in that monstrous ballpark.
"Maybe we got that from, as Oil Can Boyd once said, that place on the ocean," Edwards says.
Good times. Good memories. Maybe things were more rickety and less comfortable then. But plant a few seeds, you never know what will grow. Or where.
Aside from that club producing 17 percent of today's managers, the left side of the '88 Indians' infield -- Jacoby (Reds) and Bell (Pirates) -- currently are major-league hitting coaches, and utility man Dave Clark is Houston's first-base coach.
Funny thing is, back then, given his presence and leadership, Bell may have been the one voted Most Likely to Become a Manager. Maybe, he still will be.
The five managers from that '88 Indians club have combined to lead teams into six different World Series (Francona, Manuel and Washington two each), with three titles (Francona (2), Manuel (1)). Alas, none of them has been in a Cleveland uniform.
"I don't know," Farrell says. "Maybe it was just a place in time we ended up together.
"It wasn't like we were saying, 'Hey, in 20 years we're all going to be managing at the same time.' There was no way you could predict that.
"It goes back to personalities and wanting to stay in the game. Have a passion for it and give back. It's almost like you're passing on what others gave to you."
Maybe a more believable story would be that Clevelanders would have spotted five UFOs flying overhead on a 1988 summer's night before five members of that Indians club would become managers in 2013.
But, wow. Look at how things turned out.
"I've always said in this game you need people to care about you for you to have an opportunity to make something for yourself," Washington says. "And I had a lot of people who cared about me. I just try to pass that passion of people who cared about me on to others."
Says Manuel: "I pull for those guys. Every one of them."