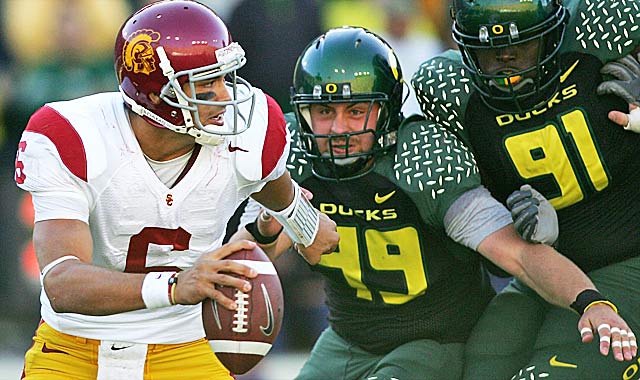 A year ago, almost to the day, Nick Reed signed a two-year deal with the Minnesota Vikings that would have paid him $1.2 million and solidified his status as a professional football player.
Instead, Tuesday morning Reed awoke before 4:30 a.m., made sure his room was fit for inspection, headed out to physical training and began what would be another exhausting 19-hour day that would trump the demands of any NFL training camp.
While Reed remains a bit confused as to why his NFL career was so brief, he is more than content to be among those elite recruits to be preparing to be a pilot at the Air Force Academy, now hoping to use his skills and athleticism to serve his country.
More on NFL
Related content
Reed, 25, was a seventh-round pick of Seattle in 2009, out of Oregon, and is one of the all-time sack leaders in Pac-12 history. For much of his life he felt two callings -- one to football, the other to be a military pilot -- and he is approaching the pursuit of being a fighter pilot with the same vigor with which he played football.
"When I was a kid my dad was in the Navy," Reed said late Monday night, during one of the few spare minutes not accounted for by his rigorous schedule, "and he was flight surgeon -- a doctor for the pilots. So he would come home and talk about that stuff with me, and I think that's how I kind of got into it and knew that was something I wanted to do. Most kids want to be an astronaut or a pilot. I guess I never really got out of that stage."
That's not to say Reed, who is entering his fourth week of Air Force training, always imagined making the switch this soon. He appeared in all 16 games as a rookie for the Seahawks, seeing spot duty. He registered a sack and returned a fumble 79 yards for a score. Unfortunately, he was injured and left the team on an injury settlement, which began an odyssey across the country seeking to keep his dream alive.
Reed, an All-American as a college senior, an undersized defensive end who exuded effort and heart, bounced around 2010 working out for teams like the Eagles and Steelers, but was unable to land a contract. By then he was already preparing for Air Force, knowing the process just to be accepted was incredibly selective.
"I started this process after the Seahawks cut me when I got hurt," Reed said. "I was tying out for a bunch of teams -- I think I went to 10 teams in 2010 -- and I didn't get picked up until the Bears signed me in 2011. So I kind of saw the writing was on the wall and I started this process. It's something I always wanted to do, and it's a long process to be a pilot."
Chicago signed Reed to a futures contract after the 2010 season and on Sept. 1, 2011, he was informed he had made the team. On Sept. 11, he received word he was accepted to the Air Force, and nearly chose service then.
"It kind of put me in a tough position, because it's hard to pass up the NFL," Reed said, "but this is also a job I always wanted to do. So I decided this would be here for me in a couple of more years and I was still young enough that it wouldn't pass me up."
Reed played seven games for the Bears, was released, signed with Tampa Bay and played three games for the Bucs in 2011 as well. That ended up being the last time he would appear in a game, as the Vikings signed him in March 2012, but he was released before the season began.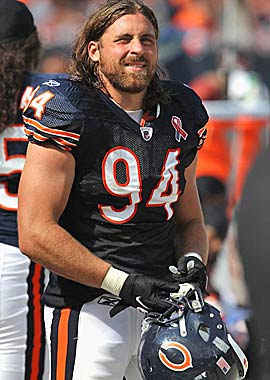 "After the Bears cut me I decided I was done with the NFL and playing football," Reed said.
But the Air Force program is so selective, he couldn't just pick up and join whenever he wanted. He had to wait for openings, and the timing started to work out better after the Vikings let him go at the end of August, 2012.
"I was cut by the Vikings around Aug, 31 and I found out from the Air Force I got in right around Sept. 10," Reed said. "I still had to get a flight physical and sort of hurry up and wait, until I could start. I was just getting ready, traveling, relaxing. I tried to do a lot of relaxing knowing what was ahead."
Finally, in April, Reed could begin his nine-week "Super Boot Camp," which will continue through the spring. It was around that time that his agent, Marc Lillibridge, received a text from Reed informing him he was definitely done with football.
"As much as I enjoyed football, this is what I am supposed to be doing. Thanks for the opportunities you provided me during my time in. It was a great experience."
Still, even in a brief conversation with Reed (who played at 6-1, 250 pounds) one can detect he isn't totally at ease with how his football career played out. He said he doesn't miss the game anymore, but believes he could have achieved more in the NFL if given the opportunity.
"There's not a lot I really miss, maybe the free time it affords you," Reed said. "But I was jaded by the whole experience. It's maybe still too soon to be asking me that question. I'm proud to say I played and got to do it and had that opportunity and I was lucky got to play. But I wasn't ready for it to be over. Not that I regret this track I'm on. But I still felt like I had some good ball left.
"That will always be my question -- what happened? I felt like wherever I went I had success when I got to play. I know I was small and slow, but I got the job done. But once you're gone, you're gone. When they're not answering your phone calls anymore you have to move, and everything happens for a reason, so I am sure there was something."
The last four weeks have been unlike anything Reed has ever encountered.
He's usually up before the 4:30 a.m. wakeup call, getting ready for his extended day of work. Besides the physical demands, the program is mentally exhausting, with hours of class work on leadership training and military history. By the time they get back to their rooms around 7 p.m., there is generally four or five hours of homework that must be completed before the early wake-up call comes for another day of the same. He spends every waking hour working with the same 14 members of his group, grinding through the nine-week program.
"They're long days, and one of the worst things about it is lack of sleep," Reed said. "I think that's part of the plan. I didn't really know exactly what to expect when I got here, but honestly it's been more mental than physical. This is some of the most intense schooling I've ever done and also some of the most efficient and effective learning I've ever been a part of. You always hear about how inefficient bureaucracies can be, but in the source of nine weeks they do a great job of making effective use of our 19 hours a day."
If all goes according to plan, Reed will complete this training and then begin pilot training in June, a process that takes a year.
"A lot of people say that will be even more difficult," he said.
However, there will be weekends off, a bit more free time -- every waking hour won't be as regimented -- when he reaches that stage, with the ultimate goal being to see active duty as a fighter pilot.
"I would like to be a fighter," Reed said. "Flying jets is cool and I would love to do it, but it's very competitive and depending on when I graduate there might not be any spots available. You need a lot of skill and luck to make that happen. If that doesn't work out then I will have a pilot's license and I'm excited to fly. Honestly, for me, and it might be different for guys with families who don't want to go overseas, but personally, I think going overseas and flying would be a great experience. I don't know about fun, but it's something I want to do."
Football is largely out of Reed's life now, except for rooting for Oregon and now, keeping an eye on his former college coach, Chip Kelly, who is entering his first season coaching the Philadelphia Eagles. Otherwise, Reed is focused on the duty at hand, seeking no attention for his pursuit and desire to serve.
"I'm just making my bed every morning," he said. "There are a lot of people here and throughout the military going a whole lot more."