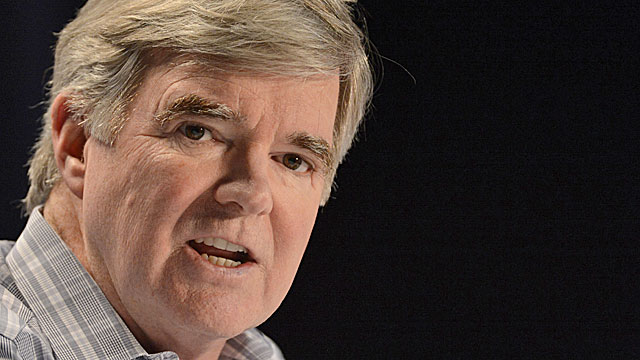 Twenty-five pages. They couldn't even agree on that.
That's what would have been cut out of the 426-page NCAA Manual if everything proposed by the Rules Working Group had gotten through last week. Twenty-five pages or 5.8 percent. And they couldn't even agree on that.
They can't agree on much of anything these days as the NCAA attempts to rewire itself. Rewiring is more commonly called reform and it has been going on forever. It is needed because that manual is 426 pages. We can thank every coach/booster/player who ever thought of a new and devious way to cheat for the book's thickness.
More on college football
Column

Related links
More college football coverage
Mark Emmert came into office with a mandate to shrink the book. "Insane," "crazy" the NCAA president called the fight against a common-sense proposal to allow unlimited communication (texts, phone calls) to recruits. That was only one of 25 proposals that was meant to cut out 25 pages. How congruent. And they couldn't even agree on that.
Things aren't going well for Emmert's reform agenda. Academic and recruiting types freaked on the same day last week when the NCAA board kept in place a sliding scale for initial eligibility. Things aren't going well, except the opposing parties can't even agree on that, either. Emmert has claimed emphatically that his reform agenda is alive, well and successful.
"Every time he [Emmert] proposes something it's shot down, suspended or put to a revote," said Gerald Gurney said, an assistant professor of adult and higher education at Oklahoma. Gurney was the former head of academic services for OU athletes and has done extensive NCAA research.
"He [Emmert] looks ineffective or ineffectual at best. Just about everything that's been put through has been put on hold or has been shot down entirely," Gurney added.
How do we all get along? We don't. Not now and not for a while. What has emerged in this nuclear age of scandal, excess and conference networks is class warfare. The haves vs. the have nots. Academics vs. athletics. Nick Saban vs. mere mortals.
"If he's got it this wired," said John Infante, the brains behind bylawblog.com, "it's mammals vs. dinosaurs."
Right now, the mammals are making the dinosaurs extinct. The average SEC team makes more per drive in regular-season media rights than a MAC school does all season.
Add another piece of class warfare. The ADs and commissioners want to take the game back from presidents. That was a talking point at an athletic directors' think tank last month in Santa Monica.
"It wasn't like there was some sort of revolt," said Penn State AD Dave Joyner, who was not at the meeting. "It was, 'Presidents, let us help. Let us get in the middle of things.'"
Imagine that, ADs asking presidents to butt out and let them run the athletic department. Perhaps ADs lost that privilege long ago. Blame has to go somewhere. As of this moment, the needle points to the presidents.
Never mind that Mike Garrett didn't exactly help mitigate the USC penalties.
Or that it was a confederacy of dunces (Tressel/Gee) at Ohio State.
Try to forget that picture of Donna Shalala accepting a check from Nevin Shapiro.
There never will be a revolt, but maybe there should be. Except, as mentioned, the stakeholders in this debate can't agree on a direction. Presidents and ADs are always going to have some sort of adversarial relationship. There's a reason the NCAA shifted from AD types as supreme leader (Dick Schultz, Ced Dempsey) to school presidents (Myles Brand, Emmert) in the early 1990s. The perception was that the athletic side had screwed it up, so the high-minded academicians had to take over.
Now, class warfare has pitted football against basketball. Some of the legislation silliness going on defines college basketball's powerful lobby vs. the disorganization of football coaches. What does it say that Jim Haney, the executive director of the National Association of Basketball Coaches, is sitting on the Rules Working Group?
Haney's coaches are allowed unlimited text and phone access to recruits. Football's coaches prefer to pay some staffer $25,000-$50,000 to log phone calls. Maybe they're scared of what The Big Mammal would do with unlimited access.
Class warfare has always been there. This level of animosity/separation on so many levels between so many people perhaps, never. Sensible recruiting deregulation got shredded. Emmert bashing is all the rage. It's also somewhat cliché.
Emmert may lose his job. It probably depends on whether some other internal scandal emerging before the end of his contract. Either way, Emmert is trying -- perhaps too far, too fast -- but still trying. Class warfare has always been there. The NCAA president merely became the lightning rod, causing road rage on the path to reform.
Consider that the same NCAA board of directors that signed off on the Emmert-driven Penn State penalties last year also rejected part of his reform movement last week.
"It opens up the entire question of governance once again," Gurney said. "The [NCAA] board and college presidents are being seriously questioned whether or not they can control college athletics. This reopens that wound."
Do you care? You should. We already know that it's easier for Vin Diesel to win an Oscar than for meaningful reform to pass in the NCAA. And everyone is to blame. Emmert? Sure, why not? But that's almost too easy at this point.
Governance is a mess. So is enforcement. What exactly has changed in the NCAA legislative process in the 21 months since Emmert's presidential summit kick-started the latest round of reform?
Aside from new a penalty structure that goes into effect in August, "everything else has just been very minor tweaks," Infante said.
The idea of a stipend -- go ahead, call it paying players -- has been watered down. SEC commissioner Mike Slive suggested recently that the battle over the issue may force the creation of a new division. The loosely-named "Division 4" would create a voting bloc of the major powers.
"There are probably 60-70 schools that are different than everybody else," Ohio State AD Gene Smith told the Columbus Dispatch.
"We need to think about a different division for them, within the NCAA structure, not outside of it, a division that allows those schools to have its own legislation. "The best example I can use is the $2,000 stipend ... There are schools that can afford it and there are schools that can't. As far as the recruiting rules, our recruiting rules should be different than it is at Middle Tennessee State. They're Division I and they're voting on our legislation or the legislation we believe is applicable to our level."
Except that those major powers can't even agree on 25 measly pages. They couldn't agree on unlimited access and what The Big Mammal would do with it.
"If Georgia and Alabama can't agree on what the rules should be," Infante said. "How are Alabama and Stanford going to agree on what the rules should be?"