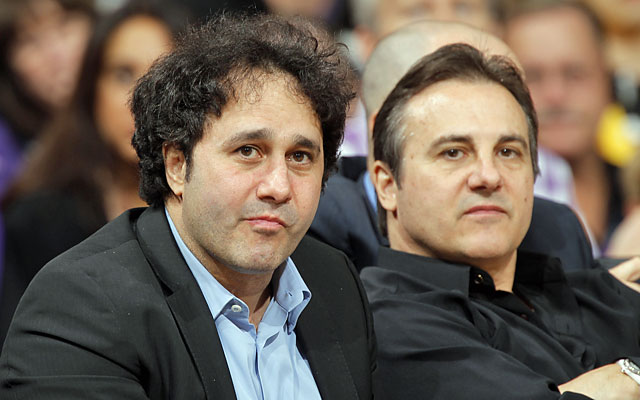 Having lived through so many months of unreasonableness during the 2011 lockout, it was hard to say which way the owners would decide on Wednesday when it came to the future of the Sacramento Kings.
As it turned out, logic prevailed. The simple, reasonable thing to do was actually done. All things being equal -- or, roughly equal, if you'll excuse me because I'm not an actuary -- the incumbent won.
Just as it should have been.
Yes, just as it should have been when Seattle lost its NBA team in the first place. But that's another story, because it's not this story at all. In fact, one has nothing to do with the other.
And that's the biggest takeaway for me after the NBA's Board of Governors voted 22-8 to reject the relocation of the Kings to Seattle. In doing so, they essentially killed the Maloofs' efforts to sell the team to Chris Hansen and Steve Ballmer, who proposed moving to Seattle, which shouldn't have lost its team to begin with when the SuperSonics moved to Oklahoma City in 2008. There was one enormous difference: Sacramento did what Seattle failed to do five years ago.
If this was David Stern trying to end the franchise relocation epidemic that spread on his watch and ease future stains on the business for his successor, Adam Silver, it's fair to wonder if Wednesday's decision will have a lasting impact. To me, unquestionably, it will.
If Stern is able to twist the Maloofs' arms and persuade them to sell to the Sacramento ownership group led by software mogul Vivek Ranadive -- as the commissioner said on Wednesday he expects -- then maybe this saga will be enough to allow the next similarly situated city to keep its team. If that's part of the goal, then the correct precedent was set.
When an NBA city has proven it can support a team, has made a compelling case that it can continue to support the team, has a credible plan for a new arena and a strong ownership group, it shouldn't lose out to a shinier city with richer potential owners just because money talks.
"It was not about a contest between two cities," Silver said. "It was about whether or not Sacramento could continue to support an NBA franchise."
That's the aspect of this decision that so many people missed. It wasn't a fair fight for the Kings, nor was it ever supposed to have been. As it turned out, the Kings were only going to Seattle if Sacramento failed.
"Looking at both evenly," Stern said, "[the owners] said the edge went to the incumbent."
In future negotiations with cities like Milwaukee or Minneapolis, for example, the bar has been set. One could look at it this way: the 30 co-owners of the basketball cartel in the United State have decided that they'll always have leverage when it comes to squeezing sweetheart deals out of new potential NBA cities. It was time to shore up the leverage with the existing ones, and that has been accomplished here plain as day.
When it comes time for Milwaukee and the state of Wisconsin to consider how vital they consider the Bucks to be to their livelihood, a line can be drawn straight to Sacramento: Do what we ask, and you keep the team. Fail, and it goes somewhere else. Seattle will be at the head of the buffet line, followed by -- as Stern so shrewdly enumerated with his own lips -- Anaheim, Las Vegas, Virginia Beach and others.
"This was not an anti-Seattle vote; this was a pro-Sacramento vote," Stern said. "And that's just the way the committee, and ultimately the board, decided it would be done."
So where do the Kings go from here? From the Maloofs to the Ranadive group, which has signed an offer sheet to buy the team for $525 million -- which could be, as Stern said, subject to negotiation. The Maloofs retain the right to keep the team, but that was never their end game here, and Stern dismissed the idea broached in recent days that they could sell 20 percent to the Hansen group and wait the owners out on relocation. The owners, according to a person briefed on the highest-level committee meetings on the subject, saw right through that plan.
Where does Seattle go from here? Hansen and Ballmer are going to be disappointed, and fans there are going to feel humiliated all over again by the NBA. But Silver left the door open to future discussions of expansion once his term as commissioner begins in February 2014, subject to negotiations that will begin soon on a new national broadcast rights agreement between the league and TV networks to be named later.
The current TV deal reaps about $930 million a year for the owners, and the next one is going to be a whopper. It has been anticipated since at least the 2011 lockout that the next deal would increase by double-digit percentages, and those prognostications are proving to be true in early dialogue on the topic. According to sources familiar with the discussions, ABC and ESPN will face stiff competition from the other networks for the next NBA deal that begins in 2016.
"We've never wavered in our desire to return to the Seattle market at some point," Silver said. "... Expansion was discussed at least as a possibility down the road. We want to see what happens in our next national TV negotiations, but we're very appreciative of Seattle. We regret having to leave the market and we hope to return to the market one day."
With Silver taking over at Stern's desk in mere months, it wasn't a time for more regrets -- unless you're from Seattle, which got what, exactly, out of all this?
"Just our promise of fair dealing and ultimate consideration down the road," Stern said.
As the soon-to-be-former commissioner has always said, life is a negotiation. This one ended the only way it should have, but there will be plenty more.