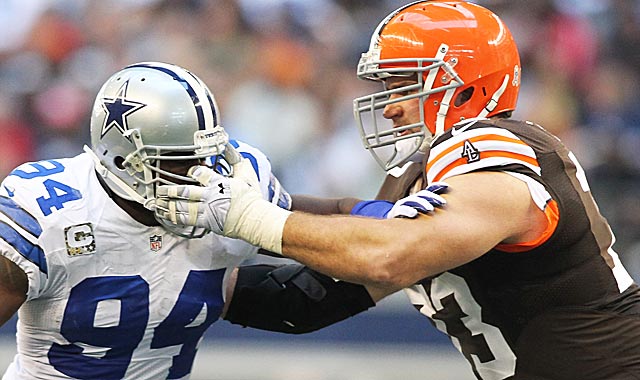 When I was in the NFL, I spent May and June re-stacking my pro personnel board by position to make sure we always had the most up to date grades on players.
When you go through a position group like the offensive line it becomes clear where the emerging players are and which players have been living on reputation rather than recent production.
There are 160 starting offensive linemen in the NFL, and it is a position group that rarely substitutes players. There are no situational offensive linemen in the NFL, and I feel like I separated the top 55 from the rest of the 160 starters.
This board is based on durability and production over a two-year period. For the sake of diagnosis there are three numbers next to each player -- the first is the number of sacks given up, the second is the number of penalties and the third is the number of starts over the past two years.
For example, Jahri Evans at 1-8-32 means Evans gave up 1 sack, had 8 penalties against him and started 32 games in the last two years.
The offensive line is broken up into five positions -- left tackle, left guard, center, right guard and right tackle. Even though many players can and have played multiple positions on the offensive line, there are job descriptions for all five spots and they differ enough that most players have a specific position that matches their skills with the demands of the position.
This year the first round of the draft produced a number of potential All-Pro offensive linemen, but none of them will crack the top five at their specific position heading into the 2013 season. In fact, it was a tough decision at all five positions to determine my top five.
Quarterback play and quality running backs have a lot to do with the quality of production of all offensive linemen. For example, Denver offensive linemen Ryan Clady, Zane Beadles and Orlando Franklin gave up 22 sacks in 2011 without Peyton Manning. Last year with Peyton Manning under center the same three players gave up 5 1/2 sacks.
Each position on the offensive line has different levels of expectations for sacks given up and penalties against. Here's a look at the average of the top 10 players at each position when it comes to sacks given up per game. Keep in mind that left tackles in the NFL have to block the best pass rushers and usually by themselves, which naturally increases the sacks-per-game ratio. The center position typically gives up the fewest sacks per game on average, and this study held that notion up.
So, here are the top five at each position:
Left tackles
Grade: A+ These players are the best athletes on the offensive line and have to have the athleticism to pass block the premier pass rushers. They are often asked to protect the QB 40 times a game or 600 times a season.
1. Joe Thomas, Browns, 8-15-32: Thomas makes it look easy vs. speed rushers and power rushers. He has been blocking most of his career for inexperienced quarterbacks and for an offense that is playing catch up week in and week out. The Browns running game had most of its explosive plays to Thomas's left side.
2. Duane Brown, Texans, 8-8-32: Brown has been under the radar most of his career but is a solid pass blocker, and the Texans started running the ball to the left even more last year. He did give up six sacks last year, which is a bit of a slip in his production, but it wasn't entirely his fault. No team in the NFL ran the ball to the left more than the Texans, and they gained 900 yards behind Brown.
3. Michael Roos, Titans, 6-10-31: If Michael Roos played for the Giants or Cowboys he might be considered the best left tackle year in and year out. He has only given up six sacks in two seasons. Tennessee's run game had its best yards per carry average behind Roos (4.9 yards per run).
4. Ryan Clady, Broncos, 10-15-32: Clady is the best left tackle Peyton Manning has ever played with; he gave up just one sack last year.
5. Andrew Whitworth, Bengals, 9-17-32: Whitworth is the heart and soul of the Bengals offense, and his leadership shines as brightly as his skills. Holding down the fifth spot will be tough in coming years with a very strong honorable mention list and great young talent on the players-on-the-rise list.
Honorable mention: Joe Staley, Russell Okung, Trent Williams, Jordan Gross, D'Brickashaw Ferguson.
Left guards
Grade A- Many schemes call for this player to pull to his right in the run game and lead a power run play. They are also asked to run and pass block top defensive tackles lined up in front of them. They typically have more agility and foot speed than right guards.
1. Justin Blalock, Falcons, 6-3-32: Blalock is a steady performer who doesn't get a lot of recognition. QB Matt Ryan is a pocket passer and called 1,829 pass plays in the last three years. Blalock gave up five sacks in all those plays. One sack every 366 pass plays isn't bad.
2. Andy Levitre, Titans, 5-6-32: I can't believe Buffalo let this guy get away. He gave up half a sack in 2012 and the Bills averaged 5.9 per rush to his side of the line.
3. Carl Nicks, Bucs, 3-2-23: Injured last year, Nicks is a very powerful player who can be the most dominating left guard in football. In his 70 NFL games he's given up nine sacks and committed just 13 penalties. In his seven games as a Buc before being injured he allowed no sacks and the run game behind him averaged 5 yards a carry.
4. Josh Sitton, Packers, 4-12-30: Sitton led a right-side run game last year that was far superior to the left-side attack. Aaron Rodgers may have been sacked 168 times in the last four years, but Sitton only gave up nine of them in close to 2,000 pass plays.
5. Mike Iupati, Niners, 5-13-32: His penalties have to come down but he is such a physical player with pulling skills for an offense that runs the ball at 5 yards a clip.
Honorable mention: Logan Mankins, Ben Grubbs
Centers
Grade: A+ The center is the "brains" of the offensive line and has to be deeply involved in the protection calls, the "check with me" run game. He can play one week against a 350-pound nose tackle and the next week against a great middle linebacker.
1. Maurkice Pouncey, Steelers, 6-5-32: His brother Mike actually had better numbers when it came to sacks and penalties, but Maurkice is the premier center in the NFL. He will get a test in the next year or so from other centers on this list because when I watched them it did feel like they were closing the gap.
2. Ryan Kalil, Panthers, 2-4-21: Kalil only started five games last year before going down with an injury. He is one of the only centers ever to get franchise tagged, and for good reason. He has given up five sacks in his last 65 starts or one every 13 games. He is excellent against linebackers or nose tackles.
3. Chris Myers, Texans, 2-6-32: Myers is kind of under the radar nationally, but check his numbers: just two sacks in 32 games. In fact besides being part on an excellent run game offensive line, Myers has let a defender sack the Texan QB just five times since joining the team in 2008. That includes 2,858 pass plays.
4. Max Unger, Seahawks, 2-3-31: Not sure everyone knows the Seahawks center, but they should. He's allowed just two sacks and had three penalties in the last two years. He did a great job with a rookie QB last year.
5. Mike Pouncey, Dolphins, 3-3-32: The second Pouncey brother was once thought of as a better guard than center, but that myth has been dispelled. He played with a rookie QB last year and kept things buttoned up fairly well.
Honorable mention: Alex Mack, Brian de la Puente, Eric Wood, Nick Mangold.
Right guards
Grade: A- This position calls for power and the ability to get movement on a 300-pound defensive lineman. Most teams have a right side run game, and the right guard is a key for success.
1. Jahri Evans, Saints, 1-8-32: One of the best linemen in the league. He simply doesn't lose many battles in the trenches. He has never missed a start since the day he arrived in 2006 with Drew Brees. Since then Brees has called 4,482 pass plays in the regular season and Evans has been beaten for a sack just nine times or one every 498 pass plays.
2. Marshall Yanda, Ravens, 2-7-32: Yanda gets the job done without a lot of recognition. He's far from the first few names mentioned when Ravens talk comes up. He didn't give up a sack last year, and Ray Rice ran behind him or close to 4.3 a carry.
3. Chris Snee, Giants, 4-7-31: Snee bounced back in 2012 and 2011 to his old Pro Bowl form. He blocks for pocket passer Eli Manning and dominates most opponents. The Giant run game experienced most of its success running behind Snee, averaging 4.7 a carry.
4. Jon Asamoah, Chiefs, 5-6-31: The Chiefs were so bad last year it's a surprise anyone made the list, but Asamoah is a solid player, especially when you consider the KC quarterback situation last year. The Chiefs ran for 5.3 a carry to their right side and Asamoah is emerging as a very good pass blocker.
5. Harvey Dahl, Rams, 6-10-30: One of the most aggressive offensive linemen in the NFL. Had a very good 2012 under Jeff Fisher with no holding calls and only two sacks. Meanwhile his run blocking is well known, and the Rams chewed up close to 5 yards per to the right side.
Honorable mention: Todd Herremans.
Right tackles:
Grade: -C This group is weak and Luke Joeckel will move to the top of the list if he stays on the right side in 2013. The right tackles need to be power run blockers, but more and more are being asked to pass block without help from tight ends and running backs.
1. Branden Albert, Chiefs: He is moving from left tackle, and this may be a reach, but the right tackle population isn't strong. If Albert has an open mind about the change and he gets comfortable in his new stance, he will be right at the top of the position group.
2. Sebastian Vollmer, Patriots, 9-4-20: Not so sure he wouldn't be exposed if it wasn't Tom Brady behind him, but the run game to his side was the best the Patriots had.
3. Anthony Davis, Niners, 20-12-32: A young, emerging star at right tackle, and the Niners knew it when they paid him. Davis has given up 20 sacks in the last two years and 12 penalties.
4. Tyson Clabo, Dolphins, 9-9-32: We will see if the Falcons made a mistake letting Clabo go, but now he's a Dolphin.
5. Phil Loadholt, Vikings, 14-11-32: I was disappointed when I saw 14 sacks and 11 penalties over the past two seasons, but when I saw the Vikings run game to his side averaged 7.3 a carry, I had to keep him on the list. Granted Adrian Peterson does most of the work, but Loadholt can run block well.
Honorable mention: David Stewart
Players on the rise
It will not surprise me if many of these players cracks the top five next year:
1. Matt Kalil, LT, Vikings, 4-5-16: He has already been to a Pro Bowl as a rookie, and by this time next year will be on the top-five list possibly for the next ten years.
2. Tyron Smith, LT, Cowboys, 13-17-31: He has the athletic ability to get the job done protecting Romo and open up running holes. Now he just has to do it on a consistent basis.
3. Stefen Wisniewski, C, Raiders, 2-9-31: I was pleasantly surprised when I saw how well this kid is playing. His former line coach told me he was ready to be a regular Pro Bowl player. Just look at his pass protection in the first 31 starts of his career.
4. Zane Beadles, LG, Broncos, 6-9-32: Another fast riser in the NFL and ready for bigger and better things. Blocking for Peyton Manning, especially in the no-huddle, can take a lot out of players but Beadles seems to flourish.
5. Riley Reiff, LT, Lions, 0-4-8: Big challenge facing this player in 2012. Jeff Backus retired and the Lions throw it more than any team. Will Reiff be able to hold up against guys like Jared Allen? The Vikings have gotten to Stafford 22 times in the last six games they played.
Honorable mention rookies: Eric Fisher, LT, Chiefs; Luke Joeckel, LT, Jaguars; Jonathan Cooper, LG, Arizona; Chance Warmack, RG, Titans; Lane Johnson, LT, Eagles.
Players who need to rebound
1. Jake Long, LT, Rams, 13-9-26: The injury bug has hurt his play even though he played through some issues. He has given up 13 sacks in his last 26 games, which isn't like the former All-Pro.
2. Davin Joseph, LG, Bucs, 4-10-27: Joseph is a fine player who missed the 2012 season.
3. Jason Peters, OT, Eagles: Missed last season and is penciled in at left tackle, but the Eagles drafted Lane Johnson in the first round. Peters hasn't played a 16 game season since 2006.
Players to keep an eye on
1. Jonathan Martin, LT, Dolphins: Moving to the left side to replace Jake Long after an up-and-down experience late last year when Long got hurt. For a while this offseason it appeared the Dolphins were looking for a left tackle but decided to go with Martin.
2. Bryan Bulaga, LT, Packers: Bulaga is the Packers best tackle, but now moves from the right side to the left side where he will see Jared Allen, Julius Peppers and Ziggy Ansah in division.
3. Jermon Bushrod, LT, Bears: Bushrod only gave up eight sacks in the last 32 starts for the Saints, but that was with Drew Brees at quarterback. Now he protects the blind side for Jay Cutler, who has been sacked 148 times in his four years in Chicago.
4. Charles Brown, LT, Saints: Brown takes over for the departed Bushrod and has to stay healthy. He has only been active 21 games in three seasons with just eight starts.