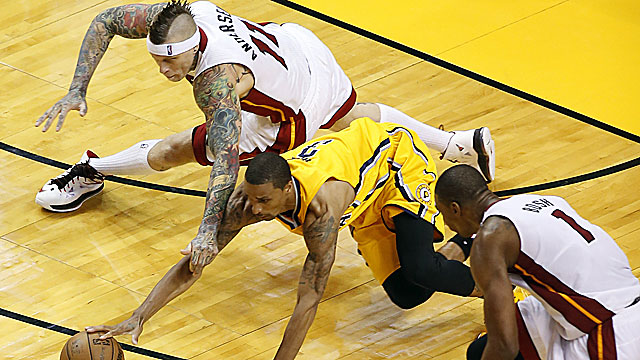 MIAMI -- One is covered from neck to ankles with colorful tattoos, including one that screams in capital letters, "FREE," and another that whispers in delicate cursive, "Texas raised."
The other says that if he ever got a tattoo, "My mom would probably start crying."
One was the consensus national college player of the year at basketball powerhouse North Carolina, while the other hails from Blinn College in the backwoods of Texas. Go to Basketball-Reference.com, type in Blinn College, and you will get the name of the only NBA or ABA player the school has ever produced: Chris Andersen.
One thing they have in common: nicknames. Andersen, of course, is the Birdman. Tyler Hansbrough is fondly known throughout the Internet as Psycho T.
As unlikely as it seems, these two characters occupy not only the same planet and universe, but also the same basketball court in the Eastern Conference finals. They play nearly identical roles for their teams -- roles that arguably are as important as those occupied by the stratospheric stars in this series. They come off the bench, rebound, defend the paint, provide bursts of essential energy and exhibit toughness and the kind of rugged determination that are necessities in the NBA playoffs.
"Any time you're a bench player, you've got to find different ways to impact the game," Hansbrough said on Thursday in between Games 1 and 2 of the Eastern Conference finals between the Pacers and Heat. "For me and this team, it's go out there and get rebounds, get offensive rebounds, try to come out there and get some defensive stops, give a little energy. That's what I do."
Have there ever been two guys who provide the same ingredients for their teams who've looked this different doing it?
"It's just my style," Birdman said.
If athletes are to be judged by appearance alone, then Andersen is easily the most eccentric character in a 450-player melting pot of oddballs. When he checks into the game, his multicolored tattoos creeping all the way up his neck to the bottom of his chin and his menacing Mohawk make him the most recognizable figure on the floor -- and that is an accomplishment to behold when you're sharing the floor with LeBron James.
With his babyish face and bushy eyebrows and chalk-like, unblemished flesh, Hansbrough is the anti-Birdman. In a series that has immediately convulsed with controversy over the Pacers' strategic approach on James' game-winning layup in overtime of Game 1 on Wednesday night, this series actually features something far more interesting: a collision of Mr. Green Jeans vs. Birdman -- an unapologetically apocalyptic character straight out of a Hunter S. Thompson novel.
Except, they're both for real. And for however long these conference finals last, they will be constants.
In Game 1, Andersen provided crucial contributions with 16 points (on a Heat playoff record 7-for-7 shooting from the field), five rebounds, three blocks and a steal in 18 furious minutes. Again and again, Andersen found open areas on the floor to receive bullet-like passes from James or Dwyane Wade on is way to a flurry of dunks and layups -- including three critical baskets in the fourth quarter.
Hansbrough was mixing it up as usual, his bad-boy reputation continuing to flare up in direct contradiction to the blandness of everything else about him. Hansbrough had 10 points on 5-for-8 shooting, six rebounds and a steal, getting under Birdman's skin at one point to draw a technical and being incongruously whistled for a foul despite eating an elbow from Shane Battier, who hails from Hansbrough's college rival, Duke.
"In the playoffs, sometimes stuff like that happens," Hansbrough said. "Whatever."
Sometimes stuff happens like Hansbrough leveling Wade with a hard foul in Game 5 of the second-round series between these teams last spring. Hansbrough's foul was ruled a flagrant-2 by the league office, and Udonis Haslem was suspended for Game 6 for retaliating against Hansbrough with an equally vicious foul late in the game.
"I don't think I'm a dirty player," Hansbrough said. "If you look at the play against Wade last year, I felt like I got a lot of ball. I was just trying to make a play on the ball."
What, then, was Hansbrough trying to do when he threw the Raptors' Jonas Valanciunas to the floor in a February game against Toronto?
"Those are two plays that in my four years as an NBA player get mentioned, but I'm not a dirty player," Hansbrough said. "I respect the game more than that to try to hurt somebody."
Though Andersen provides the Heat with a similar brand of intimidation, more athleticism and the same energy and hustle plays, his path to this moment has been far different. Andersen was permanently banned in 2006 for violating the NBA's substance abuse policy while a member of the New Orleans Hornets. He was reinstated two years later, and became an integral part of the Denver team that advanced to the 2009 Western Conference finals against the Lakers.
He was released by the Nuggets in July with the amnesty provision, had his knee scoped and waited until January before an NBA team called. To keep himself ready, Andersen said he was rehabbing, lifting weights and shooting "here and there," but mostly, he kept himself busy in non-basketball ways. "For the most part," Andersen said, "I was huntin' hogs and living that country boy life."
Andersen was raised in a poor, rural area north of Houston and at times resided in group homes after his father abandoned the family and his mother struggled to pay the bills. After his drug ban and an Internet crimes investigation at his home in Colorado that resulted in no charges last year, he had every reason to believe he might never get a chance to resume his career.
"I didn't think about that," he said.
He didn't have to, because eventually -- after months of research and background checking -- the Heat called.
More than a decade earlier, Miami had invited a younger, less colorful Andersen into their building as an undrafted free agent and always regretted letting him go.
"We were a fan of his 10 years ago, pre-tattoo, and we are a fan of his now," Heat coach Erik Spoelstra said. "Rarely do we let a player like that leave our gym as an undrafted free agent. And we did and watched him develop and from afar we were fans."
The Heat tried to get involved and acquire Andersen in the trade that sent Nene from Denver to Washington in March 2012, but were unsuccessful.
This time, they signed Andersen to a pair of 10-day contracts before signing him for the rest of the season at the pro-rated veteran's minimum of $342,000. (The Nuggets are still paying Andersen the balance of the nearly $11 million they owed him when he was waived, less the Heat's contribution, though the amnesty provision wiped the money off the Nuggets' salary cap and luxury tax books.)
"When they made that phone call, I flipped that switch and I was ready to come in and do the work that I needed to do," Andersen said.
Andersen is believed to be the fifth player to return to the NBA after being reinstated from a permanent drug ban, but there is little question he has been the most successful. Roy Tarpley was reinstated in 1991, only to be banned again in '95. Duane Washington came back briefly with the Clippers, and Mitchell Wiggins and Lewis Lloyd also made it back, though none managed to become as productive as Andersen.
"It is incredible, but at the same time I'm just trying to stay in the moment, keep my focus on what I need to do and what I need to improve on," Andersen said. "I know I'm destined for more."
How Birdman could do more than what he's currently doing in the postseason for the Heat -- shooting an incredible 29-for-35 from the field (83 percent) -- isn't clear. What is obvious from this series, and from the contributions of two polar opposites, is that you sometimes have to avert your eyes from the obvious. As Spoelstra put it in his evaluation of the tattoo-covered, spiked-up Birdman, "You have to look at him through a different lens."
So true.