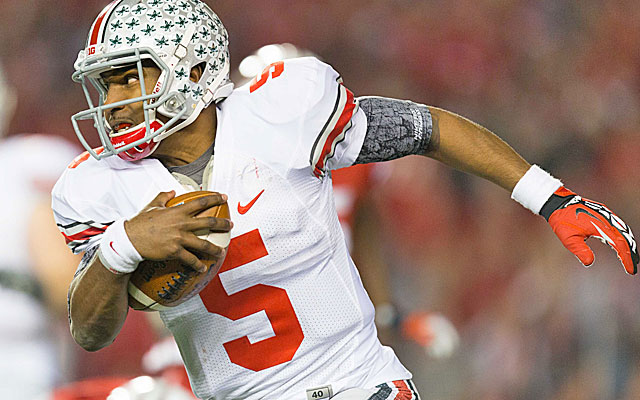 COLUMBUS, Ohio -- There aren't many coordinators -- those six-figure lieutenants sitting at the right hand of head coaches everywhere -- still paying off student loans. But there aren't many offensive coordinators like Tom Herman.
The Ohio State play caller, who turned 38 earlier this month, clearly remembers living off Ramen noodles at age 30. That would have been about the time he was Texas State's offensive coordinator under David Bailiff making a heady $40,000 per year.
"My wife [Michelle] worked her ass off," Herman said. "She was kind of a sugar mama. She was the bread winner for a long time. I can certainly relate to the normal student."
Let's just call Tom Herman the accidental coordinator. He has paid for more than his education. The reminders of his days as a Division III receiver at Cal Lutheran are numerous -- 13 knee surgeries and four shoulder surgeries. Considering the toll on his body and his budget, "I tell people I basically paid to play college football."
Think about that the next time a player stipend comes up. Hired basically on word of mouth by Urban Meyer, Herman is in charge of what he and his boss freely says should be the best offense in the Big Ten in 2013.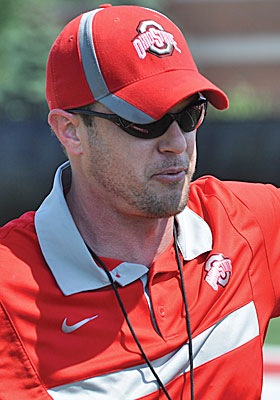 "Yes, absolutely I do [think that]," Herman said. "I think anything less than that would be selling our program short."
A lot of that confidence starts with an undefeated 2012. The Buckeyes frequently had to outscore opponents to stay undefeated. Quarterback Braxton Miller became the Big Ten offensive player of the year, the pinballing, spread-option centerpiece of Herman's offensive mind.
Miller wasn't perfect, though he wasn't meant to be in his first season. If the season was a pass/fail test, Miller would have "exceeded expectations". A 58 percent completion percentage can get better. So can Miller's decision-making. That's almost hiding a dual-threat accomplishment of 2,000 yards passing and 1,200 rushing. Taking all that into account, Herman was recently named as one of 10 hot offensive coordinators to watch in Lindy's preseason magazine.
And college football loves hotness. Because of that promise, the Buckeyes most likely will start the season in the top five. This time, as you probably know by now, it counts. No bowl ban this year. Everything to play for is on the table.
And Tom Herman is good when it counts. He's here because Chip Kelly and Mack Brown were key references. He's here because wife Michelle indeed is some sort of saint as a coach's wife. For their wedding, Tom flew from Texas to Los Angeles where Michelle was working for the rehearsal dinner on a Thursday. They were married on a Saturday. By Monday, Herman was back on the road recruiting for Sam Houston State.
He's here because of Barrick Nealy, Texas State's quarterback in 2005. With Herman calling plays, Nealy came within 125 passing yards of going 3,000/1,000 and leading the Bobcats to the FCS playoffs for the first time in 20 years.
He's here because he outschemed opponents with an outmanned Rice for two seasons under David Bailiff. Herman called his no-huddle spread option an "underdog offense."
"We're at Rice playing with a bunch of doctors and lawyers against Southern Miss and Houston and East Carolina," he said.
"We had a really bad offensive line at Rice. If you could get those defensive linemen going side to side and up and down the field not able to sub out, those defensive lineman are getting their ass ripped if they don't chase the ball sideline to sideline. [Meanwhile] our offensive linemen jog to the next place where the ball is spotted."
Herman is here because his stamp is on upsets by Iowa State over Nebraska, Texas and Oklahoma State from 2009-11. Those Cyclones were never an offensive powerhouse but Herman was squeezing every last ounce of talent out of quarterbacks such as Austen Arnaud, Jared Barnett and Steele Jantz.
Playing against a Nebraska defense that featured Ndamukong Suh and Jared Crick, Herman's offense basically stayed out of the way in an epic 9-7 upset in 2009. "They turned it over eight times," Herman said. "We'd get a couple of first downs, punt, let them screw up.
"Even though we were less talented than the rest of the Big 12, we found ways to move the ball."
And sometimes that's good enough.
In the best times, Herman's offense had lineman Andrew Norwell vomiting. The super-fast version of Ohio State's no-huddle is labeled "Jet." Jet took off at a key moment in the third quarter of last year's game at Penn State.
At that point, the decision had been made to run Penn State's defensive line out of the building the same way Herman had done it at Rice. Go fast, make defenders run sideline-to-sideline. History shows an eight-play, 85-yard touchdown drive that lasted 2 minutes, 15 seconds.
And then, regurgitation.
"Norwell came to the sideline, sat on the bench and vomited at the feet of our offensive line coach [Ed Warriner]," Herman said. "He looked him right in the eye and said, 'Keep jettin' 'em.' That's when I knew we had them."
Is this what we want football to be? Tempo would be Nick Saban's worst nightmare if the Alabama coach ruined his own argument, mixing in the hurry-up during Alabama's latest championship run.
"He's entitled to his opinion," Herman said. "I don't think tempo has anything to do with player safety."
Meyer essentially had that year off (2011) to think about assembling his staff. The call came to Herman out of nowhere the day after Iowa State's season ended. He has cultivated relationships with Kelly and Brown (GA at Texas in 1999-2000). This was different. When he saw a Gainesville area code, Herman thought he was being punked.
This was a big jump up in class. Herman knew it when last year's Purdue game came down to a two-point conversion at the end of regulation. Meyer relayed over the headphones that he wanted to run tailback Carlos Hyde. Herman made the case for a pass play for backup quarterback Kenny Guiton that had been repped frequently in practice.
"[Herman] said, 'Coach, don't do it,' Meyer recalled. "I see the official start to call us out. My heart is racing. Tom says, 'Really, coach, call the play we practiced.'"
Thank goodness for Meyer, Ohio State and Herman's career, the offensive coordinator won out. Guiton's short pass to Jeff Heuerman tied it. The Buckeyes won in overtime. Preparation ruled over Meyer's of-the-moment passion.
"Had it not worked, who knows how our season would have gone?" Herman said. "Who knows what Urban's opinion of me would have been."
Miller is a Heisman candidate in 2013, a wondrous talent with plenty of upside, in part, because of Herman. The coach rates him about a 6 on a scale of 10 after an effective spring. If Miller ever clicks completely as a decision maker and leader, that number could go to 11. Then it's really time to look out. Because, as mentioned, this time it counts.
For now, in the big-time, the Big Ten playcaller still paying off his student loans lives a bit more comfortably with a reported salary of $420,000. Best of all, after an undefeated season in that big time, Herman is one of those respected lieutenants.
"The point was," Meyer said reflecting on that play against Purdue, "all decisions can't all be made on passion."