INDIANAPOLIS -- At the end they applauded.
The clapping from inside the Miami (Fla.) infractions committee hearing could be heard out in the hall beyond Grand Ballroom V on the second floor of the downtown Westin. But it wasn't for what you think.
Yes, the protracted, insidious, debilitating, career-wrecking, very public Miami case came closer to closure Friday at the end of the two-day hearing. But let's be clear: No one was celebrating.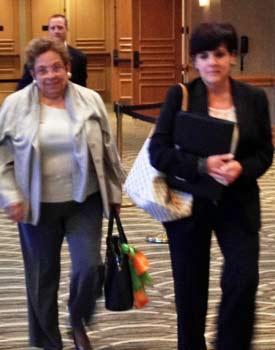 "It was for a staff member," said Miami vice president of communications Jacqueline Menendez who emerged at the end about 4:30 p.m. ET Friday. "Someone who had been there 12 years."
"Rachel?" someone asked.
"Yes!" said Menendez, one of the few participants to say anything as the hearing broke up.
That sounded suspiciously like Rachel Newman-Baker, the NCAA's outgoing managing director of enforcement for development and investigations.
Oh, the irony.
Newman-Baker is one of those glue people, someone who makes the whole organization better. Fair. Balanced. Personable. Friday marked one of her last duties with the NCAA before going to Kentucky next month as a senior associate AD for compliance.
As the hearing wrapped up without any reported fist fights, it had to be troubling that one of the NCAA rocks who held the whole mess together was walking out the door. Literally. That recent talent and brain drain at the NCAA is now common knowledge. It came during -- and because of -- the contentious Miami case.
A legacy the case now begins to form at a turning point in NCAA history. What seemed like a slam dunk for the NCAA police, morphed into what was a compelling opening statement by Miami president Donna Shalala on Thursday. She began by admitting some of the school's complicity in dealing with booster Nevin Shapiro. But she also criticized NCAA enforcement as well as praising her school for its own cooperation.
There's some bad stuff in there but the infractions committee may be on trial as much as Miami. Does it have the stomach to go beyond Miami's significant self-imposed penalties?
One source close to the hearing described the experience as "intense." Judging from the overall vibe as the hearing broke, there also had to be relief. Miami felt reasonably well about itself. The NCAA had to be glad it was just over, its name raked through the mud these last few months. The infractions committee will now take at least six weeks before issuing penalties.
Yes, a legacy is beginning to form. Some fine investigators no longer have jobs here because of the Miami case. Some were fired. Some couldn't wait to get out as the case degenerated.
Newman-Baker made it 12 years. At this point, there are probably janitors with as much seniority down the street at the NCAA. A new generation of investigators and their handlers are going to have to be taught how to get it right.
Whatever "right" is.
Newman-Baker will always be remembered in this space for her clear and convincing explanations at the Mock Enforcement Experience for the media two years ago. Interestingly, that was the same get together where former infractions committee member Jo Potuto said the standard of guilt for the committee should be "clear and convincing evidence."
Based on that, the men and women deciding Miami's fate have quite a task ahead. Much of the muck they will have to sift through over the next few weeks is anything but clear and convincing.
"I hope that what comes out of this case is a strong initiative by the schools in Division I to take a look at what we think should be appropriate investigative methods by the enforcement staff," Potuto said by phone on Friday.
Since 2000, there have been three major infractions cases involving football where BCS conference schools were charged with both lack of institutional control -- the NCAA's scarlet letter -- and assessed at least a one-year bowl ban. Potuto sat in judgment of all three with the infractions committee (Kentucky, 2002; Cal, 2002; USC, 2010).
Miami would be the fourth such case considering it has already self-penalized itself two bowls. But unlike the others, this one blew up into a national referendum on the NCAA when Mark Emmert blew the whistle on his association's enforcement methods.
Eventually, 20 percent of the information developed by the NCAA to that point was thrown out.
"How much," Potuto asked, "do we care that we get the information?"
NCAA enforcement will go on from here but almost certainly has to change. Is it time to outsource investigations? A new matrix will debut in August that more definitively predict penalties. Head coaches will be held more accountable for the conduct of their assistants. That's already an issue considering Emmert himself was criticized for not owning his responsibility in the enforcement staff's misconduct.
It's not going to be an easy fix.
"[If] we want to honor that relationship and limit what the enforcement staff should be able to do, then that's fine," Potuto said "But we need to live with the consequences, which are going to be that they are going to be much fewer cases that are going to be brought because it's going to be much harder to get information.
"If, on the other hand, we want to honor the obligation to run violation-free programs and aggressively go after transgressors ... then I think we have to give the enforcement staff a full [array] of things they can do."
A legacy is beginning to form and no one is really sure what it will be. After the hearing ended, a bellman carted off seven boxes of documents. Workmen began to break down a massive ballroom that included an enormous table surrounded by at least 45 seats.
One of them was occupied by another one of those fair, balanced and personable types -- ACC commissioner John Swofford.
"It's been an extraordinarily long investigation," he told reporters. "The sheer length of the investigation has been a penalty in itself."