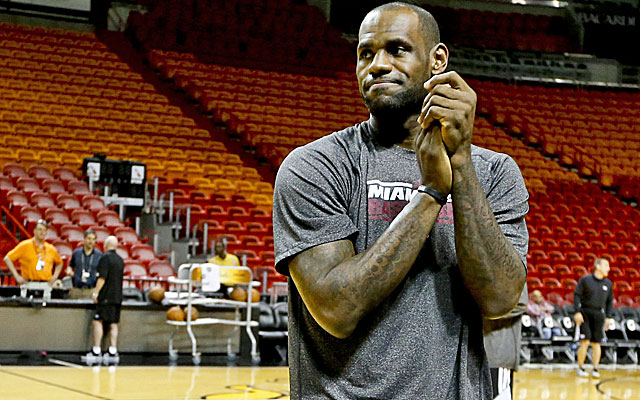 MIAMI -- As we stand on the verge of Game 7 in the NBA Finals, the interpretations and irrational pronouncements are already spinning.
In the tangled web of modern communications, if the Heat win their second title in three years, the formation of their star-studded Big Three in 2010 will be validated. If not, the whole thing will go down as a failure.
Public opinion, however, is something that LeBron James has long since learned he cannot control. He's stopped trying to make everyone happy. When he was asked on Wednesday if he's come to accept that criticism and vitriol are waiting for him around every corner, he smiled, exhaled a bit, emitted a nervous laugh, and said, "That's OK. It won't stop me from loving the game, playing at a high level, doing it for my teammates, putting that uniform on."
But that wasn't the question I wanted to ask him. If James has given up on pleasing the masses, then the opinions of the masses don't matter for this discussion. And by masses, I mean the few thousand people or robots who happen to be following basketball on Twitter at any given moment, the vocal minority the entire media industry has tried to appease by changing its newsgathering and publishing philosophy. Just because the media industry worships at the feet of social media's false tyranny doesn't mean the athletes have to do it, too.
So for the purposes of this discussion, nobody should care what you or I or someone else sitting in front of a keyboard, smart phone or tablet thinks about the significance of Game 7 in the analysis of James' decision to leave Cleveland three years ago and team up with Dwyane Wade and Chris Bosh. I asked James on Wednesday what he thinks -- what triumph or failure in Game 7 on Thursday night would mean to him.
He understood exactly what I was getting at, and he gave me an honest answer. A real answer from someone whose opinion actually matters.
"I mean, I need it because I want it," James said. "And I only came here -- my only goal is to win championships. I said it; this is what I came here for. This is what I wanted to be a part of this team for. As far as validation of me being here, I don't really I don't think so. That side doesn't really matter to me about what validates us coming together. The camaraderie and the friendship and the teammates and what we've done over the three years can never be replaced."
He was just getting going.
"So for that side, no," he said. "But I want it. And I'm going to do -- I'm not going to cut any corners. I'm not going to cheat the game. I'm going to work for it. We're not entitled to win it. We have to work for it. So that's what I'm here for."
This was the essence of the most scrutinized athlete of our time living in the fishbowl on his own terms. Whether Twitter or the Internet or the blogs or the network media sites portray him as a conquering hero or failure around midnight on Thursday night is not what this is about. It's about whether James needs this championship, which would be his second straight, to validate the most publicly reviled decision he'll ever make.
The answer, straight from LeBron himself: Yes, and no. Yes, he needs the championship. No, he doesn't need the validation.
"There's a lot of great players in this series," Wade said. "He's the greatest one. He understands the spotlight will be put on him. I think he's going to enjoy the moment, Game 7 here on our home floor. ... Hopefully the outcome is great. But I know he's going to give everything he has. That's good enough for us."
Nothing is ever good enough for the paying and non-paying customers -- the smart or the mindless -- when it comes to LeBron. And until he lost in the Finals two years ago against Dallas, a swift repudiation of his decision to leave his hometown and team up with other stars in their prime, nothing short of a championship was good enough for him, either. Losing taught him to be satisfied; winning taught him to be satisfied, but to want more.
"I think we personally need the championship because we personally want it," Wade said. "It doesn't matter if we win it; next year, it will be the same thing. You're not going to please everybody with what you do. But I think it's been a great achievement to be in three Finals in a row, because the hard part, people don't get to see. Everyone sees the names and says, 'Oh, they should be,' but it's a lot harder than that. So to be here three years in a row is an achievement. And to be in this position now, to be able to win two championships out of three is even greater.
"So we'll see when it's all said and done," Wade said. "But right now, we're in the middle of it. We're just enjoying each other. We're enjoying this opportunity we've all had to play with each other. And I think people need to enjoy it a little bit, too. Because one day, it won't be here and people are going to miss it. Let's stop getting rid of it while it's still here."
When James, Wade and Bosh teamed up in July 2010, there was so much fury -- including from me -- that we lost perspective. We didn't see that maybe this superstar experiment was going to be compelling and enjoyable to watch. But the best thing about it isn't what anyone else thinks. It's the unexpected reality that the Heat weren't simply punching their ticket to multiple titles. With one championship sandwiched between a loss to Dallas and a miraculous comeback setting the stage for Game 7, the best thing about the Big Three has been that none of this was as easy as anyone thought it would be.
None of it was as easy as they thought it would be. This is the validation that matters -- the validation of how hard it is to win an NBA championship, no matter what your name is or who your teammates are.
"I want to go down as one of the greatest," James said. "I want our team to go down as one of the greatest teams. And we have an opportunity to do that. There haven't been many people to win back to back championships. It's so hard. It's the hardest thing. I said last year it was the hardest thing I've ever done, winning my first. Last year doesn't even come close to what we've gone through in this postseason and in these Finals.
"So I'll be there [Thursday] night," he said. "I'm going to give it my all. I'm going to leave everything on the floor. Whatever happens, happens. I'll be satisfied with that."
And so should we.