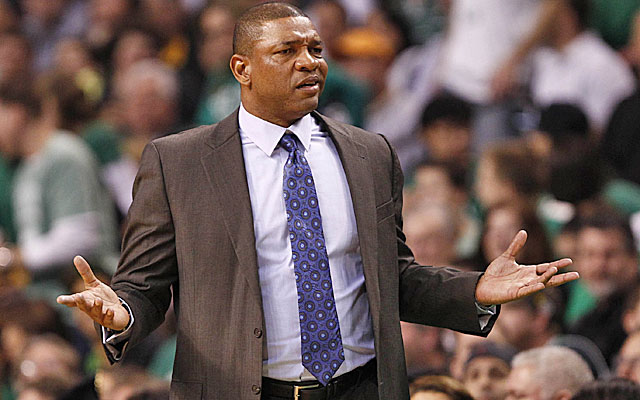 Doc Rivers stayed with the Boston Celtics for nine years. He stayed when fans booed him, when media mocked him, when blogs and online petitions were created for the sole sake of begging the Celtics to fire Doc. He stayed long enough to coach the Celtics to their first NBA title since Larry Bird. He stayed longer than any Celtics coach since Red Auerbach.
He left last week for the Clippers.
Let's not debate Doc's loyalty. That debate is happening -- on radio and in the newspaper in Massachusetts, at another national website, at my own website, even in the newspaper near his Florida home -- and it's silly.
In a sports landscape where loyalty is overrated -- players and coaches are loyal to the same thing the owner is loyal to: their checking account number -- Doc Rivers showed it. Nine years. Nine. Nine years coaching an NBA team is 63 years to you, me and my pet beagle. Those are dog years.
The last seven years his point guard was Rajon Rondo. Those are pit-bull years. Dangerous years. Rondo is apparently one of the league's hardest players on a team's chemistry, which I feel comfortable saying after spending the past month with players and media who watched him work a locker room like a wolf works a henhouse. And I feel comfortable saying that even as I initially found it so hard to believe. Look at Rondo! Look at that sweet face. Look at the way he plays Connect Four like a savant. Look at the way he helps a team by breaking down opponents on offense and defense.
Look at the way he and Doc Rivers almost came to blows.
That was the report during the NBA postseason, and Celtics GM Danny Ainge didn't shoot it down. He didn't call it false or fiction. He called it "old news." Which means it's true. It happened.
That said, we don't know Rondo is the reason Rivers is gone. All we know is what Rivers told us, and he told us -- via the Dan Patrick radio show -- that the Celtics encouraged him to leave. This is what Rivers told Patrick:
"They wanted to unload contracts for draft picks," he said. "I happened to be one of those contracts. This is a direct quote from an owner: 'Listen, this is a win-win for us. If we can get a pick for you and you have a chance to go to a team like the Clippers and continue to coach and continue to pursue winning ... we can get to rebuilding.'"
We also know Doc signed a long-term contract with the Celtics in 2011 and said he wanted to stay his whole career. Maybe he was lying. Maybe he was just wrong, you know? We've had 26 years to get to know Rivers -- 13 years as an NBA player, 13 as a head coach -- and we've seen a nice man. Not a liar.
But the facts changed on him. Rondo became a player who wanted to fight him. Management did nothing to prepare for the transition from The Big Three to whatever comes next. Facts changed. Rivers changed his mind. That's allowed, right?
Look, I don't need that quote he gave Dan Patrick to think this talk of disloyalty is silly. Even if the Celtics begged Rivers to stay -- and for the sake of argument, let's assume for a second that the Celtics did beg him to stay -- he's not disloyal for leaving.
Nine years. Nine. That's how long he coached the Celtics. Only Auerbach lasted longer. Tommy Heinsohn came close to matching Rivers' tenure, making it 8½ years before being fired in January 1978 with the team off to an 11-23 start. Before coaching the Celtics, Heinsohn played for them. He won eight NBA titles with them. He went into the Hall of Fame. As a coach he won two more titles as a Celtic. Still he was fired after 8½ seasons as coach, and here's what the Celtics had to say about that:
"Heinsohn got canned this morning at 10:30. He had worn out his welcome."
He had worn out his welcome.
All but a few coaches wear out their welcome, which is why debating Doc's loyalty is so completely unfair. Loyalty has to go both ways, or it's not loyalty -- it's business. And that's what coaching is in the NBA. It's business. Unless they go out on top, as Auerbach did in 1966, or they win so much that they can't possibly be fired, as Phil Jackson did in Chicago and Los Angeles, coaches almost never get to do what Doc Rivers did. They don't leave on their own terms. They leave when the team has had enough of them.
When they have worn out their welcome.
It could have happened to Doc Rivers in the next season or two. The Celtics will be lousy. They are rebuilding, but unless they win Andrew Wiggins in the 2014 NBA Draft lottery, they're going to be lousy for years. Coaches of losing teams get fired, even when they've won an NBA title in that town. Even when they're Tommy Heinsohn Doc Rivers.
As luck would have it, Monday is a day we celebrate free enterprise in the NBA. Free agency begins and we'll wonder where Dwight Howard is going, whether Chris Paul is really staying, and if Zaza Pachulia is worth whatever he's about to get.
We can stop wondering about Doc Rivers. Nine years in Boston. One title. Rajon Rondo. Doc did his time, he won his ring, and now he's off to Los Angeles. Everybody wins. So what is everybody talking about?