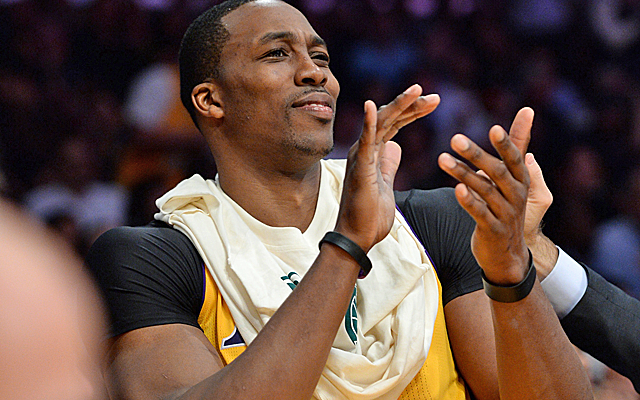 Who walks away from the Lakers?
Dwight Howard, that's who. Dwight Howard and nobody else.
But that's not what's going to be important about this. What's going to be important is what happens next.
If Dwight Howard walks away from the Lakers and wins a championship or championships, he'll be the guy who boldly wrote his own script -- a Hall of Famer who overcame the childish proclivities of his late 20s and turned into a winner who didn't want to follow anyone. He'll be the guy who took $30 million less for what he perceived as a better chance to win.
If the Lakers never win another championship after Howard leaves -- and, fat chance of that, with enough cap space next summer to assemble a version of the U.S. Olympic team -- they'll still have 16 of them. It's going to take a lot more than Dwight Howard, with zero championships to date, walking away from LA to cripple the Lakers' winning legacy.
What else could happen ... hmm, let's see. Oh yeah, Dwight Howard could walk away from the Lakers and wind up living out his prime basketball-playing days with all the notoriety of a tumbleweed. If the Rockets don't win a championship with Howard, he'll have any number of fallback scripts to peddle. He shouldn't have left Orlando … or, better yet, he shouldn't have stood in the way of an inevitable trade to the team he really wanted to play for, the Brooklyn Nets, by inexplicably waiving his opt-out clause hours before the March 2012 trade deadline. He could go there, if he wanted to.
The lesson from the overreaction to LeBron James' clumsy but since validated "Decision" to leave Cleveland for Miami in 2010 is that these things need time to play out. If on the day of James' announcement, we'd known that three years later he'd have matured immeasurably and won two championships, there would've been nothing to criticize. Dan Gilbert would've sent that snarky, comic sans missive to a few close friends and relatives and that would've been it.
So the beautiful thing about Howard's decision to shun the Lakers -- and five-time champion Kobe Bryant, and the franchise's glimmering legacy and the chance to join the greatest Lakers who ever played in basketball immortality -- is that nobody knows how it will work out. As much as we need to praise and tear down everyone in this 24-second news cycle, we can't grade this decision yet. It's too soon.
But one thing Dwight Howard cannot do -- can never do -- is look back on leaving the Lakers with any regrets or expectations that it can ever be undone. You can leave Orlando and survive if it doesn't work out. You can go to Houston and survive if it doesn't work out.
Leaving the Lakers, though? That's forever. If nothing else, finally there is something about Dwight Howard that will have staying power.
One line from Lakers GM Mitch Kupchak's statement upon being informed of Howard's decision grabbed me: "To Dwight, we thank him for his time and consideration, and for his efforts for us last season. We wish him the best of luck on the remainder of his NBA career."
That last part -- "on the remainder of his NBA career" -- says it all.
And as Howard did his handler-arranged media interviews in the wake of choosing the Rockets, a line from Howard -- to my friend Dave McMenamin of ESPNLosAngeles.com -- grabbed me, too.
"The timing in LA, it wasn't right for me," Howard said. "Maybe two years ago, or two or three years from now, it would have been the right time."
No, it was never the right time for Howard and the Lakers, and it will never be the right time. They're cut from different cloths. That was obvious, watching him labor uncomfortably through his only season at Staples Center -- a fish out of water, a court jester with no subjects, a performer who didn't understand his audience.
Howard has famously changed his mind before -- three times in 24 hours leading up to the 2012 trade deadline, when he waffled and ultimately decided to waive his early-termination option and commit to another season in Orlando. That colossal mistake was undone five months later -- though with a trade to the Lakers, whom Howard never truly wanted, instead of with a trade to Brooklyn, the place he preferred all along. Now Howard is in Houston, and it's been such a monumental task unraveling all the poor choices he's made, he's probably hard-pressed to even remember how he got there.
We could spend hours going over the filthy underside of the NBA business and retrace all of Howard's steps -- how he concluded that teaming up with James Harden, who left a championship situation in Oklahoma City, was a better idea than playing his prime years with the franchise that gave the basketball world some of its greatest champions. (Harden turned down a four-year, $52 million extension from the Thunder, thus forcing a trade to the Rockets.) We could analyze the unavoidable, yet still unseemly conflict of interest inherent in agent Rob Pelinka's role in all of this. Pelinka, after all, represents Harden, who lobbied Howard to leave Bryant, who is Pelinka's most accomplished client, which could result in Bryant being denied his last, best chance to win his sixth championship. Gross? No, just part of the business.
Be that as it may, and understanding that Howard's decision cannot be validated or repudiated today, one thing has to be made clear. Whether leaving the Lakers winds up being the best or the worst thing Howard ever does will not change one irrefutable fact: It can never be reversed. There are no do-overs.
Leaving the Lakers is something that only Dwight Howard would do, and it is something he has to own forever. And not just if it works.