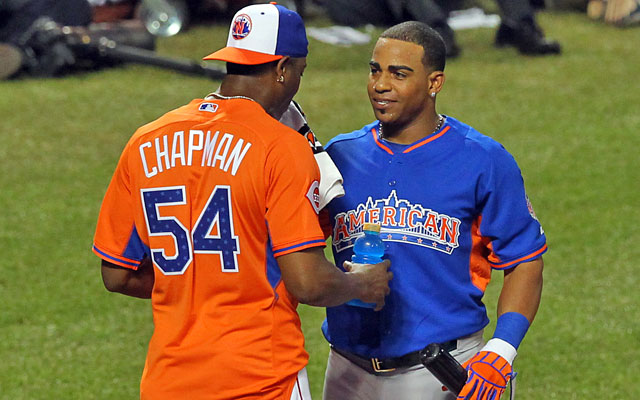 The future arrived Monday night on ESPN. It arrived in all its high-def, plasmatic, Technicolor glory.
And it arrived in Spanish.
And my goodness, did people get angry.
Were you watching the 2013 Home Run Derby? Congratulations -- you saw the future. Not watching? Me neither. Couldn't pay me enough ... anyway. Not watching. But had I known the future was going to be arriving so gently, so brilliantly, I would have tuned in.
As it is, the future arrived without me, and maybe without a lot of you, but it was here and people were mad. So this is where I start the lecture portion of today's program and remind the people who were angry that ESPN conducted bilingual interviews with Home Run Derby winner Yoenis Cespedes and All-Star reliever Aroldis Chapman that those two people aren't like you. They weren't born in America. They didn't grow up here. They defected from Cuba in the past few years -- 2009 for Chapman, 2011 for Cespedes.
They don't speak English well enough to do an interview on live national television.
Comprende?
No, apparently not. This is Ugly American culture at its worst, this insistence that others in this country Speak Like We Do. Even if those others weren't born in this country, didn't grow up speaking English, and haven't mastered it enough -- any idea how hard it is to learn a new language as an adult? -- to speak it in public. Much less before millions of people on live television.
America is changing, people, and not for the better or worse. Just, changing. That's my opinion anyway. Lots of your opinion? It's changing -- for the worse. The more people speaking Spanish, the worse this country is. That's how some think, and you know it. Hell, you can read it right here.
Educate yourself. See how Ugly Americans responded to the outrage that was ESPN's Pedro Gomez asking Cespedes a question in English for the sake of the audience, translating that question into Spanish for the sake of Cespedes, and then translating Cespedes' Spanish answer into English. That was how Gomez conducted this two-minute interview with Cespedes after the Home Run Derby on Monday night, and it was beautifully done. Sensitive, subtle, helpful. Fast. Finished.
And people got mad, maybe because people get mad when they're scared. And people are scared of Spanish. Scared that they don't understand what others are saying. Envious that they can't speak two languages. Frightened that maybe this world is changing, and people like us -- people who speak only English -- will be left behind.
So they use their fear as a club to hammer those people who would dare speak a language that isn't ours -- isn't American! -- on a network right here in the U-S-of-A.
America is changing, people. Better or worse, the days of everyone here speaking one language -- a language named for a country in Europe; ironic, really -- are gone. English will always be our native language, but it's not going to be the only language. Those days? Long gone. You can bitch and moan about it, like people decades ago bitched and moaned about integration, but this is the country we have. Understand that.
The athletes we watch are changing -- have been, for years now. Spanish-speaking ballplayers have long thrived in the major leagues, players from countries like the Dominican Republic, Venezuela and, yes, Cuba. Places where English might be spoken by some folks, but not by most folks. Any idea what kind of hell Yoenis Cespedes and his family endured to leave one of the worst countries on Earth to come to this one? Read and learn. Compassion is a good look. Some of you should try it on, for a change.
People like Cespedes and Chapman, they arrived here having to learn a new language -- and I promise you, they're trying. I promise you, Chapman and Cespedes and players like them want to be able to communicate with all of their teammates, all of their coaches, their manager, their general manager. But I promise you, it's not easy. And so when a player like Cespedes does something screwy and wins the Home Run Derby and gets the customary winner's interview on national television, he's going to speak the language he's comfortable speaking. Risk embarrassing himself? For the sake of the bigots out there who are offended that he doesn't speak "American?" Cespedes wasn't going to do that, and good for him.
Get used to this, Ugly American. Football is the only major sport where pretty much everybody speaks English, if only because football -- American football, anyway -- doesn't thrive anywhere but here. But baseball, basketball, hockey, golf, tennis, track, fighting ... those are popular all over the world, and because we live in the greatest country in the world, those athletes want to come here to compete.
What if the next LeBron is a teenager in Brazil? That day's coming too, you know. The best player in the NBA, some day, will be someone who won't speak English until he gets here. Are you going to want that guy, whoever he is, to stumble through interviews in a language he doesn't know? Or might you tolerate an interviewer like Pedro Gomez, asking the question in both languages, and then translating the answer for your benefit?
Not everyone was born in the United States. Through no skill or achievement of your own, you were born in America. Be grateful about that. Show some grace for those who weren't as lucky as you.
And stop making the rest of us look bad.