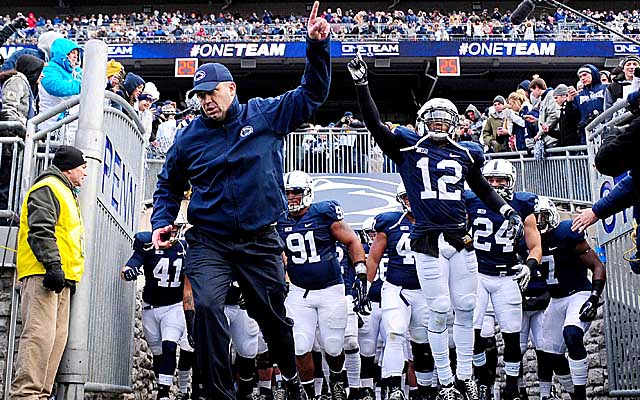 SOMEWHERE NEAR A LIGHT AT THE END OF THE TUNNEL -- A year later, they have something to have and to hold. At least there's that at Penn State. They're not quite sure how long it will last, but it beats the car wreck they rolled up to that morning last summer when they flipped on their TVs.
"This," former Penn State linebacker Mike Mauti said last July 26, "is the first year of Penn State."
For a school in its 158th year of existence, the statement made total sense at that time. The new normal at Penn State meant that the Grand Experiment began to transform into The Way Out. Jerry Sandusky went in jail. Joe Paterno was gone. The Freeh Report was later released in all its ignominy. Victims continued to sort out their lives.
Three days prior to Mauti's statement, Penn State's chief export, its identity -- that pride and joy to have and to hold -- had effectively been de-emphasized by the NCAA.
"We didn't know if we were going to have a season to play or even be able to field a team," former quarterback Matt McGloin said.
The dichotomy that day was unmistakable. McGloin watched with teammates while the sanctions were announced in the same Lasch Building where Sandusky had committed some of his unspeakable acts.
The same place where Big Ten champions were built, a monster had lurked.
A year later no one is the same. Not the players who stayed, not the coaches arriving post-Paterno who never expected these type of sanctions.
Not members of the administration who were almost immediately swept out of office and now await trial. Not the students who protested wildly in support of a legendary coach whom the NCAA and countless others blamed for a football culture gone ... wild.
Not the Paterno family, which continues to defend its patriarch in the face of sometimes withering criticism.
"The Our Father was a prayer I said with my family every night when we were kids. We said it before and after games," said Jay Paterno, Joe's son and Penn State's former quarterbacks coach. "It says, 'Forgive us our trespasses as we forgive those who trespass against us.'
"I believe that very strongly."
This week marks a year since the historic Penn State sanctions. CBSSports.com is marking the occasion with a series examining the ramifications of the Sandusky scandal. We'll look at the key figures, a year later. We'll focus on the No. 1 recruit who kept his promise. We'll look at the NCAA and to the future.
There's a lot of future vision at Penn State, which can't help but look ahead these days. The foundation has settled under everyone's feet, if ever so slightly. A year later the school seems poised to ask for a reduction in the penalties. Penn State has begun paying the victims for crimes that have wrecked their lives.
It is possible the sanctions may be modified at any time, according to the consent decree.
If you squint really hard, you can even see a "bowl" game in the not-too-distant future. At least that's how some will portray next year's opener against Central Florida in Dublin.
But as McGloin said, the existence of football wasn't a sure thing a year ago. That team has a record (8-4 in Year 1 post-Sandusky) and hope that just maybe the lasting effects of the NCAA kneecapping won't be all that bad.
"I see no reason why, provided the staff stays in place, that they can't continue to weather the storm in the near future," said JC Shurburtt, national recruiting director of 247Sports. "Then, as the light at the end of the tunnel begins to be visible, recruit at the level Ohio State and Michigan currently are."
Wait a minute. Who said anything about Ohio State and Michigan?
"I don't know if it's light at the end of the tunnel," O'Brien said. "It's a challenge ... That's what life is about I guess. Do I think it's fair? No, but it is what it is."
In one year, O'Brien has burrowed his way into the hearts of students, players and become part of the Penn State culture. "JoePa" has given way to another affectionate nickname -- "OB." He and his coaches have executed a plan for a way out of that tunnel. That 2013 recruiting class? The redshirts from it potentially will be able to play in two bowl games.
They've got a leader, this one with many of the positive qualities of the old one. Like his predecessor, O'Brien can be gruff and doesn't dress particularly well. Also like his predecessor, when he opens his mouth, he owns the room.
"I don't really care what people think," that 43-year old father of two said recently in New York at a table full of local and national media. "I've got enough problems to really go around caring about, you know, 'He's bald, he's fat, he's got a dimple on his chin.' Who cares? I'm just trying to do best for the guys that I coach."
And in that moment Bill O'Brien -- for anyone who has seen both men cutting to the point -- channeled his predecessor, Joe Paterno.
In the NCAA's eyes, O'Brien's eight are the program's only victories since 1997. In the eyes of those who achieved those wins, vacating Paterno's 111 victories from 1998-2011 was cruel piling on by the NCAA. But what better way to stick the knife in, twist it and remind Penn State Nation of its sins?
Remember, this current situation exists because the culture of football ruled.
"I think it was all done too fast," said McGloin's father, Paul. "I think it's easy to throw a dead guy under the bus."
Or maybe Penn State should just be glad it is playing. ESPN The Magazine reported and CBSSports.com has subsequently confirmed -- the death penalty was still on the table for the program as recent as four days before the sanctions were announced.
It turns out the moment the school decided to bring in former FBI director Louis Freeh as an independent investigator, it gave the NCAA all the leverage it needed to apply the sanctions. In essence, Freeh was allowed complete access to a school that -- the NCAA and others concluded -- enabled a felon.
"No matter what we do here today," Mark Emmert said in announcing the sanctions, "there is no action we can take that will reduce their pain and anguish."
Sandusky's victims. Any discussion on this subject begins and ends with them. Any claims of overreach by the NCAA could easily be countered with shouts of negligence on the part of Penn State. It can be concluded that one wouldn't have come without the other.
"We in the football program, we all understand why we're in this situation," O'Brien said. "We've got to put an end to child abuse."
The situation is sure to push some business Dan Beebe's way. The former college football player/NCAA investigator/Big 12 commissioner has formed a risk management firm, called the Dan Beebe Group. The idea is be proactive and educate schools before a Penn State situation arises.
"I think [Penn State's] a call for all organizations to ensure that their culture is one where programs are developed to allow people not to be afraid to speak out about misconduct," Beebe said.
Or maybe we'll just never trust college athletics again. The same NCAA that penalized Penn State couldn't keep its own house in order in the Miami investigation. The current message being sent: There's never been a better time to cheat.
Scandal-ridden Rutgers hired a new AD fully aware she had been found guilty of pregnancy bias at a previous job. Never mind that 16 of her former Tennessee volleyball players signed a letter detailing her alleged abuse of them. Miami embraced Nevin Shapiro. Jim Tressel hid the truth at Ohio State.
Or maybe Penn State can be an incubator (again) for what's good and right. For decades it fancied itself above the fray. Now it has a reputation to rebuild.
O'Brien has proven such a deft recruiter and coach that even after one season, there is hope the program can ride this out. No. 1-rated quarterback Christian Hackenberg kept his commitment and may be rewarded by becoming a starter as a true freshman.
The program may be a study of the worth of an 85-man scholarship limit. The sanctions deem that O'Brien shrink to 65 scholarships by 2014. That's two above the FCS (Division I-AA) maximum.
If Penn State can stay competitive operating 20 under the limit -- it can still "win" the Big Ten's Leaders Division, remember -- what does FBS as a whole need with 85 schollies?
O'Brien's "run-on" program (as opposed to walk-ons) will have to fortify the program. You want to play? This is your place. There are 24 freshman run-ons (that is, preferred walk-ons) currently on the roster.
If Penn State is indeed going to formally apply for a reduction in the penalties, it is treading a complicated path. The penalties were applied more for that culture that was allowed to exist than for a formal violation of rules defined in the NCAA Manual.
What does it say about that culture if Penn State asks for relief on those scholarship limitations in order to play better football?
When asked if he believed there would be some relief, O'Brien said recently, "My answer would be no, but that question would be for somebody else."
The door opened by the NCAA for transfers to leave without penalty doesn't close until August. In the face of mass migration, O'Brien was able to hold the program together, losing only a few key players last year. Still, operating with a maximum of 15 signees per year and 65 scholarships through 2016 will be daunting.
Penn State came out of the spring with only 67 scholarship players, according to O'Brien.
"It's almost like there is a self-selection process that is going on," AD Dave Joyner said. "Do you want to go to a place that's going to be tougher than most places just from a survival standpoint?
'I want that.' That's how a Navy SEAL would look at it. That's the way an Army Special Forces would look at it. 'I want to go to a place that's harder and tougher. I don't care about bowl games.' "
At this point, the New England Patriots connect the franchises. Forty years ago, Paterno accepted but eventually turned down an offer to coach the Pats. O'Brien, a Boston native, came to Happy Valley from New England, where he was offensive coordinator. Not bad for a guy who was once described by Sports Illustrated's venerable Peter King this way: "I wouldn't know Bill O'Brien if he walked into this room right now."
His profile has certainly changed. After guiding Penn State to those eight wins, he suddenly became a hot NFL commodity. After the last guy lasted 46 years, O'Brien became a hero in staying for Year 2.
"I wouldn't have blamed him," alum Ira Checkla said. The New York attorney had just finished listening to O'Brien speak at a caravan stop this spring.
"I think I would have been angry, but I wouldn't have blamed him. I so much more admired him. He's on a pedestal now for staying. I don't think he's going to stay forever but I think he's going to stay for a while."
With a contract that has been amended twice -- once, to reflect the impact of the penalties, the second time -- last month -- to reflect his accomplishments. There's a book in here, somewhere. Perhaps several. One of them may be written by McGloin and his two brothers. They've already got 500 pages completed, according to Paul McGloin.
In State College, attendance is down and game-day businesses are suffering. (To be fair, attendance was lagging before the sanctions and Penn State has finished in the top five each year since 1991.) A year after everything came crashing down at Penn State, that Way Out includes this proposal from O'Brien:
"I know that sounds extremely self-serving as a football coach but I'm looking at this beyond football," he said. "I'm not saying it's a football school. Don't get me wrong. But I think a full Beaver Stadium means a lot of things.
"That's why a full stadium in football is way bigger than football."
Penn State, a year later -- coming up:
• Why Penn State might make it out
• Key Players, a year later
• Is college sports fed up with the NCAA?
• Could Dan Beebe have saved Penn State?