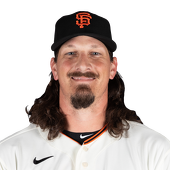 Jeff Samardzija
#29 SP / San Francisco Giants / EXP: 8YRS
Height: 6-5
Weight: 225 lb
Age: 31
College: None
Bats/Throws R/R
Own

82%

Start

57%

SP Rank

50
by RotoWire Staff | Special to CBSSports.com

Giants' Jeff Samardzija: Agrees to five-year deal with Giants

Samardzija has agreed to a five-year, $90 million deal with the Giants, Alex Pavlovic of CSN Bay Area reports. The deal is currently pending a physical. Nevertheless, Samardzija heads west to a very pitcher-friendly environment, where he should also benefit from a move back into the National League. Samardzija's strikeout rate tumbled from 23.0% (8.3 K/9) in 2014 to 17.9% (6.9 K/9) last season with the White Sox, and he showed a sudden propensity for yielding flyballs, which should be much less damaging in his new home park if that trend holds up. He will likely slot in behind Madison Bumgarner as the Giants' No. 2 starter to begin 2016.

by RotoWire Staff | Special to CBSSports.com

Jeff Samardzija: Rejects qualifying offer

Samardzija turned down his qualifying offer from the White Sox on Friday and will remain a free agent, Dan Hayes of CSN Chicago reports. The move comes as little surprise, as Samardzija will be able to command a multi-year deal likely worth more than the $15.8 million qualifying offer. The 30-year-old suffered through a rough contract year, putting up a 4.96 ERA while seeing a decline in his strikeout rate to 6.9 K/9. He should still generate substantial interest on the open market, and the White Sox will receive a compensatory draft pick when he signs.

by RotoWire Staff | Special to CBSSports.com

Jeff Samardzija: Receives Qualifying Offer

Samardzija was extended a qualifying offer by the White Sox Friday. Samardzija is coming off a down year, (4.96 ERA and 1.29 WHIP in 214 innings) but the White Sox were still expected to offer the veteran a qualifying offer. He's likely to command a multi-year contract, so it's unclear at this time if Chicago plans on seriously attempting to re-sign their ace or scoop up a compensatory pick once he signs with another club.

by RotoWire Staff | Special to CBSSports.com

White Sox's Jeff Samardzija: Files for free agency

Samardzija filed for free agency Monday, the Chicago Tribune reports. The White Sox are expected to extend a qualifying offer to Samardzija, and he is expected to refuse that qualifying offer. Samardzija had a miserable season on the south side, but he showed enough to have teams believe he can be at least be a mid-rotation piece, if not more.

by RotoWire Staff | Special to CBSSports.com

White Sox SP Jeff Samardzija likely to receive a qualifying offer

White Sox disappointing starter Jeff Samardzija will likely receive a qualifying offer despite his 2015 struggles, Jon Heyman of CBS Sports reports. Heyman suggests Samardzija will probably reject the qualifying offer in hopes of receiving a long-term deal on the open market. The Yankees have long been considered one of the teams to pursue the veteran right-hander, but it remains to be seen how many other teams will join the chase for Samardzija, who posted a poor 4.96 ERA and 1.29 WHIP in his lone season with Chicago.

by Marty Gitlin | CBSSports.com

White Sox SP Jeff Samardzija hurls gem in Motor City

If White Sox starter Jeff Samardzija had performed all season with anywhere near the proficiency he exhibited Monday afternoon in Detroit, his team might have fulfilled its promise as a playoff contender. In the ultimate too-little-too-late effort, Samardzija hurled a complete-game one-hitter at the tame Tigers with no walks and six strikeouts. Only a Victor Martinez single leading off the fifth inning prevented him from tossing a perfect game. Samardzija had been absolutely rotten recently heading into Monday. He had no quality starts since Aug. 19, after which he had allowed 28 runs on 40 hits over 27 innings.

by CBSSports.com Staff | CBSSports.com

White Sox pitcher Jeff Samardzija gets shelled in Tuesday's loss

White Sox pitcher Jeff Samardzija allowed 10 runs on 11 hits and three walks over just three innings in his 13th loss Tuesday against Oakland. He struck out three. Samardzija was lit up all day, and in the process he gave up his 27th home run of the year. Samardzija had never allowed a HR/9 above 1.05 as a starter prior to this season, and his 39.6 percent ground ball rate is also his worst as a starter. Samardzija needs to find a way to keep the ball in the yard, and fast.

by Jason Lempert | Staff Writer

White Sox SP Jeff Samardzija gives up grand slam, still gets a win

White Sox starter Jeff Samardzija was actually out-pitched by opposing Twins starter Kyle Gibson on Thursday, but the tall right-hander walked away with his ninth win of the season. Samardzija allowed four runs on five hits over 6 1/3 innings. He walked four and struck out four, en route to the 6-4 victory. Samardzija (9-11, 4.87 ERA) didn't pitch quite as poorly as his line may suggest. All four runs came from one swing of the bat--a grand slam by Eddie Rosario in the third inning. The White Sox, meanwhile, were able to rally back and retake the lead. The win snapped a personal six-game losing streak for Samardzija. Still, he has allowed a total of 14 earned runs over his last three starts, spanning 17 2/3 innings.

by Ruben Palacios | Staff Writer

White Sox SP Jeff Samardzija gives up five runs in loss

White Sox starter Jeff Samardzija allowed five runs in a loss to the Mariners on Saturday. Samardzija lasted just 5 2/3 innings after giving up the five runs on eight hits. He recorded eight strikeouts while allowing three walks. With the loss, Samardzija dropped to 8-11 on the season with a 4.85 ERA.

by Marty Gitlin | CBSSports.com

White Sox SP Jeff Samardzija loses fifth straight against Boston

The season is going south for the White Sox. And starter Jeff Samardzija is going south right along with with them. Samardzija lost his fifth straight decision Monday against Boston by surrendering five runs on eight hit in 5 2/3 innings with two walks and seven strikeouts. A three-run second featuring a home run by Rusney Castillo sent Samardzija reeling. A two-run double by Castillo in the sixth all but knocked him out. Samardzija at least made it easy to figure out his ERA over those five defeats. It is 9.00 - he has now allowed 28 runs over his last 28 innings.